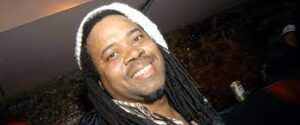 Like many I first discovered Greg Tate's prose in the weekly Village Voice – in a music writer's room that also included such significant voices as Stanley Crouch, Gary Giddins, and Robert Christgau.  Greg's sense of the music was refreshingly inventive while maintaining a colloquial sensibility that made a lot more sense to me than some of the musicological fakery I was experiencing in various jazz prints – thoroughly lacking in the I know music… and you don't music criticism that was clearly moldy fig-alated.
Fortunately when we began a series of dialogues with African American music writers in these pages to examine the seeming disparity of Black music's essential provenance in what has become American music on one hand, and the scarcity of Black writing perspectives in the prints on the other, Greg Tate contributed robustly to the dialogue.  Those dialogues have become the currently in-production book Ain't But a Few of Us, due out 3rd quarter 2022 via Duke University Press – also home to Greg Tate's work, including Flyboy in the Buttermilk.
When Greg Tate joined the ancestors on December 7th, I reached out to a small cadre of writers, scholars and fellow travelers to remember the man known as Ironman…  
Before I could really comprehend how bright of a lodestar Greg Tate would be for me as a writer and musicologist, I knew that he offered a fresh model for me. He didn't traffic the either/or path that seemed so prevalent in early-'90s music journalism, when it came to either focusing seriously about jazz or directing that energy toward the nascent hip-hop movement. Greg did both with gusto and so much else, such as R&B and rock music, comic books, literature, visual art, and movies. When his book, Flyboy in the Buttermilk, was published, those essays galvanized my imagination the same way that Parliament-Funkadelic's music or the X-Men comic books did. Tate made me want to be a great writer and chronicler of Black fantastical music and culture.
I foolishly tried to emulate his writing style and failed miserably. That failure was a good thing. It taught me that there was only one Greg Tate; it also taught me to focus on the clarity of my prose and the strengths of my research, arguments and storytelling. Through that failure, I slowly crafted my own both as a writer and DJ.
But even while Greg was this writer star, who also co-founded the Black Rock Coalition and became a noteworthy musician as the leader of Burnt Sugar, he was always approachable. He always made me feel as if I was a member of his creative tribe. And for that alone I will be eternally grateful.
— John Murph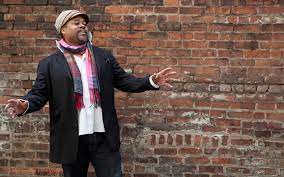 When I interviewed Greg Tate for a Q&A for Publishers Weekly in 2016, he told me that Wayne Shorter and Amiri Baraka were his strongest overall influences. If you look at the vast body of his work, that rings true. Tate downloaded Shorter's Afro-futuristic, cinematic multiverse approach to music to construct his own Negroidally-nuanced literary narratives, and he stamped Baraka's poetic passport that docked in ports of call where bebop, Beat poets and Black Fire nationalism dwell. Add all of those aesthetic ingredients with tinges of Sterling Brown, W.E.B. Du Bois, Toni Morrison, Sun Ra and the comprehensive constellation of Black, Brown and Beige thought that is Howard University – Tate's Alma Mater – and you had a writer who, from the time his byline appeared in the Village Voice in 1987, until December 7, when he ascended to a higher plane, sounded like no one but himself.
— Eugene Holley, Jr.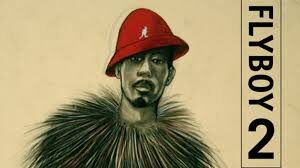 Reading Greg Tate's imposing prose for the first time was intimidating, slightly disorienting; like encountering the music of Eric Dolphy or Ornette Coleman after a steady diet of straight ahead swing or seeing Picasso and Dali after assuming that Rembrandt was the final word in visual art. Tate rocked my journalism school-bred world in much the same way that Tom Wolfe, Hunter S. Thompson and Joan Didion upset the journalistic establishment of the '60s and '70s. This was a fresh new voice. And there was nothing gimmicky about his inventive use of the language, dubbed "slangy erudition" by one wag. As fellow writer Hua Hsu so brilliantly noted in a Sept. 21, 2016 article for The New Yorker: "His best paragraphs throbbed like a party and chattered like a salon; they were stylishly jam-packed with names and reference points that shouldn't have got along but did, a trans-everything collision of pop stars, filmmakers, subterranean graffiti artists, Ivory Tower theorists, and Tate's personal buddies, who often came across as the wisest of the bunch." There was an underlying logic and intelligence to Tate's writing style that lent authority to even his most experimental forays into criticism. His ideas were always solid, penetrating, insightful. I especially admired the way he made connections between seemingly disparate types of music — how James Brown informed Miles Davis' electric band of the '70s, which in turn was influenced by Karlheinz Stockhausen and Jimi Hendrix and maybe even King Crimson to some degree. Tate could always trace the connections — from George Clinton to Romare Bearden to Sun Ra to Michael Jordan to King Sunny Ade to Butch Morris to Chuck D. Tate thought globally. His mind was as expansive as the Grand Canyon and as tight as a JB groove. And his lexicon of hip phrasing and cadence that anticipated/mirrored hip-hop spoke of his playful intellect — part Jean Paul Sarte phenomenology, part Bootsy Collins cartoon mind, part Sun Ra extraterrestrial traveler. We aspiring writers, critics, journalists who read him religiously every week in The Village Voice during the '80s stood in awe of his expressive virtuosity. And it was not something that you could copy. There was no template for this style of cultural criticism, this Afro-futurist way of thinking. All one could do was admire the skill, the vision, the daring creativity. As he wrote in 1986: "My mission is clear. The future of Black culture depends that this generation brings forth a worldly-wise and stoopidfresh intelligentsia of radical bups who can get as ignant as James Brown with their Wangs [computers] and stay in the Black. Give me such an army and we'll be talking total cultural Black rule by the time the eco-system collapses, SDI bottoms out Fort Knox, the Aryan Brotherhood is officially in the White House, and Wall Street is on the moon."
— Bill Milkowski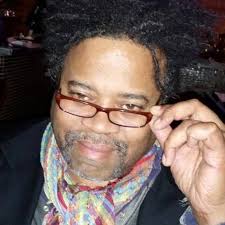 "Strange vibrations…from the hardcore…"
That refrain, above, voiced over his original program theme music, is how I first heard Greg "Ironman' Tate in D.C.   It was the late 70s, when he presented his wonderfully original "Strange Vibrations From the Hardcore", radio program, on WPFW, radio.  I would begin my 33-year tenure at 'PFW, as he departed for NY, to begin a masterful writing career with the Village Voice; while also developing his music playing, composing, and conducting skills through his group and Arkestra, Burnt Sugar.  His "Bird flew Miles through Trane, who Jimmy'd the Mothership Connection, exit/exit us", prose is a poetic, prayer-like refrain that's now imbedded in my psyche.   I didn't see Greg too much, once he became a NYker, a nascent NY trip being to an early meeting of his guitarist Vernon Reid co-founded founded Black Rock Coalition organization, with my friend and fellow 'PFW programmer, Herb Taylor.  Whether concerts here in DC, or there in NY, greetings were always black, warm, and welcome.   'PFW had many great avantars, but Greg was the first to truly avant, the funk.  Bird may The final warning words in his epic 1992 epoch tomb, "Flyboy in the Buttermilk – essays on contemporary america", Fireside/Simon & Schuster: "If we don't exercise our capacity to love and heal each other by digging deep into our mutual woundedness, then what we're struggling for is merely the end of white supremacy – and not the salvaging of its victims."
–Bobby Hill
Greg Tate was a "genius child."  He was a person moving ahead of his time and telling us where we needed to go.
I was first introduced to his poetry when I judged a poetry contest for DC public school kids in the early seventies. Many of the poems submitted were class assignment work; poems about spring and seasonal changes. Suddenly I picked up a poem that was extremely different and seemed to come straight from Hendrix's guitar. A blast of difference–setting the work apart from the other poems in my packet. Maybe a few months later I met Greg for the first time. I was introduced to him by our mutual friend Charlene Porter. Charlene might have worked for Greg's father. She introduced me to Greg Tate in Folio Bookstore on P Street near DuPont Circle.
Looking back through my files I see that I sponsored my first reading for Greg on December 21, 1976 at the WPA. I would sponsor other readings for him on into the 1980s on my Ascension Series; inviting him to read with poets like Alexis DeVeaux and Diane Burns. Greg at the time was hanging out with the cool people at Howard: Calvin Reid, Richard Powell and all those visual artists who were beginning to sketch and paint a new world. Two people Greg admired and loved were Thulani Davis and A.B. Spellman. Greg also came from a cool family. Taters I liked to call them, echoing the words of Boston Red Sox slugger George Scott who called his homers "taters" as they sailed over the Green Monster (Wall) in Fenway Park. A thing of beauty. A new aesthetic – something that is part of much of what Greg Tate taught us during his life. Greg was a seeker and explorer. I laughed when in 1992 he signed his copy of Flyboy in the Buttermilk for me. He wrote: "Ethelbert, the E-Man, thanx for discoverin me." Looking at these words today makes me feel like an old Columbus. Like Native Americans – Greg was already doing his thing. I just happened to bump into him. The rest is history.
— E. Ethelbert Miller,Writer and literary activist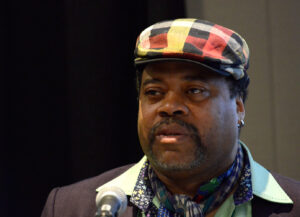 I was lucky enough to write for the Village Voice when Greg Tate did. My words could not soar up to the territory in which his generally floated, but at least they were printed with the same ink and bound within the same pages. Later on, I got the chance to speak on public panels along with Greg. Again, my banter didn't bounce like his or echo with similar thuds of deep meaning. Yet the conversations were necessarily raised up to the level of the Flyboy's game, and I was in that game. Through Greg's words and his music, in his writing and his playing, via both his swagger and his humility, I learned things about Blackness and being and about being Black that I couldn't know but needed to understand in order to, say, write about jazz or just to live justly in this world. And I felt inspired to figure out who I was, too. I knew Greg a little but I felt like he knew all about me because that's how great writers make you feel when you read them. And when I heard and saw him perform with Burnt Sugar The Arkestra Chamber, I inhabited, for a little while, a world he imagined into reality. Greg never asked anything of me. But through his own tough and lovely expressions, he demanded that I do the work of research and thinking and listening hard and, only then, find something new and useful and beautiful to say. I can't do it all the time like Greg did. I'm trying, Greg, I'm trying, man.
— Larry Blumenfeld