DC Jazz Festival Permanently Moves its Annual DC JazzFest to Labor Day Weekend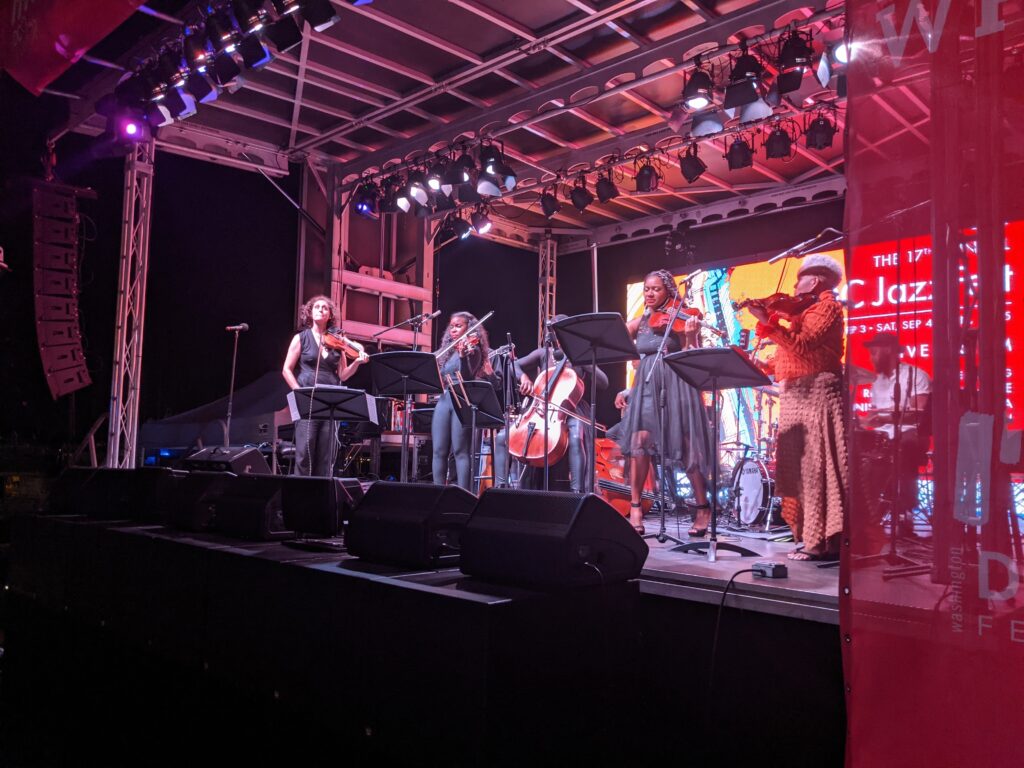 "I've always loved the cultural diversity represented through DC JazzFest and the way music helps connect us," said Elliott L. Ferguson, II, president and CEO of Destination DC, the official destination marketing organization of Washington, DC. "The festival is a staple of the city that visitors and locals will look forward to as we celebrate a fun and vibrant Labor Day weekend in DC."
A cultural staple and artistic jewel of the nation's capital, the 18thAnnual DC JazzFest will feature a robust lineup of incredible artists – from homegrown talent to international superstars and emerging artists to NEA Jazz Masters. The 2022 DC JazzFest will include more than 50 performances with up close and in person "Meet the Artist" conversations and panel discussions.
Executive Director of the Wharf Community Association, Bob Rubenkonig, said of the 2022 festival schedule; "The Wharf is proud to be a part of DC JazzFest and we look forward to hosting the beloved festival over Labor Day weekend. The Festival's mission to unify diverse communities and enable connections between artists and audiences—while providing performance opportunities for DC-based jazz musicians—will make the holiday weekend one to remember at The Wharf."
"While still in the middle of challenging times, the DC Jazz Festival will work closely with our DC partners to deliver a safe, world-class festival experience featuring great music for the jazz enthusiast and casual fan alike," said DCJF CEO Sunny Sumter. "The well-being of our patrons, artists and festival production team continue to be our top priority."
The DC Jazz Festival will announce its full lineup and more details on the citywide celebration in late spring. Learn more about the DC Jazz Festival and the full range of programs by visiting www.dcjazzfest.org.
?Mark your calendars now as the 2022 DC JazzFest will shine as DC's summer finale over Labor Day Weekend!
DC Jazz Festival® (DCJF) is excited to announce the dates of the 2022 DC JazzFest, which will take place August 31-September 4, 2022, marking a permanent shift of its annual DC JazzFest to the end of summer over Labor Day Weekend. With five days of concerts citywide, the 18th Annual DC JazzFest will be a celebration of all things jazz in more than a dozen neighborhoods including its marquis weekend at The District Wharf, a waterfront destination with an inviting array of restaurants, shops, and spectacular river walk views. DC JazzFest at The Wharf will take place September 3-4, featuring multiple waterfront stages, as well as the DCJazzPrix international band competition at Union Stage.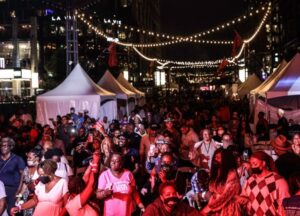 HERE'S WHAT THEY'RE SAYING ABOUT THE 2021 DC JAZZ FESTIVAL…
JazzTimes magazine said of our 2021 festival, "An experienced curator of live jazz, [Willard] Jenkins deftly programmed an impressive mix of local and national acts, who covered most of the genres long associated with this music. The inclusion of area-based artists is essential for any jazz festival, and DC was able to use the talents of musicians who live nearby and have real bona fides in the wider jazz community." https://jazztimes.com/reviews/live/review-the-dc-jazz-festival-keeps-on-adapting/
 DownBeat noted of our 2021 festival, "It was weeks off its usual schedule, cut back to a single weekend, yet the D.C. Jazz Festival, held over Labor Day weekend at Washington, D.C.'s the Wharf, could not have been more welcome – or more packed with great music. With the festival's city-spanning stages dark last year (a scaled-back 2020 edition of the festival consisted of a week's worth of webcast concerts, some live and some from the DCJF archive), anticipation reached a fevered pitch. A capital that most Labor Days is emptied by congressional recess was alive and kicking this year; the Wharf's boardwalks and two pier stages were crowded to an extent that few places anywhere have been in a long time. The organizers, too – led by Executive Director Sunny Sumter and Artistic Director Willard Jenkins – were clearly as excited for the restart as everyone else. As evidence, they put on a marathon of open-air concerts that was not only constant for eight hours a day, but astoundingly diverse, like a banquet spread that offers as many flavors as possible."
https://downbeat.com/news/detail/dc-jazz-fest-triumphs
DC Jazz Festival Offers Kudos & Gratitude for a Superb
17th Annual Celebration and Announces 2022 Dates
Incredible Performances and Lasting Memories Are Highlights
WASHINGTON, D.C. – SEPTEMBER 9, 2021 – The DC Jazz Festival® (DCJF) has just concluded an extraordinary 17th anniversary celebration, welcoming a plethora of locally, nationally and internationally acclaimed artists, as well as a wide range of jazz enthusiasts, to the nation's capital for five days of live entertainment and humanities programs. There were a number of unforgettable moments with great masters, rising stars and emerging artists alike, from the sold-out opening ceremony to the rousing closing night dance party celebration, the 2021 DC JazzFest was marked by stellar performances across the broad stylistic spectrum of jazz and its tributaries.
The DC region's largest and most distinct music festival, DC JazzFest is recognized by The New York Times as one of America's great festivals, and by the JazzTimes Critic's Poll for excellence. After a pandemic-enforced 2020 hiatus from live, in-person programming, the 2021 DC Jazz Fest opened its doors and gates to energized crowds thirsting for up-close access to musicians and the joyous sense of community that has become a DCJF hallmark. From September 1-5, DC JazzFest fans were thrilled to once again congregate amongst DC's many venues – safely and with all due health protocols – to experience world-class jazz.
During five unprecedented days and nights, the 17th Annual DC JazzFest featured 24 shows at 10 venues with 40 artists – adding up to one exceptional festival. According to District Wharf house counts, DC JazzFest at The Wharf attracted more than 38,000 attendees, the second busiest weekend of 2021, just after July 4th.
Here are a few of the many highlights:
DC JazzFest at The Wharf:
Two amazing days across three stages at The Wharf offered a diverse menu of artistry from across the globe including: Regina Carter; Maria Schneider Orchestra; John Scofield; Spanish Harlem Orchestra; Orrin Evans; Pedrito Martinez Group; Cyrus Chestnut; Allyn Johnson; Jenny Scheinman; Italian saxophonist Marco Pignataro; award-winning vocal ensemble Afro Blue; fast emerging artists Lakecia Benjamin, Laurin Talese, LetterOne RISING STARS Jazz Award winner Immanuel Wilkins, Ernest Turner Trio, EJB Quartet and The String Queens; and DMV favorites CarrKeys, Chuck Redd Quartet, and Michael Bowie Trio
Two exclusive DCJF productions including A Grand Night for Strings (with Regina Carter, Jenny Scheinman, The String Queens and Michael Bowie Trio) and Celebrating Billy Taylor's Centennial (with Cyrus Chestnut, Allyn Johnson, Afro Blue, and Dr. Taylor's rhythm section: Winard Harper and Chip Jackson)
The launch of the wildly popular DC JazzFest After Party on District Pier at The Wharf with world-renowned entertainer D-Nice
A full weekend of stimulating and informative artist interviews, conversations and panel discussions at our Meet the Artist Tent at The Wharf.
Additional Highlights:
DCJF's Opening Ceremony at the House of Sweden featuring the marvelous saxophonist Joshua Redman and the scintillating Swedish vocalist Sirintip Phasuk
A heartfelt tribute to the late DC multi-instrumentalist Andrew White at Westminster Church by his longtime rhythm section: Grammy-nominated pianist and Blackbyrds founding member Kevin Toney, bassist Steve Novosel and drummer Keith Killgo, with guest saxmen Antonio Parker and Marcus Strickland
The wide-ranging Shaun Martin Trio at The Hamilton Live
DC's own brilliant pianist Janelle Gill at the stunning Kreeger Museum
DC's ever-swinging social activist, saxophonist Herb Scott, at Capitol Hill's traditional place for jazz, Mr. Henry's
Emerging saxophonist Langston Hughes ll at the renowned Phillips Collection in its centennial year.
DCJF continues to grow exponentially in both scope and international prominence, so fans are encouraged to make plans now for the 2022 DC JazzFest, currently scheduled for June 15-19, 2022.
For a link to download select photos from the 2021 DC JazzFest with photographer credits, please click here.
Stay connected to the DC Jazz Festival at www.dcjazzfest.org.
About DC Jazz Festival:
With dozens of performances in venues across the city, the annual DC JazzFest is one of the largest music festivals in the country. A 501(c)(3) non-profit organization, the DC Jazz Festival celebrates America's unique original art form during this international event that attracts jazz lovers from around the world to the nation's capital. The DCJF also presents year-round programs with performances featuring local, nationally and internationally acclaimed artists.  The mission of the DC Jazz Festival is to present internationally renowned and emerging artists in celebration of jazz, unify diverse communities and enable connections between artists and audiences, advance jazz and music education, provide performance opportunities for DC-based musicians, and highlight DC as a major and vibrant center for jazz. The 2021 DC JazzFest will take place September 1-5. For more information about the DCJF and its activities, visit dcjazzfest.org.