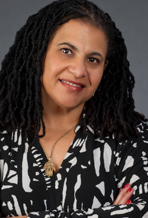 Suzan Jenkins is a visionary CEO with a knack for leading cultural initiatives. She has over 20 years extensive experience spearheading organizational and programmatic development in the non-profit arts and culture sector. Jenkins is a strategic, agile thinker and team builder who develops innovative projects that respond to and cultivate communities. She is ingenious at crafting policy and forging partnerships and collaborations in the global marketplace.
Jenkins' areas of expertise include Arts Business Management; Curriculum Development; Joint Ventures, Collaborations, Community Outreach; Marketing; Organizational Leadership; Personnel Management; Production – recordings, live events, radio, internet, print; Program Development /Project Management; Fundraising/Resource Development and Strategic Initiatives.
She received a Peabody Award for her role as Conceptual Producer of the series Let the Good Times Roll produced for Public Radio International; an Outstanding Leadership Award from Jazz Alliance International; is Certified in Leadership by the  National Leadership Institute; is Certified by the School of Economics, Hong Kong Polytechnic University and School of Economics, Renmin University of China.
Jenkins' currently serves as the CEO of the Arts and Humanities Council of Montgomery County, MD (www.creativemoco.com). The vision of the Arts and Humanities Council of Montgomery County is to provide leadership that sustains arts and humanities organizations, artists and scholars and inspires participation in Montgomery County's rich cultural assets. Jenkins' was recognized as One Of The CEOs You Need To Know in 2009 by The Gazette of Politics and Business, and featured in Women Business Leaders of Maryland in 2010.
She has served as Adjunct Professor at American University in the Department of Performing Arts and as Visiting Professor/Executive in Residence at Loyola University, New Orleans, Louisiana,
As President of Jazz Alliance International, Jenkins created targeted marketing programs, initiatives and educational seminars aimed at fostering healthy environment for enterprise. While at JAI Jenkins produced three recorded compilations and over 75 educational seminars for industry professionals.
As Senior Vice President, Marketing for the Recording Industry Association of America Jenkins managed the Marketing Division and created targeted marketing strategies and campaigns for the Parental Advisory Explicit Lyrics Program and industry-wide anti-piracy campaigns with budgets over $10M. She coordinated industry-wide marketing campaigns that showcased the quality and value of recorded music and the RIAA's Gold, Platinum and Diamond Awards program as well as Premios De Oro y Platino celebrating Latin music sales. She nurtured the development of cross cultural and public/private partnerships to achieve organizational objectives during one of the most tumultuous business paradigm shifts in the history of the industry.
As Executive Director of America's Jazz Heritage at the Smithsonian Institution, Jenkins managed the Institution's 10 year, $10M initiative to institutionalize jazz and widen public appreciation and interest in jazz through the media, touring exhibitions and the arts. She initiated and produced creative projects and programs dedicated to improving the public conversation surrounding the impact and importance of  arts and culture and specifically with jazz music such as through the Beyond Category touring exhibition; the Seeing Jazz touring exhibition and book; the Latin Jazz; La Combinacion Perfecta touring exhibition, book and recording; The Jazz Age touring exhibition and curriculum kit and two radio series — Jazz Smithsonian and Ellington: Beyond Category — for Smithsonian Jazz Radio.
As the Executive Director of the Rhythm and Blues Foundation, Inc. Jenkins advocated for industry-wide royalty reform for constituents; produced the Rhythm and Blues Foundation's celebrated Pioneer Awards Show for eight years; produced five Rites of Rhythm and Blues recording compilations and won a Peabody Award for the highly acclaimed radio series, Let the Good Times Roll broadcast on Public Radio International, XM Satellite Radio and on the internet.
Jenkins has a MBA and a Bachelor of Science degree from the University of Maryland, and is President of the County Arts Agencies of Maryland. She is a Member of the Boards of Nonprofit Montgomery and Maryland Citizens for the Arts; is co founder of the Nonprofit Energy Alliance and has served as a panelist, National Endowment for the Arts, Arts International, Maryland and Michigan State Councils for the Arts, the MidAtlantic Arts Foundation, Arts International and Arts Midwest. Her past Board service includes the Arts Council of New Orleans; the Rhythm and Blues Foundation; Berklee School of Music Board of Visitors; BMI Foundation John Lennon Scholarship Program; DC Space; National Music Council; The National Association for Music Education; the World Music Institute; the Fes Festival of World Sacred Music and Jazz at Lincoln Center's Armstrong Curriculum Program.
Jenkins is a certified leadership coach committed to supporting race-conscious leaders grappling with current issues in multinational, multicultural settings.