Supporting a diverse network of leaders across the world who are committed to advancing racial equity in arts and culture and making an impact in their community.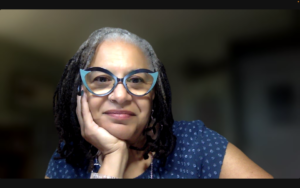 Suzan E. Jenkins is a CEO, advocate, leadership coach and strategic consultant. Suzan's expertise is in leading teams and spearheading organizational and programmatic development in the national and international arts and culture sector.
A New York native, Suzan's deep understanding of critical and complex cultural norms, is informed by her upbringing in Port-of-Spain, Trinidad and San Juan, Puerto Rico. Suzan's vast professional experiences – in the performing and visual arts, retail, banking, the recording industry, the federal government and higher education – inform her keen interests at the intersection of business, innovation, equity and impact.
A critical voice in the movement towards operationalizing racial equity in the arts and culture sector throughout many facets of her career, Suzan's advocacy work in the music industry towards royalty-reform, her work in the development and implementation of Racial Equity Principles at National Arts Strategies and her work as a member of the Remembrance and Reconciliation Commission in her community bolsters this commitment. Suzan is dedicated to anti-racist work that is both organizationally and individually bound.
Suzan's education includes Harvard Business School's Chief Executive Program: Community and Culture; University of Michigan's Ross Business School; Certification in Leadership and Team Effectiveness from the National Leadership Institute; a BS in Psychology and an MBA from the University of Maryland.
As leaders, we are always searching for ways to strategically problem solve and forge new ground. If you are a race-conscious leader grappling with current issues in multinational, multicultural settings, let's talk.  Contact Suzan at coachsuzanj at gmail.com for a complimentary exploratory session.
"

Suzan's coaching (and friendship) has been an invaluable blessing during the biggest transition of my career and life. Her wise questions helped me to understand the power of curiosity in leadership and the importance of trusting "myself, the process and the people". She helped me gain perspective and compassion for the limited beliefs I have held onto about myself and encouraged me when I felt stuck. Her sense of humor stands out as one of her superpowers and our laughter was a healing balm. Suzan helped me navigate many critical moments and decisions in my first year of a new role. She is a brilliant and resourceful coach that I cannot recommend highly enough!"
Sita Frederick,
Director,
Center for the Performing Arts @ Penn State University
"Suzan's spot-on coaching opened new doors for me in every meeting. With Suzan as coach, I discovered new approaches to onboarding BIPOC committee members, strategizing public advocacy efforts, and strengthening my internal capacity in our ongoing racial equity work. Suzan's coaching style was a perfect fit, and made for truly enjoyable sessions!" Karen Ristuben, Program Director, Creative County Initiative, Essex County Community Foundation
"I have never had a professional coach before and the experience was life-changing. My coach was incisive and also challenged me in all the right ways. I came out of our sessions with tools that I will be able to use throughout my career and I can't thank her or NAS enough for this experience." Roberta Pereira, Client, Producing Director, The Playwrights Realm
"Working with Suzan was hugely impactful. When we started the process, I was coming out of a toxic Board situation, and heading into a pandemic. I was also dealing with some challenges with my staff. Since January 2020, I have recruited four new (fantastic) Board members, replaced my bookkeeper with a Finance Manager that is helping taking a huge load off of me, started the hiring process for a new Development team member, and best of all…stayed in the black. All while maintaining sanity. The thinking tools Suzan provided and the perspective she encouraged are a large part of that."  Chandra Stephens-Albright, Managing Director, Kenny Leon's True Colors Theatre Company