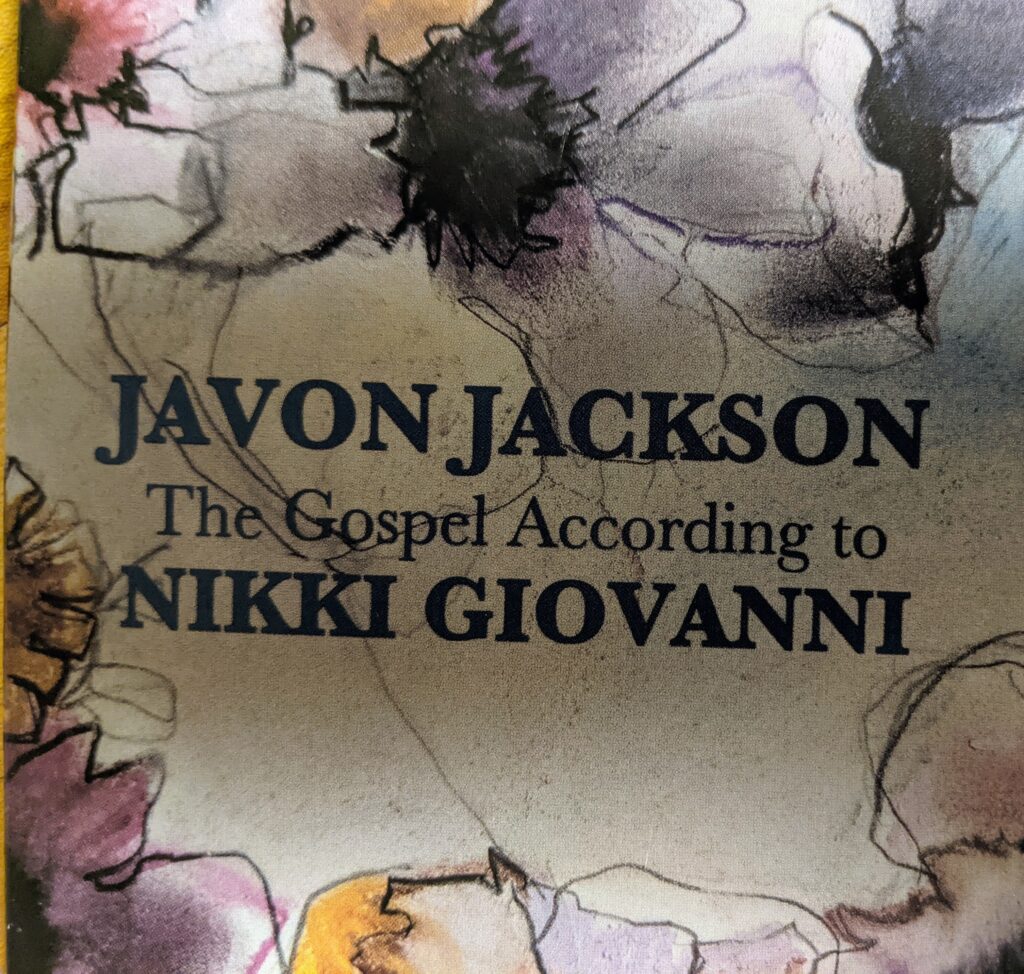 Tenor saxophonist Javon Jackson, was the final tenor saxophonist in Art Blakey's Jazz Messengers, his tenure running from 1987 until Blakey's 1990 ascendence. In addition to Blakey, Javon, who grew up largely in the Denver, CO area, prepped with such NEA Jazz Masters as Elvin Jones, Freddie Hubbard, Charlie Haden, Betty Carter, Cedar Walton, Ron Carter, and Dr. Lonnie Smith. Currently director of the Jackie McLean Institute of Jazz at the University of Hartford's Hart School of Music, The Gospel According to Nikki Giovanni (Solid Jackson Records) is Javon's 21st. This new release marks a precipitous exploration of one of the root sources of the American music tradition – gospel songs and spirituals, for which he partnered with the great poet Nikki Giovanni.
Would it be fair to refer to this as your "gospel" project?
It's our project. I reached out to Nikki and asked her to select 10 spirituals and that would be the material used on my next cd. From there I listened to many renditions of these spirituals from artists that include Jessye Norman, the Moses Hogan Singers, Etta James, and Sweet Honey in The Rock. Great and inspiring music!
What was the genesis of this project?
Nikki's love for spirituals and our one on one conversations on their history made the way for an "epiphany", my thought to have her provide the selections that I ultimately recorded.
How did you come to connect Nikki Giovanni to this project?
In my capacity as Professor; Director of the Jackie McLean Institute of Jazz at the University of Hartford, I invited Nikki to the university for a Q&A and discussion with the student body during Black History Month in 2020 regarding her life as poet and scholar. Also, I suggested to President Gregory Woodward of the University of Hartford that Nikki receive an honorary degree during the visit, which President Woodard arranged and there was a wonderful ceremony.
Given Covid-era restrictions, how did this project come together?
The project was delayed for a year because of Covid, but we eventually found the time in July 2021.
What are the songs on this project and how did you come to select this repertoire?
All of the selections picked by Nikki were very adaptable for a myself and my band, we are a jazz quartet. I especially enjoyed recording "Wade in the Water", "Mary Had a Baby, Yes Lord", "Swing Low, Sweet Chariot", "Night Song" and "I Opened My Mouth the Lord".
Since you come from a jazz perspective and Nikki Giovanni comes from a poetry perspective – two disciplines which have historic connections – what was your sense of the interactions with Nikki Giovanni to realize this project?
She is an artist who loves jazz music and is a Christian. I come from a family of devout Christians, so that is a part of my ancestral stream. There wasn't any conversation between Nikki and myself about how the material would be recorded once I received her choices. As Nikki sang on "Night Song", there was actually no conversation on that one either. She came into the studio, did a practice take for the engineer and then nailed her involvement on the first recorded take!
What was your process for arriving at the music for this project?
I'm very happy to have collaborated to Nikki and greatly appreciate our growing friendship. Nikki selected the music and I don't know what prompted her to pick these particular pieces. I do know that the spiritual we recorded, "Leaning on the Everlasting Arms", is one that reminds Nikki of grandmothers and how Nikki always knew that her grandmother was there for her to lean on.
How do you foresee realizing this project onstage?
We have upcoming concerts with Nikki as our special guest and looking forward!! She will participate as vocalist performing "Night Song". She will also be onstage offering poetry for her vast library of original writings that will occur in tandem with the music. On the CD, "Wade in the Water" is accompanied with Nikki's poem "A Very Simple Wish". It was interpreted beautifully by Dr. Christina Greer, Associate Professor of Political Science at Fordham University.
Given your work at Harrt School of Music and this project, I'm reminded of something Branford Marsalis said about his jazz education work at North Carolina Central University. He always felt that those incoming students who had experience playing in the church had an advantage – particularly from a rhythm perspective – over those students who did not have that experience. Have you found that to be the case with your students at Hart?
I agree. I have found that rhythm can be a benefit for those who had experience playing in church. It's an organic environment where rhythm and emotion are the priorities.
What's your overall sense of now leading a program which was essentially founded by Jackie McLean, and what do you feel is his ongoing influence on your efforts and on the program in general?
Having known Jackie McLean and what he stood for, it is an honor to be Chair of the program that he created with love, perseverance and sacrifice. He was a musical giant and will live forever!! I'm just trying to do my little part and be a resource and a support system for the young people that I encounter in the program. To teach is to learn and I must stay in a learning mode as well!!