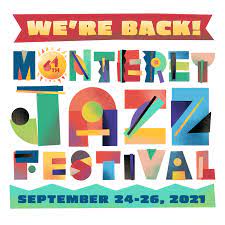 This year's 64th annual Monterey Jazz Festival was a welcome respite for it's thirsty audience, two years since the big event had last played the Monterey County Fairgrounds to full capacity.  Like many in the global community of jazz festivals, after resorting to a strictly virtual, pandemic-decreed online presentation in September 2020, MJF was back on hallowed ground in the pastoral Monterey Peninsula, with several decided differences.
The pandemic's continued presence demanded some unprecedented changes in both it's physical configuration and it's performance schedule.  In ordinary times the Monterey County Fairgrounds includes a sprawling midway with it's big stage – the open air Arena, or Jimmy Lyons Stage on one end of the fairgrounds, and two indoor venues – Dizzy's Den and The Nightclub – at the other.  In between a typical MJF weekend would also find the outdoor Garden Stage bustling with performances particularly for the customary sun-dappled weekend matinees, the indoor Coffee House Gallery, and a separate facility for viewing the Arena performances simulcast on big screen video.
The fairgrounds midway connecting these venues is typically bristling with food, drink, arts, crafts, and assorted inviting goods at vender booths.  A good friend on his first visit to MJF once declared the whole scene "…like an amusement park for adults!"  Clearly the pandemic, which we are ever-so-slowly distancing ourselves from with the assistance of vaccines, masks, social distancing measures and overall human cautions, continues to be a very real menace to society, but not as potent a factor as it was back when Monterey Jazz Festival 2020 was forced into virtual mode.
In its brave, finely calculated effort at returning to some degree of normalcy, for its 64th annual edition the MJF team developed a sound plan for 2021 presentation: ticket sales were capped at 2500 per the festival's three days.  Blessed with a robust annual season ticket buyers roster, those limited number of tickets were scooped up mere days after the 2021 festival was announced.  If you know anything about MJF you know it is not only a haven for great, sometimes historic jazz performances, but what has really enabled Monterey Jazz Festival to withstand the vicissitudes of time is its eminently agreeable audience ambiance and the fact that for many MJF audience members there's a feeling of annual jazz family reunion in the air that September weekend.
Some audience members have been ticket holders nearly since the inception of the event; seats are bequeathed down to succeeding generations; some folks have held the same Arena seat (where all seating is reserved) for decades.  Its just that kind of event, an atmosphere my Dad would refer to as "old home week."   Joie de vivre rules the day at the Monterey Jazz Festival!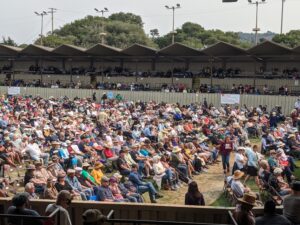 In addition to capping ticket sales at a fraction of the usual capacity, those secondary venues – Dizzy's Den, the Nightclub, the Garden Stage, the Coffee House Gallery, and the simulcast room were all shuttered.  All performances took place at the Arena (which was sans it's usual large stationary bleacher section at the rear) and an adjacent open-air courtyard hard by the food & drink vendors.  The fairgrounds were essentially fenced off at half it's usual footprint.  Though the geography and the audience may have been truncated, the spirit & joy were decidedly on high beam – perhaps even heightened from the normally joyous MJF atmosphere, given the year we missed and what this writer has experienced as this Fall '21 season's overarching sense of relief and celebration at our once again slowly but surely gathering as a populace, though preferably with all due health precautions.  As with so many large events this Fall 2021, proof of vaccine or a negative Covid test 72 hours in advance were required for festival entry.
In concert with the reduced venue footprint, MJF wisely limited its usual Friday night/Saturday matinee/Saturday night/Sunday matinee/Sunday night closer sequences to Friday 7:00-10pm; Saturday and Sunday 1:00-6:45pm.  Clearly very few if any of the festival celebrants felt even remotely cheated by the festival's reduced capacity moves; if anything the annual sense of reunion was ramped up.  Besides those Arena sessions, the Yamaha Courtyard Stage was a lively venue, with fans in constant motion in search of good eats and subsequently camping out at picnic tables to catch continuous sets by guitarist Mimi Fox's Organ Trio on Friday, followed by Letter One Rising Stars Award 2020 and 2021 recipients, trumpeter and Roy Hargrove protege Giveton Gelin on Saturday, and the striking young alto saxophonist Immanuel Wilkins on Sunday.  (Ironically these two budding firebreathers often work together in Gelin's frontline!)  Each played what amounted to club sets, the dining, drinking, socializing seen creating a more intimate scene when contrasted with the big stage Arena.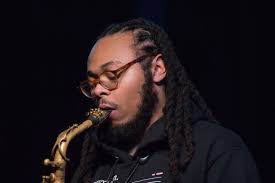 Despite these seeming limitations, the audience clearly had a blast!  The high energy was palpable as friends met up with friends for perhaps the first time in 18+ months, and for many seeing friends for the first time since MJF September '19!  I heard a number of long timers remark with evident appreciation about how this 2021 pandemic-required reduced scale festival felt like how MJF "used to be," before it's modern era venue expansions.
Friday evening opened with Pat Metheny's current trio project Side Eye.  With James Francies on keyboards and Joe Dyson on drums, Pat sifted certain of his familiar themes through this new format seamlessly, including the opener "So It May Secretly Begin," "Bright Size Life," and a in-these-times appropriate "Better Days Ahead".  Francies deftly intoned keyboard bass with one hand, his other delivering on his melodic/harmonic responsibilities, his bass hand delivering tonalities very much like a bass guitar as opposed to the familiar synth bass tonality.  About halfway into his program Pat unleashed his "Orchestrion", a sort of robotic, self actualized percussion section that provided some intriguing visuals once the big screen camera crew zeroed in on that futuristic implement, one which may have given slight pause to any of the percussionists in the house!  On one piece Pat eased some "Song X" sonic textures into the program, recalling his exploits with Ornette Coleman.
Herbie Hancock closed the 2-performance opening evening with Lionel Loueke on guitar and his uncanny wordless ancestral vocal accompaniment, James Genus on bass, and drummer Justin Tyson in his current crew.  But besides the master's usual sterling keyboard work, sparkling young flutist (and occasional vocalist) Elena Pinderhughes (a grad of MJF's Next Generation Jazz Orchestra program) brought the most intrigue to Herbie's largely career retrospective program, with a "Chameleon" encore.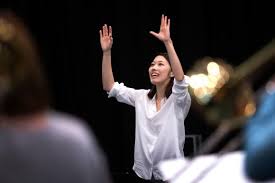 The Saturday afternoon/early evening session opened with one of the festival's revelations, delivered by the young composer/conductor Miho Hazama's exceptionally balanced, compositionally rich set.  Her 13-piece M_Unit included a string quartet, which brought significant additional color to her commissioned work the "Exoplanet Suite."  For Miho's first West Coast performance, she clearly captured many hearts & minds with her riveting original music and thematically-driven set.
There was one lineup casualty, the cancellation of the East L.A. band Las Cafeteras.  MJF artistic director Tim Jackson quickly asked pianist-composer Gerald Clayton, who directs MJF's youth band Next Generation Jazz Orchestra, if he could put something together to fill that Saturday 2:30pm slot.  Asked later about that scenario, Gerald told me by email that "When Tim Jackson got the word that Las Cafeteras had to cancel, he asked if I would be willing to put something together.  I made some calls and before long we had the [Gerald Clayton] Experience slated to go.  I spent the following mornings waking up early to write out charts and send music to the cats.  We got together a few hours before our set, rehearsed the tunes and walked on stage."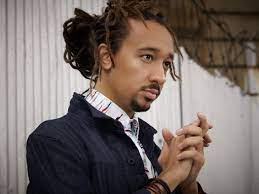 The "cats" Clayton called upon were alto saxophonist Immanuel Wilkins – a ubiquitous MJF '21 presence courtesy of his 4 Yamaha Courtyard Stage sets and a couple of auspicious "special guest" soloist slots – guitarist Matt Stevens, on hand to play as part of Terri Lyne Carrington's Social Science set, bassist Kaveh Rastegar, and the always-enriching drummer Eric Harland.  They proceeded to play a set that belied any sense of the impromptu, particularly delivering a beautiful take on D'Angelo's "Africa." The arrangement clearly demonstrated Clayton's skills at crafting music supposedly outside the boundaries of jazz expression and making it their own.
Terri Lyne Carrington's absorbing gender and racial justice project Social Science delivered a typically brilliant, beyond boundaries set, including meditations on such societal vexations as the wait/waiting game gender and racial justice advocates are historically cautioned to play in seeking equitable treatment and redress.  Her band included Stevens on guitar, the resourceful pianist Aaron Parks, Morgan Guerin on bass, DJ Kassa Overall, and the NEA Jazz Master herself on drums.  Vocalist Debo Ray was a significant presence, successfully delivering the powerful lyric contents of the program, with electronic colors and asides from Overall.  They closed with the extraordinary, poem-driven piece "Bells".
Vocalist Ledisi closed the Saturday session with spirited elan, bringing a measure of 21st century R&B to a hungry audience that soon stormed the grassy space in front of the Arena's Jimmy Lyon Stage.  Dozens of revelers joyously danced to Ledisi's infectious vocals, stage presence, and finely complimentary band.
Sunday afternoon opened with Gerald Clayton directing the student Next Gen Jazz Orchestra, which begged additional questions of Clayton (who in making his stage intros, if you closed your eyes you might've thought it was his Dad, bassist-conductor John Clayton doing the talking!).  "This was my second year directing the NGJO," Gerald informed.  "It means very much to me on a personal level, as I have history with the festival's education program; my first time attending the festival was as a competing high school senior," confirmed this son of a lifelong jazz educator.  "Besides the personal feeling of having gone "full circle", this opportunity also allows me to get deeper into education – something that I have always been passionate about."
Monterey Jazz Festival's Next Generation Jazz Orchestra is selected by national audition.  "There is an audition process, where the students send in videos of themselves performing a variety of things," Clayton confirmed.  "Those videos are judged by a group of professional musicians, then handed off to me for the final selection."  The ever-ready and poised Immanuel Wilkins, who is quickly evolving a personal alto saxophone approach, sat in with the band. But it was left to one of the very promising young NGJO members to provide the highlight, baritone saxophonist Noa Zebley's feature on Charles Mingus' raucous "Moanin'".  Vocalist Ellah Brown proved quite the charmer on her features.
MJF's 2021 artist-in-residence was pianist Christian Sands, who conducted live interviews with several festival artists across the weekend, including Clayton and bassist Katie Thiroux on jazz education, and vocalist Kandace Springs.  For his Sunday afternoon set Sands worked with bassist Yasushi Nakamura, the versatile drummer Clarence Penn, and the cunning and original guitarist Marvin Sewell.  Sands broadened his canvas by inviting three of the Next Gen youngsters onstage for his original tune "Be Water."  Given these hallowed grounds – home of the fabled Monterey Pop Festival where Jimi Hendrix literally exploded on the scene, not to mention 64 years of great jazz – it stood to reason that the audience, many of them boomers, would react well to a rock era reprise.  Sands delivered with his great arrangement of the Steve Winwood classic "Can't Find My Way Home," with scores of audience members mouthing the lyrics to themselves.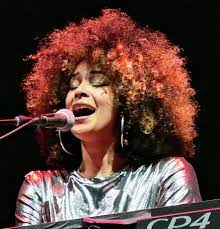 Vocalist Kandace Springs continued her upward arc, this time leading a trio that boasted two wonderfully talented young women: bassist-vocalist Caylen Bryant, proud daughter of saxophonist Lance Bryant (as she told the audience), and the precocious drummer Taylor Moore. who informed the audience that she was a Jimmy Cobb protege.  The ever-present Immanuel Wilkins – this year's MJF co-MVP (along with Clayton) – performed another guest shot, and Kandace warmed the audience with her reprise of the Roberta Flack classic "First Time Ever I Saw Your Face."
The festival closer left the crowd further energized and thrilled, as George Benson delivered a retrospective of his hits and familiar interpretations, and on the promise he had made to this writer for the program book, of serving up a "George Benson party".  Dozens caught the spirit, once again rushing the grassy stage front area to luxuriate in the groove of yet another high-spirited day at the Monterey Jazz Festival.