Following his long and very public battle with cancer, drummer-bandleader-educator and record label producer Ralph Peterson, Jr. joined the ancestors in the early morning hours of Monday, March 1.  For our June 2019 DC JazzFest concluding weekend at The Wharf, to celebrate the Art Blakey centennial we presented Ralph Peterson's Gen-Next Big Band, a vibrant assemblage of his top students at Berklee College of Music.  That particularly unit which twice recorded for Ralph's Onyx label, including this 2019 edition: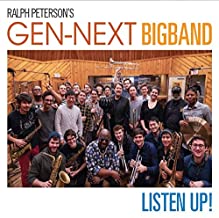 On that 2019 DC Jazz Festival occasion, as part of our Meet the Artist series of activities I hosted a live DownBeat magazine Blindfold Test, which was subsequently published in DB.  Thanks to DB publisher Frank Alkyer for granting permission to re-print this Ralph Peterson Blindfold Test in the Independent Ear.
DownBeat Blindfold Test conducted by Willard Jenkins
Ralph Peterson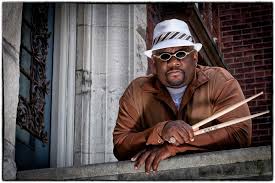 Drummer-bandleader and Berklee College of Music professor Ralph Peterson has raised the Art Blakey Jazz Messengers flag high in this centennial year of the great Pittsburgh-born drummer's birth. Back in Buhaina's final decades on the planet, whenever he had a big band project or needed a second drummer to rehearse the Messengers or hold auditions, he would most often call upon Peterson. To celebrate Blakey's centennial, Peterson has this year released two commemorations – I Remember Bu by his GenNext Big Band, comprised of first class Berklee students, and Legacy Alive by a crew of Messengers alums under the banner of The Messenger Legacy; both on Peterson's Onyx label imprint. On this occasion Peterson had just performed an explosive set at the helm of the GenNext Big Band at the 15th annual DC Jazz Festival. After the gig Peterson sat down at DCJF's Education Village for this Blindfold Test.
Albert "Tootie" Heath, "Reets and I" (Philadelphia Beat, Smalls 2015) Heath, drums; Ethan Iverson, piano; Ben Street, bass
Ralph Peterson: That's amazing composition from the Bud Powell book. I remember playing that piece with Walter Davis. The piano player smacks of Geri Allen and Jaki Byard maybe. So if it's not either of those two, it's someone of that ilk. I sat up trying to hear the texture of the ride cymbal, because the drummer was playing very Roy Haynes-esque, but it didn't have that quintessential flat ride sound of Roy.
Manu Katche, "Keep on Trippin'" (Third Round, ECM 2010) Katche, drums; Tore Brunborg, saxophone; Jason Rebello, piano/keyboards; Pino Palladino, bass; Jacob Young, guitars; Kami Lyle, vocals, trumpet
R.P.: Very often you can identify a piece if you can identify the sound of the drummer, or the sound of one particular player, or the sound of the recording. For a moment IO thought it might be Terri Lyne Carrington. Then I thought it might be Marcus Baylor. Clearly this is the kind of jazz that I was first introduced to, this is how I thought jazz should be until I met Paul Jeffrey; it has that pocket you can dance to feeling.
Neal Smith, "The Cup Bearers" (Some of My Favorite Songs Are By Smith; NAS Music 2005) Smith, drums; Mark Whitfield, guitar; Rick Germanson, piano; Peter Washington, bass)
R.P.: Something wants me to say Rick Germanson on piano, Neal Smith on drums. Neal, that's my dog, we have neighboring offices at Berklee. He has such an amazing, nuanced touch, and I know he loves this tune, so I thought it was Neal's record.
Sons of Kemet, "Burn" (Inner Babylon, NAIM 2013) Shabaka Hutchings, tenor saxophone; Oren Marshall, tuba; Tom Skinner and Terri Rochford, drums
R.P.: Is that Pheeroan akLaff? I've got some former students this could be; a Slovenian drummer named Andres. It reminds me of the music I used to play with David Murray and the music of that tour circuit – Craig Harris Tailgater's Tales, Hamiet Bluiett, Bob Stewart…What I was able to identify was the sound of tuba as opposed to [string] bass, which led me to think that the group is Europe-based, but I like it.
Randy Weston,"Pam's Waltz" (Randy Weston Trio, Riverside 1955); Weston, piano; Sam Gill, bass; Art Blakey, drums
R.P.: Two pianists come to mind right away – Horace Parlan and Walter Bishop Jr.; I don't know if it's them because there's a quality there that I know from my association with Walter Davis. It sounds like it was written for a movie. The role of the drums here is pretty low-key – Connie Kay comes to mind, maybe Vernel Fournier. It just goes to show that artists the caliber of Art Blakey can't be put in a box. His brilliance and his ability to be subtle and supportive was just as powerful as his ability to be bombastic and a leader.
Terri Lyne Carrington, "Jazz is a Spirit" (Jazz Is a Spirit, ACT 2001) Carrington, drums; Wallace Roney, trumpet; Munyungo Jackson, percussion; Danny Robinson, guitar; Greg Kirstin, keyboards; Malcolm Jamal Warner, spoken word
R.P.: I thought it was Keyon Harrold on trumpet. I didn't think it was Wallace [Roney], but what I find most interesting about it is Wallace's ability to not weigh too deep into the harmonic explorations of Miles [Davis] playing against the tonality. And that's made it deceptive to me because usually Wallace's connection to Miles is obvious and direct, so this more subtle approach is nice to hear him do. There's a lotta cats out here who can do it, but Wallace is to Miles what I try to be to Art Blakey.
Matt Wilson, "Teen Town" (An Attitude for Gratitude, Palmetto 2012) Wilson, drums; Terell Stafford, trumpet; Gary Versace, organ; Martin Wind, bass
R.P.: Is this Joey [DeFrancesco]? I like it, it's a fresh approach to this Weather Report tune. This was one of the first complicated pieces of fusion that got my attention in high school. This was [originally] on Heavy Weather with Wayne Shorter, Joe Zawinul, Alex Acuna, and Jaco. What's interesting is that Matt and I are same generation, so we were probably similarly influenced. I really respect what Matt does as a leader.
Mike Reed, "Sharon" (Clean on the Corner, 482 Music 2012); Reed, drums; Greg Ward and Tim Haldeman, saxophones; Jason Roebke, bass; Craig Taborn, piano; Josh Berman, cornet
R.P.: Vijay Iyer? It reminds me of work that Greg Osby, Gary Thomas, and Steve Coleman have done together. The tune is based on Miles Davis' "Four" but they're playing on the upper harmonic partials of the tune. I like it, it swings and it's out, and I like that. Both globally and regionally there's so much music on a high level being produced by artists, where when I came up you were looking to be signed, but the paradigm has shifted and artists are freer to start their own labels.
Olodum, "Olodum Mare" (Pela Vela, AXE 2002)
R.P.: Samba school! Duduka da Fonseca? I love the feeling of this music of Brazil! My people are from Trinidad and Barbados, the islands closest to Brazil. That music is connected to Ghana and Ghanaian drumming. Other than Africa, there are more Africans in Brazil than anywhere else. I love that!
Allison Miller, "Pork Belly" (No Morphine, No Lillies, Royal Potato Family 2013); Miller, drums; Myra Melford, piano; Todd Sickafoose, bass; Steven Bernstein, trumpet; Jenny Scheinman, violin
R.P.: Nasheet [Waits]? Is this Orrin Evans? I don't know who this is but because of the way the drums are tuned it sounds like somebody from my generation, [because of] the openness of the bass drum and the depth and warmth of the toms. I don't know who it is, but I like it, very nice piece.