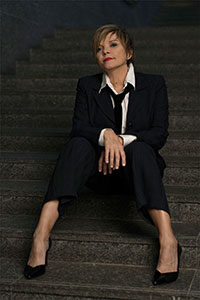 Vocalist Karrin (pron. kah-rin) Allyson clearly has a good ear for thematic recordings.  And that's a perception I don't make casually, based in large part on her splendid 2001 project Ballads: Remembering John Coltrane (Concord '01).  On that particular record she re-cast Trane's Impulse! Records classic Ballads album vocally, including releasing those songs in the same order John and producer Bob Thiele followed for the master's classic exploration of a tender portion of the Great American Songbook.
For her latest project, Ms. Allyson, whose voice bears a very pleasing Midwestern sensibility from her Kansas roots, working closely with producer-conceptualist Kabir Sehgal, has chosen to go deep in a vivid color pallet of our ongoing social justice concerns – women' suffrage, a platform originally based on the right of women to vote in elections, which has in an omnibus manner also come to embrace ongoing women's rights & social justice pursuits.  In the artist and her producer-conceptualist's response to gender justice issues, Karrin's current Shoulder to Shoulder album celebrates historic women's suffrage and justice acts & efforts, and the ongoing need for women and allies to remain firm and stand tall together because the gender justice work of our world never ends.
Notably this project includes powerful spoken word passages, like Sojourner Truth's vividly memorable 1851 speech, which as producer Kabir Sehgal's liner notes assert: "…spotlights one of the great oversights and misgivings of the women's suffrage movement.  It was largely about the societal advancement for white women."  To deliver Sojourner Truth's speech, Karrin engages the distinctive voice of Lalah Hathaway.  Frederick Douglass' 1888 wisdom is recalled on the record by Harry Belafonte, while Julie Swidler honors suffragette Alice Paul's 1921 commentary.
Musically Allyson works with an imposing cast of guest contributors, including Regina Carter, Rosanne Cash, Kurt Elling and additional guests, including the fast-emerging young singer Veronica Swift, whose mere participation is applause for Karrin's selflessness (it's not often that an established vocalist welcomes such a newcomer onto their album).  Core musicians include saxophonist Mindi Abair, trumpeter Ingrid Jensen, pianist Helen Sung, bassist Endea Owens, and the crafty drummer Allison Miller.  Clearly some questions about this brilliant project were in order for Karrin Allyson.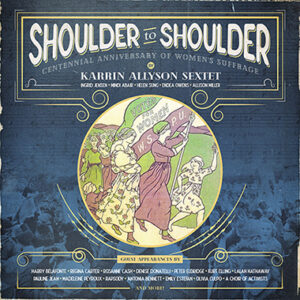 When did you get the idea to make this recording, as a "Centennial Tribute To Women's Suffrage"?
The concept of a Woman's Suffrage musical project was brought to me by the producer and musician Kabir Sehgal. He had me in mind to lead the ensemble, and we chose the band together, and continued the concept together (along with the wonderful John Daversa)  ..  I was very honored to be asked.
How did you go about assembling the all-woman band that works with you on this release, and what qualities were you looking for in these women?
The qualities I always look for in any player, women or men, is versatility, professionalism, and of course mastery of their instruments. A good sense of humor never hurts either !
I had worked with Ingrid Jensen a few times and have always loved her. As for the rhythm section, of course that's all-important too — I had only heard Helen Sung and knew what a talent she was, chops galore. I was astounded at the range of her pianistic skills — extremely versatile and smart. Endea Owens was new to me, but recommended highly and once I heard her I knew! Her sound is big and the groove is deep — she's a sweet heart and is game for anything. Drummer Allison Miller; we had sat in together a few times, and I'd heard her with several groups, I've always admired her style and creative approach to the drums. Adding Regina Carter as special guest was a no-brainer ! She's a soulful and unique player, she was also featured on my all- original CD "Some of That Sunshine" (in fact she was nominated for a Grammy for her solo on the title track!)
You've also engaged quite a cast of guest participants, talk about them and how you saw them contributing.
Kabir and John Daversa (trumpet player and arranger extraordinaire)  and I were constantly running ideas by each other, and we chose accordingly
Getting folks like Harry Belafonte, Roberta Flack, Rosanne Cash, Kurt Elling, Madeline Peyroux among all the other luminaries was an exciting process — adding the choir was John's idea I believe and I loved it. And adding spices of saxophone (Mindi Abair) string quartet, really made it a full sound.
What was your thought process in assembling the repertoire for this recording, including both the songs and the spoken word selections?
We went to the 'era' (late 1880's) first to choose repertoire. Many of the songs then having to do w the Suffragist Movement were more march like of course… we tried to mix it up both with the message and stylistically. It is a heavy and important message, but lightening it up occasionally is a good idea (for example on the songs "She's Good Enough to Be your Baby's Mother- very campy and fun and Winning the Vote with Kurt playing the role of "Joe" finally 'winning' him over to help the vote)
We also included a few original songs of mine (Big Discount, with guest rapper "Rapsody" and the song I wrote for this project "Way Down Below") We found the speech The Great Convention and John and I wrote the music to that together. So it's a combo of songs of the era and more current pieces.
How do you see this project dovetailing with the social justice activities and movements that have activated over the last year or so?
Voting is an Equality issue… and today it's just as important if not more, as there are folks who want to take the right to vote away from others. It's hard to believe — but a sickening reality. I have always felt that if women and men of every race, could REALLY reconcile our differences, with men accepting women as equals and unique too… that much else would 'fall into place' … perhaps that's too much a pollyanna-like view — I'm still hopeful !   I'm so excited that more women -of all ages and races, are now more in the political arena— As my song "Way Down Below" says "When you educate a woman, you do the world a favor!"