There is a deeply admirable earnestness and a steadfastness about concert impressario and radio producer Bobby Hill (currently heard on Takoma Park community radio station WOWD) that I've always admired. Back when he founded Transparent Productions and began presenting thoroughly uncompromising improvisers of many stripes around Washington, DC, he established that with the same sense of urgent purpose with which he piloted his equally uncompromising weekly radio shows at WPFW. A quiet, relatively soft-spoken, always deeply thoughtful soul, there remains a kind of zealotry burning deep within Bobby Hill when it comes to some of what more than a few folks might consider the more far-flung strains of modern music. And that's precisely why when I came onboard as artistic director of the DC Jazz Festival in 2015, I immediately sought out Bobby to engage him as part of our festival's Jazz in the 'Hoods family of DC jazz presenting entities to present some of his programs during the festival. For those of you who don't know him, meet friend and colleague Bobby Hill…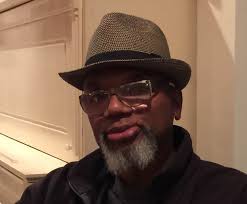 What is it about what is the often freely improvised music, and is always uncompromising, original music, that you've championed in both your broadcasting and presenting efforts all these years, that continues to stimulate your senses.
Simply put, such music brings me endless sounds of surprise. You know I call my radio program This! Music, and I don't mean to present the naming emphasis lightly. I discovered jazz through John Coltrane's 'By the Numbers', from his The Last Trane' recording, which was his final release on the Prestige label. . The year it was released (1966) was the same year that Trane recorded 'Live in Japan'. Two very different sounding forms of jazz, one more traditional and other, far less so. The latter forms bringing more original patterns and flows, of extemporized 'jazz' music. I can air play every note of Trane's 'By the Numbers' by heart and memory, but only the spirit of his 'Leo'. This! Music is how one it's founder's founders of jazz's avantness, drummer Sunny Murray, describes this early 60's form discovery. Presenting and broadcasting it is further influenced by the many early WPFW programmers that preceded me, folks like Art Cromwell, Greg Tate, Ken Steiner, and many others.
My friend and colleague, longtime artists manager and attorney Gail Boyd, has developed a Facebook group called Alternative Venues for Jazz. I've always considered Transparent Productions as an ultimate "alternative venue for jazz". How did Transparent Productions develop?
In 1997, when the premier presenter of such music in the DC area, District Curators, was transitioning to other presenting avenues, a few fellow WPFW programmers – Larry Applebaum, Herb Taylor, Thomas Stanley, and myself, plus new area member Vince Kargetis – got together, talked, and figured we could collectively try to keep such presentations of this music, happening. In collaboration with District Curators, "Dare to Be Different – Jazz Arts '97 Washington DC Festival", our first offering was a duo performance between saxophonist Joe McPhee and bassist Michael Bisio at the know defunct Food for Thought restaurant. It was great music and a well-receiving audience. It was followed by bassist William Parker performing solo at an also now-defunct Kaffa House cultural space. The Parker audience was overflowing, evoking the renowned bassist to speak about the colors that he sees in the music that he plays and hears. After this well-received and attended performance by Parker, we said 'we got this', and have been now doing it for over two decades, and nearly 400 performances. We have presented a wide range of specially curated offerings, including the world premier of William Parker's Electric Band, and pianist Matthew Shipp solo, playing and speaking on the influence of writer/activist Jean Genet on his life and music. There have been many other such original performance offerings.
Special thanks must go to a longtime and original support, Zinnia, who housed many of our artists, including Parker and Shipp, in her lovely NW D.C. home, before moving out of the country.

PHOTO BY YUSEF JONES
Considering that 100% of the proceeds go to the artists, how does Transparent sustain itself, and how do you avoid the label of presenting what musicians often dread – the proverbial "door gig"?
Again, it's always been a joint collaboration of doing what needs to be done to make things happen. From curating artists, arranging performances space, flyer creation and distribution, and more. The supporting audiences are the true hub. The only label that we enjoy using is 'Free' (music, not cost).
Thinking about the reality of alternative venues from purely the home for Transparent Productions aspect, talk about some of the venues where you've presented performances and what those actual venues have meant to your presentation?
Our performance moniker reflects words from saxophonist Henry Threadgill: "Live music is it. There's nothing like live music and spirits". Many venues have made it possible for us to share such spirits. From smaller spaces like Takoma Park's Sangha Fair Trade (our first home), to many other small clubs and restaurants like Electric Maid (Takoma Park), Mr. Henry's, & Chief Ike's Mambo Room (D.C.), churches (Westminster), museums (Hirshhorn) M.O.M.A.), colleges (George Mason, George Washington, UMD), area embassies (French).
What have been some of your favorite moment's in Transparent Productions' history, those moments when what you present have been most meaningful to your evolution as a presenter?
A great part of our evolution was the near decade that we presented at the historic, but now-closed Bohemian Caverns. I was raised just around the corner from its 11th & U Street location. The owner, Omrao Brown, allowed us to facilitate an ongoing series called Sundays@7@The Caverns. We kicked off the series in with a performance led by guitarist Jean-Paul Bourelly, and ended it with a performance by cellist Janel Leppin and guitarist Anthony Pirog, for which these artists donated the full door back to Transparent, as thanks for our work there. Our offerings have also witnessed changes that have occurred in the city's landscape, over the years, via gentrification. Bohemian Cavern's is just one of many spaces no longer here. But new spaces seem to always come.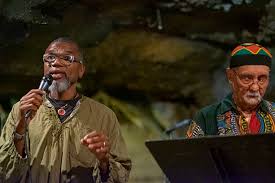 How has your now 40-year broadcast career dovetailed or positively interacted with your Transparent Production's activities.
My first thoughts of presenting began in the early 80's (when I was also just starting at WPFW radio), as an assistant for singer Arnae. Arnae was producing the Smithsonian's Jazz In the Palm Court series, under the guidance and leadership of singer and Sweet Honey in the Rock founder Bernice Reagon. The series enabled artists to focus on the music of an ancestor artist. One very memorable one was when the late pianist Geri Allen did a program on the music of the great Lovie Austin. So WPFW sparked Jazz in the Palm Court, ultimately sparking Transparent Productions. So, it's has definitely been a positive dovetail. I've met so many great audience members, artists, and heard and presented such great and original music.
What is the next evolution for Transparent Productions?
Thursday, February 13, 2020@8PM, KAZE@Alleyworld, w/Satoko Fujii on piano, Kappa Maki, Christian Bezos on trumpet, and Peter Menard on drums.
Sunday, February 16, 2020@7PM, Kahil El'Zabar's Ethnic Heritage Ensemble@Rhizome, w/Kahil El'Zabar on multi percussion/composition/voice, Corey Wilkes on trumpet & percussion, and Alex Harding on baritone sax & percussion.
Monday, March 9, 2020@8PM, Steve Swell Quartet @ Rhizome, w/Steve Swell on trombone, Rob Brown on saxophones, William Parker on bass, and Michael T.A. Thompson on drums.
Wednesday, March 11, 2020@8PM, Tim Berne Sun of Goldfinger @Rhizome, w/Tim Berne on alto saxophone, David Torn on guitar, and Ches Smith on drums.
Sunday, April 5, 2020@8PM@Rhizome, w/Joseph Daley Tuba Trio, w/Joseph Daley on tuba and euphonium, Warren Smith on drums, and Scott Robinson on saxophones.
Friday, June 12th DC Jazz Festival collaboration (artist TBD)