From my past 18-year tenure as artistic director of Tri-C JazzFest (Cleveland), one of my great delights has been witnessing the full-scale professional flowering of young musicians who came up through TCJF and Cuyahoga Community College's student jazz education ranks. Most auspiciously, among those who have ascended from TCJF's education programs to become first-class professional jazz musicians have been the trumpeters Sean Jones and Dominick Farinacci, and Curtis Taylor. Add to that list drummer Jerome Jennings, pride of Cleveland Hts. High School (for you NFL fans, that school also gave us all-pro tight end and Kansas City Chief Travis Kelce).
After Heights High, and years of participating in the Tri-C JazzFest education programs, Jerome matriculated at Rutgers, then received his Masters in Music from the prestigious Juilliard School. Clearly those years of tutelage and mentoring by numerous first class professionals rubbed off as Jerome has auspiciously given back to succeeding generations of young musicians through his subsequent teaching-mentoring work as conductor of The Juilliard Jazz Orchestra, the Jazz House Kids education program, and as a drum instructor-mentor at the New Jersey Performing Arts Center's education programs.
At the drums Jerome Jennings' has lifted the bandstands of such NEA Jazz Masters as Hank Jones, Sonny Rollins, and Dee Dee Bridgewater, as well as affiliations with the Mingus Big Band, Mike Stern, and Christian McBride. Jerome has solidly joined the ranks of drummer-bandleaders and his second release as a leader is Solidarity. Clearly some questions were in order for Jerome Jennings.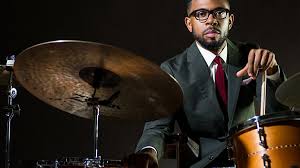 What growth would you say you've experienced from your first release The Beast (2016) to Solidarity?
I have experienced exponential growth from my first release, The Beast, to my sophomore release Solidarity. These projects are an artistic expression of where I am musically and socially. Both were a learning experience for me with regards to preparing the music, booking the studio, and choosing the band that I wanted to record my ideas. I wanted to explore more of my writing and arranging ideas on Solidarity. This particular project was special because in 2017 I began to learn more about Black woman and the LGBTQ+ communities through my wife, friends, and literature. Inspiration for Solidarity further developed through the writings of authors/ scholars Toni Cade Bambara's The Black Woman, Dr. Sarah Haley's No Mercy Here: Gender, Punishment, and the Making of Jim Crow Modernity, Farah J. Griffin's If You Can't Be Free, Be A Mystery: In Search Of Billie Holiday, Barbara Ransby's Making All Black Lives Matter, Audre Lorde's Sister Outsider and many other publications. Hearing the voices of black women and people of color in the LQBTQ+ communities nationally and internationally has changed my view of the world. It inspired the growth and music presented on Solidarity.


The drums would seem to some to be an ideal position from which to lead a band, however that role hasn't always been considered that way in jazz. What has inspired you to develop your bandleader chops?
I agree that it seems ideal for drummers to lead the band. We see and hear the music from an optimal position. Its our job to paint and orchestrate the music in an honest, hip way. My inspiration comes from the various band leaders that I've performed with throughout the years. Hank Jones, Christian McBride, Sonny Rollins, Hamiet Bluiett, Dee Bridgewater and countless others; all have their own special way of leading the band. I've taken a little bit from them and created a style of leading my own band(s). I think that it's important to have a concept or understanding of how the other instruments function within your band. I still love to play as a sideman, but being a leader is something I have always dreamed of one day pursuing.
What have been some of the most important lessons you've learned from other drummer-bandleaders in your quest?
I've learned so much from other drum bandleaders! Victor Lewis stresses the point of polarities, balance, and team ball playing on the bandstand. Victor is the first to highlight the importance of composing music. I call Victor Obi Wan Kenobi of the Jazz scene. Jeff 'Tain' Watts spoke with me once about allowing the band to interpret harmonies as 'a sound' and not so much in a rigid way. Tony Reedus (RIP) explained the importance and concept of 'playing the room.' Carl Allen has given me priceless advice on keeping the gig and traveling on the road. Michael Carvin spoke with me at great length with regards to consistency and patience. I've learned greatly from watching exceptional drummer band leaders – Louis Hayes, Billy Hart, Ralph Peterson, and others.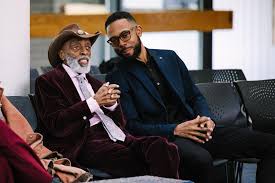 None better to confer with on the nuances of being a drumming bandleader than the great Roy Haynes
In terms of your development, what are some of the more impactful working relationships that have spurred your efforts as both bandleader and sideman?
Christian McBride, Dee Dee Bridgewater, Louis Massiah, Tim Reis, Eddie Allen, and Hank Jones are/were some the most impactful relationships that I have. They are all amazing performers and are very serious about preserving and upholding the best in our culture and music. I notice their commitment to become better people and artists everyday! I've checked all four out in the context of sideman/woman and bandleader. Each have an empathic approach to the art of being a sideman/woman. Observing their humanity off of the bandstand has been very impactful in my development. They consistently treat everyone (from the janitor to the festival producer) that enters their circle with respect and dignity. Louis Massiah is not a musician. He is a documentary filmmaker. I've learned so much from his body of work, integrity, kindness, and work ethic. I value(d) my relationship with all of them.
How would you advise aspiring drummers seeking to develop their craft in terms of their being sought-after for performing opportunities – both as sidemen/women and potentially as leaders?
Constantly work on your craft through listening, practice, and observing. Focus on the details. Naturally, the drums are usually an accompanying instrument. Play in as many musical situations as possible. This will help you to become a well-rounded accompanist. It's best to be a good follower before you evolve into a leader. Don't get so enamored with playing with 'famous' people. Every performance is an important stepping stone to the next. Play a restaurant gig like its a performance at Carnegie Hall