Recently we published Ron Scott's review of the 2017 Cape Town International Jazz Festival (scroll down). Ron was able to extend his journey into the heart of jazz in South Africa and here he shares his insights into jazz in the country which we have long held as possessing one of the deepest, richest jazz musician cultures of any country in the evolution of the music.
CAPE TOWN JAZZ TOUR
By Ron Scott
While recently visiting Cape Town, South Africa I had the unique experience of going on a "jazz safari". It was listed as one of the tourist attractions that one could book and pay for online. Seemed like the perfect opportunity for a curious New York City jazz writer.
The cost was only $99 which included meeting two of Cape Town's prominent jazz musicians at their homes, having a home-cooked dinner with one, as well as two private concerts by each, and a discussion. Ironically, after paying for this tour, the notice popped up that I would be emailed the address of where to meet my guide on the specific date. Hmmmmmm.
As the day of my jazz safari grew closer, I still had no address or time to meet. Well, I became a little nervous and called the number at the bottom of the website. They checked my information and gave me all the necessary information.
The next evening, I took a cab from the hotel to the meeting destination about 10-15 minutes away. I met the tour guide Michael Letlala. He was very cordial and definitely knowledgeable about the Cape Town jazz scene. Oddly, there isn't much of a jazz scene in the bustling city but he knew all the musicians and where the live shows took place.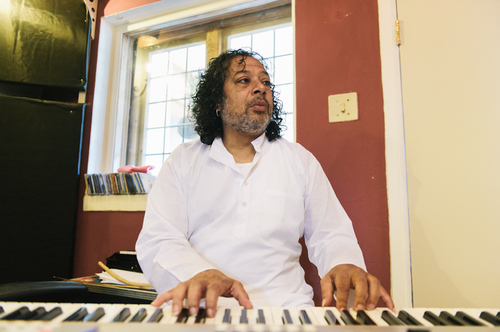 Our first stop was to the home of pianist and composer Hilton Schilder. His wife had prepared a delicious traditional dinner for the three of us. While eating we discussed his career as a musician living in Cape Town. Schilder's music connection began with his great grandfather, who was a gypsy guitarist during the 1800s in Cape Town. His father was also a musician and had the distinction of backing such artists as Peaches & Herb, Oscar Brown, Jr. and Percy Sledge. "All my cousin's kids and my grandchildren also play," Shilder proudly stated.
Schilder is a multi-instrumentalist, who plays guitar, bass, percussion,drums, cello and flute. "All of my cousins and grandchildren play instruments," said Schilder. He performed with Blood, Sweat & Tears in the 1960s and played at the prestigious London jazz club Ronnie Scott's. He says he was inspired by Count Basie, Ella Fitzgerald, Donald Fagan (of Steely Dan), and Brazilian musicians. He was also an active member of the District 6 Museum Band (which performed in Hong Kong).
After dinner he stepped a few feet away from the table to the piano and began playing one of his original compositions written for his wife. During their 53 years of marriage, he has composed 40 pieces for her. He playedy'Cannonball Adderley's "One for Daddio" (from his Something Else album on Blue Note). His three-part composition "Dwarf, Giant" is a haunting piece of a conversation between a dwarf and giant with two instruments, the flute and violin as the giant's voice.
He introduced me to the clarytone, a small instrument also known as a nose flute that he often brings into his varied performances. Hilton Schilder has recorded 38 albums as a leader and sideman with three solo piano albums. Most recently, he performed in Orbits the only full-pledged jazz club in Johannesburg (which is similar to the New York City jazz clubs Birdland and the Jazz Standard).
Following, a great home cooked dinner, a jazz conversation that stretched from America to Cape Town, and a live performance it was time to leave for my next jazz rendezvous.We were off to visit another Cape Town jazz musician, the trumpeter and composer Fezekile Tempi aka "Blackie" as his many friends call him. I was immediately introduced to his wife (who had so kindly set up snacks and drinks for us), and his friend who stated, "I just came to hear the music," and his cousin the guitarist Latch Mdingi, who would later accompany him during a performance.
Like his musician friend Schilder, Tempi was happy to meet a brother, who happened to be an American journalist and jazz fan. He explained that he was self- taught."When I was young I always watched musicians playing and when they stopped to eat I would go up and touch their instruments," said Tempi. "Sometimes they chased me away but sometimes they talked to me about their instruments and showed me their techniques." He explained it was the spirituality of Pharoah Sanders' album Karma (Impulse!), with the now legendary song "The Creator Has a Master Plan," "[that] moved me to jazz." During apartheid and Hugh Masekela's self-exile, his albums were banned in South Africa.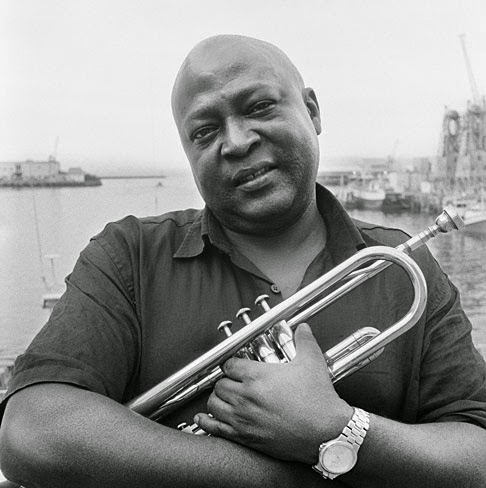 "My first love was Dizzy Gillespie, then Miles Davis, Roy Hargrove, Freddie Hubbard, Lee Morgan, and Clifford Brown was a master," said Tempi. "But I really like Wynton Marsalis. Personally, I am still trying to discover myself as a musician."
Due to a lack of jazz clubs in Capetown musicians have to be flexible. Tempi has played in a host of theater company productions that included tours of Denmark, France and the Netherlands. The trumpeter has two bands; a jazz band and an afro pop band. "Here in Capetown it is expensive to keep a band," said Tempi. "The life of Capetown musicians is the most difficult in the country."
Tempi's cousin Mdingi is also self-taught and began playing guitar at age 12. He says his main influences were Wes Montgomery, Joe Pass and George Benson. The first tune the duo played was the CD title tune "Love & Peace," an original by Tempi. It had jazz rhythms with a traditional Capetown flow, mid-tempo in the spirit of Hugh Masekela with guitar flurries.
"Writing songs isn't the problem it's recording them," said Tempi. His recording Love And Peace "Ta Blaques" (his own independent recording) is an impressive voyage of Cape Town rhythms with a jazzy flow. Throughout he plays with bold flavored tones.
Upon visiting South Africa it had never entered my mind I would have the honor of interviewing Schilder and Tempi two well-respected jazz musicians on the Capetown scene and beyond. And their live performances were incredible. It was a unique experience that I will always remember.