Whisper Not: The Autobiography of Benny Golson
by Benny Golson and Jim Merod
Temple University Press

Saxophonist-composer Benny Golson exemplifies the jazz life well-lived. He developed a distinctive sound on the tenor saxophone, one that has become more smoke-infused and slightly burry with age. He has written a compact but potent body of jazz standards (think "Whisper Not," "Stablemates," "Along Came Betty," etc.). He successfully crossed over to television and film scoring. He has avoided some of the pitfalls of the jazz life; scandal has thoroughly whiffed in attaching itself to one of the true gentlemen of jazz. Now in his 8th decade he continues to be a vital presence on the recording and performing scene, picking and choosing his opportunities wisely. And that life is well-chronicled in this informative new volume that is more memoir than traditional autobiography. Benny and his collaborator Jim Merod have chosen not the traditional cradle-to-maturity autobiographical approach, but the approach of detailing key touchstones in Benny's evolution, detailed with great humor and with no obvious bitterness or axe to grind, in a way that his intimates will recognize as the reflections of one of the more genteel masters to have ever addressed this music.
At first reading one might be tempted to point fingers at his writing collaborator for a tendency towards the occasional (but forgivable) florid language, as exemplified by Benny's rather over-the-top detailing of his endearing, head-over-heels reaction to meeting and subsequently courting his beloved wife Bobbie. But if you know Benny, recognizing his conversational style and his gentlemanly demeanor, you recognize that's pure Benny Golson. (I recall an email I received from him once in which he prefaced his note by saying "I was thinking of you in a most intense way today.") Here's an example from his loving recollections of his dear friend John Coltrane. In a chapter recalling two whom the chapter refers to as "Unrivaled Aces" (Sarah Vaughan and Bill Evans), recalling Miles Davis' monumental "Kind of Blue" recording and his saxophonist-compadre's participation, is this somewhat wistful passage: "There was a time in my life when I wondered what might have transpired if, in some counterintuitive but angelic way, Philly Joe Jones had recommended me instead of my dear pal John for Miles' quintet. I am deeply, ironically aware that despite the world's absurdity and evil, most of the important events that define reality are shaped with rare tact and surprising finesse." That's pure Benny Golson, a man who in a different incarnation might have been an English language professor at Yale.
Though he takes – at the very most – only modest credit for it, Benny Golson is definitely one of the architects of the jazz institution known as Art Blakey's Jazz Messengers; if for no other reason than his indelible contributions to the Blakey book, "Whisper Not," "Along Came Betty," and particularly his touchstone "Blues March." The passage on how he convinced Blakey that he needed a march – of all things! – in his book is priceless. Here's another example from Golson's first week with the Messengers: "During our week at Cafe Bohemia I noticed that Art's repertoire didn't include any strong, self-identifying arrangements. I also noticed other things that bothered me. After a few days, I decided to talk to him about my concerns. Looking back, I cannot believe I said the things I decided to say to him.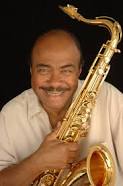 "I confronted Art during an intermission with a series of extremely presumptuous observations. I began something like this: "Art, you should be a millionaire." How's that for a bold opening? It got his attention. Somewhat taken aback, Art responded openly. "A millionaire, what do you mean?" Never could there be a less defended chin for my next jab. "With all your talent, you should make much more money." (Somehow I learned how much this group received for the week at Cafe Bohemia; the money was terrible.) Next, I told him his lack of punctuality was atrocious. "You leave the bandstand for a fifteen-minute intermission and disappear sometimes for an hour. At the beginning of the night, you and other members of the group are frequently late… in fact almost always." Art was totally attentive, so I plowed ahead. "You're undependable and unreliable. Art, you're a risk for anyone who hires you."
"Art's eyes widened in disbelief. "This green upstart punk is saying these things to me," he must have been thinking. "Who is this kid?" But he let me go on. "I heard Small's Paradise never wants you to work there again, because you were late all the time. Is that true?" A pause and then his admission: "Yeah-h-h, I guess so." I pressed on with my lecture. "Procrastination cannot be a way of life," I informed him. "In the long run it makes things more difficult and hinders aspirations. It is selfish, since other musicians are almost always involved." I blathered on, assuming Art would be aghast at my remarks. But he was looking at me with interest, apparently unoffended. Did I really say such a preposterous, self-inflated thing to this giant of an artist? But Art took my critique absolutely seriously, and meekly asked me, "What should I do." Art Blakey wisely took Golson's good counsel!
Other rich chapters in this book include Benny's vivid recollections of his difficulties, and ultimate delights, in breaking into the Hollywood studio scoring world, as well as his admiring reflections on film and television personalities who played important roles in his odyssey, including a particularly warm chapter on Steven Spielberg and Tom Hanks and his lovely experience with them making their film "The Terminal." Chapters 21-25 comprise Part V of the book, titled Amazing Friendships on his key relationships with Quincy Jones, Harry "Sweets" Edison and Dizzy Gillespie, his homeboy Philly Joe Jones, plus chapters on Thelonious Monk, Max Roach, and Dinah Washington (including a hilarious passage on the oft-married diva's unsuccessful effort at seduction, and Curtis Fuller and The Jazztet.
Whisper Not is deeply complimentary of these and a plethora of jazz greats and personalities who've touched Benny Golson's life, from his Philly homies Coltrane and Jimmy Heath, to Peggy Lee, Mickey Rooney, and Redd Foxx, to Sonny Rollins and Muhammad Ali. Benny Golson is definitely not one to tell tales out of school; there's nothing remotely gratuitous in his recollections. This is a warmly enjoyable, humor-laced jazz memoir that thoroughly eschews any sense of linear approach, and in this case that's not a bad thing.