Our recent experience at the 44th annual Umbria Jazz reaffirmed the excellence of this annual event, as reported in this review in DownBeat magazine: http://downbeat.com/default.asp?sect=news&subsect=news_detail&nid=3368
But the experience was so excellent we simply couldn't leave it at that! This was our fourth experience at Umbria Jazz, though the earlier trips had come in the late 80s/early 90s, certainly time for significant change in the event. It should be noted that Umbria Jazz founding artistic director Carlo Pagnotta has consistently been a tall, stoic, keenly observant spectator at many of the great festivals in the U.S., including Newport, Monterey, and Chicago. Just how keen his observations was apparent as soon as we arrived at the top of the hill in Perugia, the lovely old provincial capital of the Umbria region.
After crossing the Atlantic from JFK to Rome, and a two hour bus ride to Perugia, the first stop was our eagerly anticipated residence for the ten days of Umbria Jazz. Previous trips to the festival included lodging in the comfort of Hotel Brufani, one of two hilltop Umbria Jazz headquarters hotels. Breathtaking hilltop vistas on all sides is part of the experience of Perugia, and here we're talking about a city to rival Pittsburgh and San Francisco in its elevation. For this trip we had carefully selected an Airb'nb residence, one that we hoped would provide a more expansive sense of the city and more of a "home" environment than most hotels can offer. Once we met our very agreeable host landlady, we were delighted not only to find that our Umbria Jazz residence was a mere 5-minute walk (albeit uphill with loaded suitcases and carry-ons – burdens lightened by a quickly-hailed taxi) from the bus station, which itself was just steps away from the escalator over the hill to the center of Perugia. Even more delightful, our residence was in a beautiful secure building in a quite lively but quiet neighborhood chock full of inviting cafes, good restaurants (is there a bad restaurant in Italy?), and enticing boutiques. Once inside our doors we quickly surmised that we had indeed bowled a strike with this residence; spotless, with two bedrooms, two bathrooms, full kitchen, living room area and balcony-with-a-view… all for less than the price of a hotel night!
The immediate impulse was to climb on that escalator and experience anew the anticipated delights on Corso Vannucci, the beautiful pedestrian street at the top of Perugia which serves as Umbria Jazz central. But first let's check out our little balcony, with its inviting folding chairs and small table perfect for some relaxing arrival beverages! Needless to say the surrounding hill vistas were splendid, with a birds eye view of the surrounding streets, and the hilltop Etruscan-era architecture. Not to mention the fact that upon opening the balcony doorway we were greeted by the agreeable sounds of jazz wafting down from the garden stage at one end of Corso Vannucci above; so clear and resonant was the music that it became apparent upon hearing a lead singing voice that we were experiencing the agreeable sounds of our old friend and soulful baritone Allan Harris, whose band was slated for a festival-long residency. Here's that view: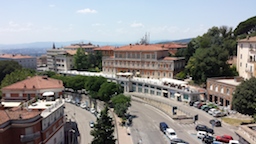 Gazing up the hillside at the distinctive Etruscan-era doorways of an ancient building just off the Corso, the mind wandered back to part of the original motivation for coming to Umbria Jazz back in 1987. I recalled having been charmed by a deeply poetic account in the Village Voice of Stanley Crouch's mid-80s Umbria Jazz experience, vowing immediately to add this festival in the fabled "Green Heart of Italy", a part of the country about which I knew little – compared to age-old tales of Rome – but which sounded so splendid in Crouch's telling. Adding to that motivation, my mother in-law is a first generation American born of Sicilian parents who'd landed at Ellis Island. So the motivation towards Italy seemed inevitable. And now here we were on our fourth occasion, this time more deeply imbedded into the actual community courtesy of our comfortable rental.
Climbing the escalator to the top on day one, the eyes inexorably wandered all 'round taking in whatever unimagined changes had occurred in the ensuing years to the wonderful vista of Corso Vannucci. Befitting such an old place, thank goodness the changes were purely cosmetic – a new boutique here, a couple of street side cafes there, and mainly a number of Umbria Jazz alterations since our previous journey. It didn't take long to be impressed by changes Carlo Pagnotta and his colleagues had made to the overall Umbria Jazz design. As I remarked in that DownBeat review, Umbria Jazz has now fully embraced the sensibility of a true people's festival. Corso Vannucci had always been a teeming pedestrian street during festival time in our experience, but the effect has been heightened by several aspects. In addition to the nightly concerts, now there was a stage in the garden park area right at the top of the escalator. Additionally the park had been invitingly festooned with refreshment vendors, one of two Umbria Jazz merchandise boutiques on the Corso, a midway with a historic retrospective of Umbria Jazz posters, with the performance stage at one end of the garden park, Hotel Brufani at the other. At the other end of the Corso, in the piazza adjacent to its striking, ancient fountain, was another free stage with afternoon and evening performances for the people. Not certain how long this evolution had been underway but the change of feeling was remarkable from our most recent visit in the mid-90s.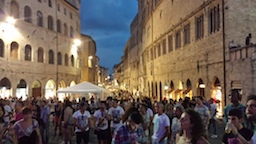 In our past experiences each early evening – which in those times was the start of Umbria Jazz concert time – had been ushered in by a strolling brass band, including several traditional imports from New Orleans. As evolution will have it, Umbria Jazz now has its own Italian brass band for those daily 6:30pm marches, a raucous unit known as Funk Off. And when they weren't parading, entertaining buskers were playing sets at several ports in and around the Corso, keeping the street vibe lively throughout the day and evening.
Part of our routine on several evenings included attending 5:00pm performances at Teatro Pavone (including a couple of rich performances by the 13-year old piano phenom Joey Alexander and the brilliant Italian trumpeter Fabrizio Bosso, and a rewarding Italian conservatory orchestra performance of Duke Ellington's "Such Sweet Thunder" suite (all reported in my DB review), replete with some strikingly dramatic Shakespearian readings. Following the 5:00 concerts we'd cop a table at the street side cafe just outside the theater entrance for some refreshments (highly recommended on a summer evening: Campari & soda), just in time for Funk Off's promenade. Two of the Corso's traditional venues were the venerable Teatro Pavone, a post-war era opera house seating about 500 midway down the Corso, and Teatro Morlachi at the other end. Added to those two familiar Umbria Jazz venues are not only the two free stages at each end of the Corso, but also matinee museum performances and assorted restaurant performances, including at the highly-recommended Ristorante Taverna (order the ravioli with truffle sauce), which hosted a couple of Tuck & Patti's week of performances.
The afternoon/evening free offerings represented a delightful Umbria Jazz people pleasure, with inviting performances which engendered quite the joyous daily/nightly scene. Early one evening a group of us following one of his week of performances, vocalist-guitarist Allan Harris and his lovely wife-manager Pat, and his fine drummer Shirazette Tinin joined us at Dempsey's tavern for some refreshment. As we were leaving one of the bartenders, who'd been introduced to us as an Afghan immigrant, told us he couldn't wait to get off work so he could experience the festival, shoot some video and post it to friends & family back home in Afghanistan. Asked who he planned on seeing that evening, he said it didn't really matter, on the street it was all good; the glories of a free jazz festival experience!
The next day, exiting our exceedingly pleasant rental, instead of heading slightly down the hill to climb the escalator to the Corso, we determined to take a back street, encountering numerous inviting shops, restaurants and scores of afternoon strollers climbing the ancient steps of the street. We quickly made a mental note to check out one particularly inviting restaurant full of street side tables, happy patrons and lovely plates of food. Here's that restaurant – which has a literary theme, replete with menus craftily inserted in antique books, and just below that one of its scrumptious dishes: since we were in prime truffle region, several plates of pasta with truffle sauce were consumed on this trip!
Much love emanated from the music, as reported in my DownBeat report (link above), most of which detailed exceptional nights at the Arena Santa Giuliano. The Arena, a 6,000 capacity open air space which in ambience resembled the feeling, though not in terms of the physical space, of being in the Arena at Monterey Jazz Festival. In fact, the evening billed as "Funk Night" and featuring George Clinton and Cory Henry & the Apostles followed the only downpour of the week, eliciting chill winds that carried one back to equally brisk nights in the Arena on the Monterey Fairgrounds. Each evening's main event was a ticketed 9:00pm hit on the Arena stage, a mere five minute stroll down the hill from our rental. Highlights, again as reported previously in DownBeat, included a Ron Carter-Pat Metheny duo performance, the trio of John Scofield, Brad Mehldau and percussionist Mark Guilliana, blues night with Buddy Guy, Kamasi Washington, Branford Marsalis Quartet with Kurt Elling, Cory Henry (the skies were threatening and sans umbrellas we missed George Clinton), and a Chick Corea performance billed as "Homage to Heroes" with a heroic quintet featuring Kenny Garrett, Wallace Roney, Christian McBride, and Marcus Gilmore, and we were quite impressed with the Nigerian-British vocalist Ola Onabule, who opened for Diana Krall. Here's the Arena scene in between nightly sets (that's Suzan Jenkins standing to the right in the foreground).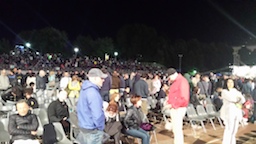 Meanwhile, just up the escalator on the Garden Stage a rotating cast of bands and artists kept the revelers happy. Performing on that and the huge stage on the piazza at the other end of the Corso were such bands as the Italian ensemble Sticky Bones, the Dutch singer-guitarist Vincent Van Hessen (who was actually granted an Umbria Jazz stage shot after impressing as a street busker), and of particular note were Fred Wesley and his funkateers the New JB's, and the 21st century Afro-Cubano of conguero Pedrito Martinez. For his part Allan Harris proved a consistent crowd-pleaser. No stranger to Umbria Jazz audiences, Harris has been afforded the opportunity to build up a strong following at this festival, bolstered by his daily performances on the garden stage and in the piazza, with sets that varied from his funk infused intro to a fresh arrangement of "Fly Me to the Moon", to his guitar slinging blues exploits, to a bit of reprise from his black cowboy saga "Cross That River." One of the real treats on this splendid Umbria Jazz experience was returning from the nightly performances at the Arena and enjoying nightcaps on our balcony while catching Pedrito, Fred, or Allan's late sets wafting down from the garden stage as if we were right there in the thick of the action. Umbria Jazz… you owe it to yourself to experience this event!
a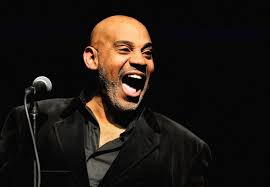 Allan Harris delivered a sophisticated brand of jazz & soul through his voice and guitar work, and a touch of his black cowboy immersion to the people on the Umbria Jazz free stages. (photo by Tim Keller)