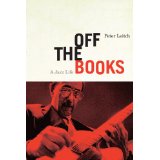 Look under jazz book releases at your favorite online literary retailer – and yes, I almost said 'at your favorite bookstore' unleashing the old school impulse – and you'll find hundreds of titles chronicling the lives, times, and even minute recording session details of the giants of jazz. On that latter tip there is a growing legion of useful, informative books simply detailing one recording period or even one recording session in the recorded life of Miles Davis, the definitive volume of which is my friend and colleague Ashley Khan's chronicle of all things "Kind of Blue." We'll call it the White Collar section, that section of the aggregate jazz bibliography dedicated to the giants. But what of those relative blue collar jazz artists, those who have contributed much, labored mightily and largely successfully in the figurative trenches of the art form, yet never really achieved top of the polls status? Such an artist is the ever-swinging guitarist Peter Leitch, and he's written a book appropriately titled Off The Books (A Jazz Life; Vehicule Press).
For those not familiar, Peter Leitch is one of those no pretense, superb craftsmen whose artistry is measured by his skillful way around a standard, knowing and loving the blues in the pit of his stomach, and his ability to enhance whatever setting he graces. He's one of those artists whose warmth and humility – in both his guitar playing and his personality – may have left him slightly out of focus of the big spotlight, but he's no less worth your attention than his more celebrated peer artists.
There is much to be learned from this book of the trials, tribulations and triumphs of the jazz musician's life, and Leitch tells it quite successfully. From humble beginnings as an English-speaking Montreal native, Leitch aptly details growing up musically in Canada. Along the way there is much to be learned of the various players who've developed jazz, particularly modern jazz, in our neighbor to the north, including pursuits of the music in and around Montreal, in the outreaches of Quebec province where you've likely never ventured, and informative helpings on the jazz life in Toronto, where the guitarist migrated in the 1970s. One of the more valuable aspects of this book is that Leith, ever the keen and perceptive observer, pulls no punches in his clear eyed assessment of his many scenes or the musicians he encounters along the way, dry wit firmly in place, including this passage on life in Toronto:
"Toronto's population in the late seventies and early eighties appeared to consist mainly of people whose belief in the financial, social, and political systems was unshakeable, although among musicians many of the jazz and studio players seemed to be involved with various spiritual advisors, gurus, and therapy groups. There was a character called Mr. Mills, who had quite an international following. You gave him a percentage of your income, and if you gave him enough money, you were allowed to wash his feet. There was another one called Bawa, who was supposedly four hundred years old, and had never been seen to ingest food or water. There was a Catholic psychoanalytic commune called Therafields, which allowed you to pick bean sprouts on their farm if you paid them, which they then sold in health food stores. It seemed that a lot of musicians in Toronto were ripe for this kind of con."
Throughout the book are great stories on the life of the jobbing jazz musician – the have axe will travel, itinerant life of the sideman, adept in any setting, valued by traveling soloists playing Canada from south of the border looking for a complimentary musician with big ears and a willingness to schlep that guitar case far and wide in pursuit of the jazz truth. And along the way Peter Leitch drops pungent sidebars and stories of encounters in that life, like his account of this stop on the road with the late B-3 master and Prestige recording artist Don Patterson: "One night at the Flight Deck club in Wilmington (hometown of Clifford Brown) I was sitting at the bar between sets and started conversing with an older black man, who seemed to be quite knowledgeable about the music. It turned out he had gone to school with Clifford Brown. He talked about how serious Clifford was and how much he practiced, and I started thinking about how this music was just not a cultural reality in the places I had been living. What were the chances of having this conversation in Toronto or Montreal? I had learned by now that it wasn't enough to just try to play this music. You had to understand where it came from, intimately know the culture that produced it, and know in whose footsteps you were following."
Inevitably Peter Leitch's road led to New York, where he details the hard scrabble life of a jobbing jazz musician, including both harrowing street life encounters, the follies of Manhattan apartment rental, the joys and idiosyncrasies of recording the many sessions he made for the Reservoir and Criss Cross labels at Rudy Van Gelder's historic studio, and beating back the devil of drug addiction. Leitch pulls no punches on the racial idiosyncracies of the music, recounting how in New York he found his most welcoming home, both in terms of playing and establishing lasting interpersonal relationships, largely with black musicians. This passage illustrates Leitch's view of the inevitable racial politics in jazz:
"[John] Hicks told me he'd gotten a little heat from the black community for hiring me at Bradley's. I have always accepted the fact that this music is the creation of black Americans, but I have never bought into the concept that white people "stole the music." There has always been a lot of stealing going on in music or any art, by people of every conceivable race or color. In my own case, I've never felt that I'd stolen something. This music was given to me. And it was given with a lot of love. By a lot of black people. By the happenstance of employment I happened to be thrown into the culture that produced the music, which was such a valuable experience. If you want to really learn about something, you'd better understand the culture that produced it. That said, coming to the United States from Canada, especially Montreal where there was a lot of diversity, I failed to realize that race was still such a huge issue in America. Racism has aways walked hand in hand with its partner, ignorance. But come to think of it, by the same token so to speak, ignorance and stupidity are two of the few things in our society that know no color line. When you consider the four hundred years of slavery and repression, it should come as no surprise that racism (on both sides) exists in jazz, supposedly the most democratic of musical forms. John put it in perspective when we were in the South together. As we got out of the van at a gas station somewhere in Arkansas, John asks, "Where's the colored toilet?"
Along the way Leitch became one of the MVPs of the fertile 80s/90s late night scene at Bradley's, one of the great musicians stomping grounds which achieved a measure of fame as much for its late night hang atmosphere as for the potent duos, trios and cavalcade of brilliant piano players it boasted. Among those piano masters was another fellow relative underdog, the late, incredible John Hicks, with whom Leitch developed a beautiful friendship (ditto altoist Bobby Watson and bassist Ray Drummond) rooted in the Bradley's scene, relationships recounted succinctly in this book.
"In early January of 1990 John hired me for my first week at Bradley's, with Ray [Drummond] on bass. Bradley's was not just a world-class jazz club, it also served as a clearing house and office for the musicians. It was the only club with a 2am set, which attracted a lot of musicians who would drop by after their earlier gigs. If anything happened in the jazz world, you heard it first there. Being at Bradley's was breathing rarified air. New York forces you to grow and develop faster than in other places. You would be playing and look up and there's Tommy Flanagan sitting there. Or Kenny Barron. Or George Coleman. Or Ron Carter. Your idols, people you had grown up listening to on records were sitting there checking you out. Scared the hell out of me! It was like going to school every night, and made me work that much harder on the music. I would get up the next day and practice some more. One of my fond memories is of sitting in the office at Bradley's one morning around 5 am with John Hicks and Tommy Flanagan, listening to Tommy tell about John Coltrane laying "Giant Steps" on him." Sorry ya'll, but you just don't get that kind of wisdom from the academy!
Ever the keen observer, Leitch's perceptive eye leads him inevitably to photography, first as a hobbyist's pursuit and eventually as a serious artistic obsession. His fascination with life below the Mason Dixon line takes him on fascinating photographic excursions into the heart of Dixie, richly detailed in this chronicle. Off The Books is a vivid, quite successful portrait – roots & fruits, warts & triumphs – of what it means to be a working jazz musician, sidebars and all – well worth your read.