The Monty Alexander Jazz Festival


Monty with his Jilly's crew: vocalists Clint Holmes, Allan Harris and Caterina Zapponi (in background), w/Obed Calvaire on drums, Houston Person on tenor
Visiting the annual Monty Alexander Jazz Festival on Labor Day weekend threatens to become a tradition. Last year was our first and this year's return was a no-brainer. Held in one of those classic old downtown movie houses, the Avalon Theatre in very agreeable Easton, MD (several nice restaurants – including the BBQ Joint; don't sleep that one! – and the nearby Chesapeake shoreline beckon). The centerpiece of the festival is Monty Alexander's Saturday night concert, however this year two of the satellite concerts out-shone the namesake. On Friday evening Rene Marie proved once again to be among the most engaging and wholly satisfying vocalists on the scene. She sang one half her vivacious Eartha Kitt tribute (cannily preceded by a pre-concert screening of some Eartha footage), delivering a sumptuous "C'es Si Bon" and kittenish "My Heart Belongs To Daddy", which though the height of 21st century political incorrectness, was a blast nonetheless. After intermission it was all about Marie's original songs from her forthcoming album. These included a deeply touching piece on homelessness, prefaced by her personal story of learning her brother had been homeless for a time unbeknownst to the family, and his subsequently conveying that touching experience, which his sister has now conveyed very touchingly in song.
The Saturday matinee brought to the stage one of the biggest, most mellifluous sounds in tenor saxdom – Eric Alexander and his longtime crew of the vastly underrated Harold Mabern on piano, Joe Farnsworth on drums, and John Webber on bass. Alexander traveled to the heart of soul and swing, his huge sound engulfing the old theater, very much in the spirit of his mentor George Coleman, but at this point purely Eric Alexander.
Saturday evening's centerpiece was largely a reprise of the chief's Monty Alexander & Friends program, with yet another gorgeous tenor sound courtesy of Houston Person, the adroit young guitarist Graham Decter, and the engaging vocalists Allan Harris and Clint Holmes. The first set concentrated on Nat Cole, with Harris representing the "King" and Decter on hand to bring the authenticity of the original drummer-less Cole Trio. Harris, who has a lot of experience with the Cole oeuvre was a wise choice. The second half represented Monty's Sinatra program, with Holmes in the Chairman's seat, including a lovely essay of "Angel Eyes" replete with Person's buttery obligatos. "Where or When" elicited a smooth essay by Holmes, and we were transported to the legendary Jilly's, where a young Monty Alexander got his start as house pianist at Sinatra's favorite watering hole. But therein lies the rub – with the exception of Holmes and the guitarist, this was nearly a tone-for-tone reprise of Monty's 2014 Festival performance – the Jilly's stories and schtick in place, even reprising some of the same jokes and asides as last year, and including another interlude from Alexander's vocalist-wife Caterina Zapponi. Hopefully namesake will refresh for the 2016 edition.
…………………………………………………………………………………………………………………………………………………………………………………………..
Finding a Line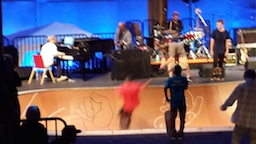 Discovering common ground between a skate board park magically morphing onto the front plaza of the Kennedy Center, to Maryland's lovely Eastern Shore country and the majestic Pacific Ocean's mid-California coastline might seem like quite the stretch, but let's give it a shot. Last spring at the Kennedy Center's annual press event to announce its forthcoming season, one event particularly piqued the curiosity. Though something similar had been presented at SF Jazz as part of a Jason Moran residency, it remained a bit difficult at that point to wrap one's arms around the Kennedy Center actually staging a collaboration between Moran's musicians and skateboarders. Let's start with the most obvious question: where on earth in the Kennedy Center might that happen? Surely not in one of those pristine concert halls; nor could the jazz program-inspired KC Jazz Club (a legacy of Billy Taylor's tenure) or the Crossroads Club (product of Moran's tenure) conceivably accommodate such an undertaking.
As the skateboard cum jazz performance weekend of September 11-12 approached, coincidentally I had a DC Jazz Festival meeting at the KC (stay tuned for that collaboration). Arriving via the KC's convenient shuttle from the nearest Metro station, the bus maneuvered around a rapidly developing wooden structure abutting the entry plaza, construction workers busily going about their charge. Hmm, might this be the venue for the collaboration the KC dubbed Finding A Line (I suppose as in finding a line between skateboarding and improvised music, or is that a skateboarding term that somehow eluded my boomer mentality)? Part of that line and the seed of inspiration stemmed from Moran's vivid memories of skateboarding as a kid growing up in Houston, an obsession that included watching skateboard videos. Seems some of that video footage was accompanied by jazz music, including Video Days, which chronicled skateboard champion Mark Gonzales skating to John Coltrane! Who knew?
Arriving at the September 11 premier we grabbed spots in the bleachers as close to the top as we could, the better to scope out the skaters from an elevated viewpoint as our ticket taker cannily suggested. Gazing to our left we could see assorted skaters warming up on a nearby track just beyond the standees area. The bleachers quickly filled up and as expected – and clearly this was central to Jason bringing this idea to the KC – this was decidedly not the usual jazz audience. There were parents with kids, plenty of millennials, and more than a few of the curious… like us.
As Moran and his Bandwagon – bassist Taurus Mateen and drummer Jamire Williams commenced improvising, the skaters ramped it up, including various local crews (such as The DC Wheels, and Dads Skateboards!) as well as a crew from Cuba Skate, a non-profit DC-based initiative developed to support and grow the burgeoning Cuban skateboarding community – ambassadors of the boards as it were.
…………………………………………………………………………………………………………………………………………………………………………………………..
58th annual Monterey Jazz Festival



Nicholas Payton blown' strong on the Jimmy Lyons Stage
This one is an annual Cali pilgrimage, its no longer even necessary to check the lineup in advance; such is the nature of Tim Jackson's superb artistic direction of this world's longest continuously running jazz festival. The big stage highlight was opening night's Erroll Garner Project: Concert By the Sea. This year marked the 50th anniversary of Garner's Concert By The Sea, captured for posterity by Columbia Records on September 19, 1955 in nearby Carmel, CA. In conjunction Columbia has reissued the famed recording of the same name in complete form, with eleven additional tracks from the concert restored in a 3-disc package that also includes a remastered version of the original recording. Growing up Concert By the Sea was a record found in every discerning home in the black community, including that of Mount V. Allen Jr., Geri Allen's dad, who was on hand for this tribute. One could not help but wonder what this might mean for a 2015 concert reprise. However this was decidedly no reprise of the original Garner trio classic. Instead MJF recruited Geri Allen as music director. Three pianos were arrayed across the expansive Jimmy Lyons Stage (MJF founder Lyons had produced the original Concert By The Sea), Allen at the helm joined by Jason Moran and young Christian Sands. They were supported beautifully throughout the night in solo, duo and piano trio expositions by bassist Darek Oles and drummer Victor Lewis. The Chick Corea Trio followed the Garner program with more piano majesty, with the peerless rhythm section of Christian McBride and Brian Blade.
Saturday evening, after the kinetic Trombone Shorty had incinerated the Lyons Stage and energized the throng to close the Saturday matinee, trumpeter Ambrose Akinmusire's quartet was followed by this year's Monterey Jazz Festival on Tour unit. Its core was essentially the Gerald Clayton Trio – with Joe Sanders on bass and the ferocious Justin Brown on drums, which certainly makes sense as far as assembling a requisite all-star ensemble for touring – along with the horns of Ravi Coltrane and Nicholas Payton, who unburdened by band leading responsibilities was in particularly fine form, blowing some mighty trumpet. The MJF on Tour unit was preceded by the Caribbean funk & folkloric enterprise of trumpeter Etienne Charles & Creole Soul, appropriately on the Garden Stage whose more open spaced environment is the best place on the grounds to get your dance on, and the trumpeter's island grooves proved irresistible to more than a few. Doing the familiar Monterey fairgrounds stroll mid-MJF on Tour enabled some time with a very potent band led by guitarist David Gilmore at the Night Club. Gilmore had Marcus Strickland on saxophones, Luis Perdomo on piano, Ben Williams on bass and the ubiquitous in-demand drummer Rudy Royston on hand for a distinguished set of his originals. Once Gilmore had concluded it was out the door and across the lawn to Dizzy's Den for Bay Area hand drumming ace John Santos, who showcased a veteran Cuban sonero for a sublime set of boleros mid-program. Justin Brown was one of the busiest players all weekend, his incendiary drums proving a fine foil for trumpeter Ambrose Akinmusire's fat toned trumpet closing the Night Club with his second set. Such is the nature of MJF that certain artists play multiple venues during the weekend.
This year's residency at the Coffee House Gallery featured a reunion of one of Monty Alexander's most successful trios, with bassist John Clayton and drummer Jeff Hamilton for six sets throughout the weekend, highlighting yet another strong MJF curatorial touch.
Sunday evening was a veritable potpourri of easing from venue to venue to catch healthy portions of sets, including two parts of this year's Jazz at Lincoln Center Orchestra residency (which included a full orchestra performance on the Arena stage), starting with saxophonist Walter Blanding's Sextet and concluding the evening with the JALCO jam session, both at Dizzy's. Caught a taste of Dianne Reeves' customary majesty on the Jimmy Lyons/Arena stage, and more of Monty's elegant swing personified trio at the Coffee House. Alas the day was a bit truncated personally by a thoroughly freakish accident, though all's well at this point; the day just further pointing out that missing the Monterey Jazz Festival is simply not an option!

Trombone Shorty's peeps shakin' a tail feather at the Arena