CRATE DIGGING with DJ Soul Sister
One of the absolute hippest DJs I know is New Orleans' DJ Soul Sister. When not spinning at joints around the Crescent City, you're liable to find her spinning records at diverse outposts around the globe. But you needn't venture further than your computer to get a nice taste of this sister's broad range of music interests. Known in her civilian life as Melissa Weber, DJ Soul Sister can be easily accessed every Saturday evening 8:00-10:00pm on New Orleans legendary Jazz & Heritage station WWOZ, which is one of the world's most actively streamed radio stations at www.wwoz.org.
On a lovely Saturday evening when New Orleans was as always buzzing with one social event or another at seemingly every corner, I was down there doing a site visit for the NEA Jazz Masters program and visited the Contemporary Arts Center. They'd received a grant to support a project involving native son and NEA Jazz Master Ellis Marsalis and on that particular evening the festivities were in high gear at the CAC. The Center was celebrating an anniversary and Ellis played a set on one floor while on another DJ Soul Sister was ruling the dance floor. After Ellis' set I eased as close as I could to her DJ set-up to spy what vinyl goodies she had in store for the high-spirited crowd on hand. I was truly impressed at the range of vinyl she had on hand and coupled with my admiration for her Saturday evening radio shows, I was determined to pin her down for one of our occasional Crate Digging dialogues.


Back in the mid-1980s when CDs began their market domination, some hasty music lovers liquidated their vinyl collections. I'm sure you know such misguided individuals. Considering that you may have been a happy beneficiary of such haste – likely through some local old-vinyl purveyor or other – was that folly or prescient move?
For me, it's about the music more than the format. I've been DJing for 20 years, and that includes my radio work on WWOZ and my performances as a live DJ artist on tons of stages, playing only the music I love. For both of those, I use 100% vinyl (actually 99% vinyl on my radio show, because I always play my theme song off a CD). But I'm not a vinyl purist at all. I happen to love vinyl, and that's my thing. If someone else wants their music on a CD or a computer, as long as the music is good to them, that's all that's important. With that said, I love to take vinyl off of folks' hands. When I was a senior in high school, I actually passed out a flyer to all of my classmates, asking them to give them to their parents. The flyer said that I'd pay "$$$$$$s" for their old albums. I wonder what $$$$$s I was talking about or where it would have come from! Some of the parents must have took pity on me cause they wound up giving me lots of nice LPs for free.
When you search for vinyl recordings, what have been some of your most useful outlets (used record stores, flea markets, yard sales, private sales, etc.)? Are there any particular genres f music you find yourself search for more readily?
When I was younger, I was all about the danger hunt – climbing in weird attics and entering dark garages – just for the adventure of finding something rare and amazing. Today, I'm really happy just going to used record stores as much as I can. My favorite local stores in New Orleans, listed in no particular order, are Louisiana Music Factory, Domino Sound Record Shack, Euclid Records, Peaches Records, and Disko Obscura. I'll also give a special shout to Jim Russell Rare Records though, lately, every time I pass there, it seems to be closed. My favorite record store outside of NOLA is A-1 Records in the Lower East Side of New York City. Here in New Orleans post-Katrina, there aren't nearly as many yard sales as there used to be. But yard sales are what I lived by back in the day. As for genres, I'm always looking for soulful music: soul, disco, funk, jazz, Latin, Brazilian, true school hip hop, DC go-go, gospel, post-punk, electro, you name it.
What is it about vinyl recordings that continue to hold such fascination for you?
I like to be able to pick up this massive piece of wax and hold the grooves in my hand, and look at them on the turntable. Like many others, I'm also into album artwork and liner notes. And, as we know, the sound is much better in analog format. People ask all the time why I don't just switch to digital and CDs when I'm performing. I've always called myself a crate digger first before calling myself a DJ (or "dj artist," as I prefer). I'm into the hunt for those records, and have been since I was very young. It's just a personal thing with me, and I don't look down on others if they don't feel the same way. But I have to have that vinyl.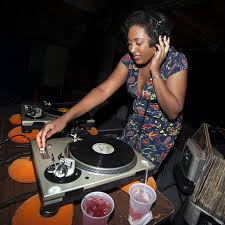 f
Now that MP3 is dominant – not to mention whatever formats the technocrats may cook up in the future – has vinyl receded even further in the rearview mirror, ala the 78 RPM format?
According to the studies, people are buying more and more vinyl. I hope it's because they realize it's better, but I'm scared it may be because there's a sort of "hipness" associated with it now. Trust me, I don't use vinyl because it's hip. It takes real devotion and dedication to choose to haul crates or flight cases of LPs wherever you go. I lift weights just so I can do it right. Nothing hip about that. It might break your hip. LOL.
As you go about merrily crate diving for old vinyl recordings, what kinds of things attract your attention?
The same things that attract other people: interesting record covers, musician lineup, producer, liner notes, things I've read about, things I've never heard of before, etc.
Bluebook and other ratings systems in terms of the "book" value of supposed rarities aside, what in your gaze truly constitutes a "rare" vinyl record find from your collector's perspective?
A rare album is something that people really want and something that's hard to find. I would like to add, however, that just because a record is rare does not necessarily make it great or even good to listen to. I only collect and play albums that I love. If it's rare, but does nothing for me personally, it's staying in the store or with the seller. It's got to move me in some way, make me smile or wanna dance or something. I could care less how rare it is. On the other hand, if it does move me and it's rare – watch out. I'm scared to admit how much I've paid for some of these records that have both qualities for me. Crate digger illness.
Besides the rare items, when you hit the stacks do you generally have a "wish list" in mind or are you so intrepid that you simply delight in the process purely in hopes of uncovering some useful nugget or another?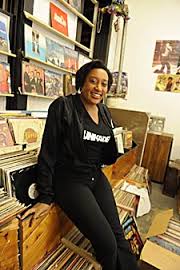 I never go crate digging with a wish list. I just like to discover. That's what makes it fun.
Talk about some of your recent vinyl "finds" and what it is about that/those record(s) that attracted your interest sufficiently enough to cop a purchase?
I can't remember specifically what I bought, but I recently went shopping at A-1 Records during a trip to NYC. When I go there, I plan to stay all day, like, 4-5 hours. I go through everything and I pull stuff that looks interesting on 12" and LP. (45s are very popular with collectors lately, but I'm more of a 12"/LP collector.) Then I'll listen to everything and buy what I like. The end. No science about it. Just fun and discovery, and staying true to what I like instead of what someone else thinks I should like.
What would you recommend to those with an interest in seeking out rare vinyl recordings?
I'd say, "Don't look for records just cause they're rare. Look for stuff you like. With that said, don't look for records just cause you've already heard of 'em before. Take a chance and try something new to enjoy. That's what music is all about.