Earlier this year, at the new Howard Theatre (refurbished/redesigned at the same historic location into more of a cabaret configuration) hosted a day long program examining its history for an invited audience largely consisting of school children and seniors. This writer was engaged to give a short talk on the Howard Theatre's rich history of jazz, with vocalist Angela Stribling on hand to sing at tasteful interludes and illustrate the great singers' importance in that history. So take this abbreviated stroll through the incredible history of jazz at the Howard Theatre, one of the pillars of the storied "Chittlin' Circuit" venues that were many a great black artist's salvation during segregation.
JAZZ AT THE HOWARD THEATRE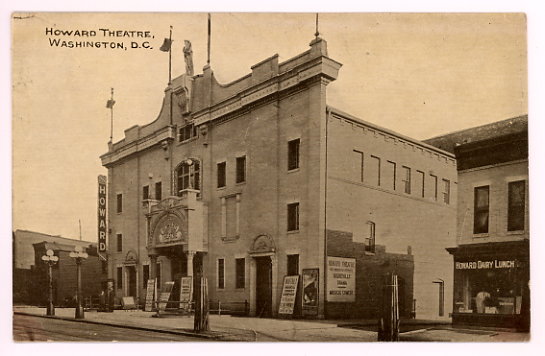 The historic Howard Theatre as it looked back in the day…
Look around you – imagine that you're sitting in a classic 1200-seat theatre with a show stage and a big movie screen. Now imagine that you're going to school in this neighborhood, passing this big, shiny theater at 7th & T every day; watching people lining up on the sidewalk for the next show, or strolling out of the classic Howard Theatre in droves after happily spending their well-earned money on a great show. Now imagine yourself, a student on your way to school, with happy thoughts in your daydreaming mind about how you and your boys or your girls – or maybe both – are gonna spend your Saturday afternoon at the matinee in this great, big movie theater! That's a pleasant daydream, isn't it?
But there's another reality at work here as well, because although for some young people such a thing might seem like something you only read about in a book, the fact is this same Howard Theatre was the very first legitimate theater IN THIS COUNTRY that was open to African Americans!!! Think about that for a minute… there was no grand downtown movie house, much less a 10 screen multiplex at the mall… This – the Howard Theatre – was IT, this was the only place in town where black folks could experience movies and shows! Now let's daydream back to that time long ago when school kids passed this Howard Theatre eagerly awaiting that Saturday matinee when mom, dad, big brother, big sister took you, or maybe you went with your pals – your crew – to see the shows. You walked up to the ticket window and plunked down your 40 cents. (Yes, I said 40 cents!!!) And by shows, I'm talking about a real all-day experience… where they dim the lights as the latest cartoon features pop up on the screen, followed by a feature film – maybe some jive Tarzan movie, or the Lone Ranger, or maybe some Shirley Temple movie with the great Bill "Bojangles" Robinson doing some impossible dance.



THEN… the screen rolls up and the band hits the stage. In the earliest days of the Howard Theatre, a lot of that music would be played by the greatest, the hottest jazz bands and singers in the country. I'm talking about Louis Armstrong, Ella Fitzgerald, Cab Calloway, Count Basie, Billie Holiday, Benny Carter, Lionel Hampton, Jimmie Lunceford… and of course Washington, DC's own Duke Ellington.

Our daydream continues: the band would play their hot, happy music and you'd be literally dancing in your seat! Stick around, that same fantastic dancing man you just saw on the screen entertaining little Shirley Temple, the great Bill "Bojangles" Robinson is coming to life on the Howard Theatre stage, right before your very eyes, right after Duke's band plays! And all of that for 40 cents! But wait, the show ain't over yet, here comes that beautiful lady with the gardenia in her hair – Billie Holiday, the one they call Lady Day – she's up next to sing some of her songs; or maybe its Ella Fitzgerald herself – yeah, the same lady who as an inexperienced youngster won the Howard Theatre amateur contest.

Then, after the singer sang her songs, the show must be over, right? No, here comes a comedian, maybe its Moms Mabley or Redd Foxx, to get folks from dancing in the aisles to howling with laughter in their seats.
The curtain comes down, the show is over, and its time to leave, right? No, that 40 cents got you in the place, so maybe you decide to stay for the next show, or if the adults are coming in because night has fallen, maybe you sneak up to the balcony… That was the Howard Theatre folks, a place where your entertainment dollar sure went a long way.
What about the history of jazz music at the Howard Theatre? Before R&B, before Motown, before James Brown, before Chuck Brown brought go-go to the palace at 7th & T Streets, jazz music was king at the Howard Theatre. The Howard Theatre built its reputation on Jazz music. Ever heard of James Reese Europe's Clef Club Orchestra? The year the Howard Theatre opened, in 1910, James Reese Europe's famous Clef Club Orchestra was one of the headliners. That same year James Reese Europe, who was born in Mobile, AL and grew up in DC, had organized the Clef Club as a society for African Americans in the music industry, the very first musicians union for black artists. In 1912 the Clef Club Orchestra was the first band to play a kind of early or proto-jazz – at the famed Carnegie Hall, which at that time was the most important concert hall in America. This was a very important event in jazz history because it was the first time a jazz-like music had been performed on a major concert hall stage.
James Reese Europe later became a lieutenant in the Army and during World War l, in 1918, he took an all-black military band – from the regiment known as the Harlem Hellfighters – to France; they became the first band to play early jazz sounds in Europe. They played all over France for American and British soldiers as well as for French civilians. Unfortunately James Reese Europe came to a premature and tragic end. In 1919 one of his drummers got so mad at Europe scolding him for bad behavior that he lunged at Europe with a pen knife, plunging that knife in Europe's neck and leaving a wound so bad that Europe died during the night. But besides his other pioneering efforts, James Reese Europe's Clef Club Orchestra was one of the first jazz bands to play the Howard Theatre when it opened in 1910, playing songs like this.

All of the great big bands played the Howard. One band that was always popular at the Howard was the unique all-woman, multi-cultural band known as the International Sweethearts of Rhythm.

Some of the great white bands also played at the Howard: Artie Shaw, Stan Kenton, Woody Herman, Louis Prima and others enjoyed Howard Theatre audiences; in fact the Howard was not a segregated theater; during its heyday folks estimated that sometimes a quarter of the audience would be white patrons who loved black music and entertainment. After the big bands the Howard Theatre became a home for modern jazz legends, like Charlie Parker and Dizzy Gillespie, Thelonious Monk, and later Miles Davis and John Coltrane. The music that people like Charlie Parker & Dizzy Gillespie were playing became known as modern jazz, or bebop. This was music that was not as simple to dance to as the big bands…
Besides these "modern" players, new generations of singers followed artists like the Billie Holidays, Billy Eckstines, and Ella Fitzgeralds onto the Howard Theater stage, including Dinah Washington and later Nancy Wilson. Nancy Wilson's manager, John Levy, was one of the first African American artist managers. The great alto saxophonist Cannonball Adderley, who had played with Miles Davis and John Coltrane, first introduced John Levy to the young Nancy Wilson, newly arrived in New York from Chillicothe, Ohio. Besides Nancy Wilson and Cannonball Adderley, John Levy was also the personal manager of two other artists who were popular in DC: Ramsey Lewis (who recorded his first big hit "In Crowd" right down U Street at the Bohemian Caverns) and singer-songwriter Oscar Brown Jr.
Here's an example of how hip the shows were at the Howard, the kind of thing you just don't see today. The show opens with a half-hour set by the Ramsey Lewis Trio, followed by a half-hour set by Cannonball Adderley, who then introduces Nancy Wilson. To end her set Nancy sang what was then a big hit song for her, the tune "Guess Who I Saw Today." That's basically a song about a woman who talks about how she spent her day, ending with her walking into a restaurant and spotting her husband with another woman. That tune famously ends with Nancy singing "Guess who I saw today… I saw YOU"…, delivered with maximum drama.
So on this John Levy show at the Howard, Nancy sings the tune, with its storytelling lyrics, and as she comes to the last words she strolls across the stage to an easy chair whose back is facing the audience. Someone is seated in that chair but the audience can't see who it is. As she reaches the end of the tune and sings "Guess who I saw today? I saw… YOU", the desk chair swings toward the audience and there's Oscar Brown Jr. sitting in the chair; at which point Nancy passes the microphone to Oscar and Oscar begins his set with his hit tune "But I Was Cool."

Let's be clear about one thing: the Howard Theatre legend was built on jazz music, which flourished in this great theater.