We return to our ongoing series of dialogues, Ain't But a Few of Us, Black music writers tell their story with a true scholar of the music, Tammy Kernodle. I first met Tammy years ago when she gave delivered a very thoughtful, informative talk on NEA Jazz Master Mary Lou Williams at an IAJE conference. Since then Ms. Kernodle has authored a definitive MLW biography, Soul to Soul. Currently a Professor of Musicology at Miami University (Ohio), Tammy matriculated at Virginia State University with a degree in Music and achieved her PhD at Ohio State in Music History. She has served as Scholar in Residence at the American Jazz Museum (Kansas City, MO) and has contributed to Musical Quarterly and the American Music Research Journal, as well as the anthology Women's Voices Across Musical Worlds. Additionally she is an associate editor of the Encyclopedia of African American Music. She is a contributor to the recent, long overdue and quite comprehensive Black Music Journal published by the Center for Black Music Research on the subject of the too long neglected NEA Jazz Master Melba Liston and her considerable contributions.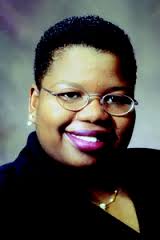 WHAT MOTIVATED YOU TO WRITE ABOUT SERIOUS MUSIC IN THE FIRST PLACE?
I was student teaching in a school whose student population was 90% black, but the faculty/staff of color constituted only 2%. In trying to create lesson plans that went beyond the standard Western canon, I found that there was a small body of scholarship that focused on the development of African American music, but not much in the way of public school curriculum. I really wanted to do more than just show up and do the typical "Beethoven was Black" lecture. I wanted to expose them to not only African American concert composers, but also jazz musicians and other forms of popular culture. I was already investigating graduate programs and decided to delve deeper into what musicology was about. I applied and was accepted to a graduate program in the Midwest (I won't call the name) and arrived to find that most of my peers were writing dissertations on the Renaissance. The resistance I experienced from some (not all) of my professors in studying and writing about the music of African Americans only inspired me to pursue it even further. I realized that the only reason why an educated, trained professor would stand in the front of a class of graduate students and say that "no American, no Black and no Woman has ever made any substantial contribution to music" was because 1) his training was limited and he had never been exposed to anything beyond the Western canon; 2) The body of literature that framed the canon or the central focus of most music history or music courses needed to be expanded. So I found my purpose in the attempts to suppress my passion for writing about and teaching black music (concert and popular). My writing has one purpose—to expand our understanding of the historical and musicological contexts that have been framed in and through the American experience. I want to write excluded and ignored artists into the canonic history we so precious defend and protect. I don't write just to write or publish just for the sake of having another line on my resume. I'm very strategic and the subject matter must resonate with me. I grow through the writing I do.
WHEN YOU FIRST STARTED WRITING ABOUT MUSIC WERE YOU AWARE OF THE DEARTH OF AFRICAN AMERICANS WRITING ABOUT SERIOUS MUSIC?
Yes.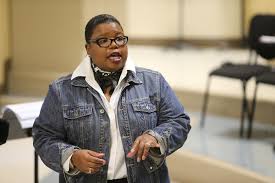 WHY DO YOU SUPPOSE THAT'S STILL SUCH A GLARING DISPARITY – WHERE YOU HAVE A SIGNIFICANT NUMBER OF BLACK MUSICIANS MAKING SERIOUS MUSIC BUT SO FEW BLACK MEDIA COMMENTATORS ON THE MUSIC?
This is a hard question. I think part of the problem is that you have diversely trained people out there writing about music and because our methodology approaches to analysis, and use of language is dictated by our training some get excluded from certain opportunities. I'm amazed at how sometimes a cultural theorist or scholar in the area of English or Women Studies will get a writing gig from a certain publication or institution in lieu of a person trained as an Ethnomusicologist or Musicologist. Now, I'm not saying that those individuals are not capable of writing about music, but their approach to it is completely different. Sometimes the prose or narrative takes on a colloquial tone that fails to frame the performance aesthetic of musicians in a language that is comparable to scholarship on concert or classical music. Those individuals become the "central" or only black voices heard, as opportunities are not filtered to individuals who have different training or experiences with the music. I think the road to writing in major publications (trade magazines, etc.) is circuitous for many black scholars. I'm not hating on anyone (trained or untrained) because I can appreciate anyone who takes the time to accurately and seriously write about music, especially black music and not trivialize it. I also believe unless we develop a passion for writing and analyzing the world around us instead of pushing young people to choose a profession that's going to pay "big," there's going to be this dearth.
DO YOU THINK THAT DISPARITY OR DEARTH OF AFRICAN AMERICAN JAZZ WRITERS CONTRIBUTES TO HOW THE MUSIC IS COVERED?
Yes and no. I believe its one of the very reasons why some musicians have been excluded from serious discussions regarding the evolution of jazz after 1965 and why we see the repeated deification of certain artists. I think that there are certain aspects of the history that require a nuanced reading that can only be gained through lived-experience. Jazz has become canonized in such a way that many believe that we have not progressed beyond certain genres and musicians. I'm waiting to see the history expand to more coverage of regional scenes and musicians who are shaping the music where they are. Before Hurricane Katrina, the HBO series Treme and the rising popularity of New Orleans musicians like Trombone Shorty, who was really talking about the New Orleans jazz scene? I have yet to see one jazz history book revisit New Orleans after the closing of Storyville. My point is we need writers to evolve organically from or forge relationships with communities/musicians that are often ignored by the culture industry to continue to expand the historical context.
SINCE YOU'VE BEEN WRITING ABOUT SERIOUS MUSIC, HAVE YOU EVER FOUND YOURSELF QUESTIONING WHY SOME MUSICIANS MAY BE ELEVATED OVER OTHERS, AND IS IT YOUR SENSE THAT HAS ANYTHING TO DO WITH THE LACK OF CULTURAL DIVERSITY AMONG WRITERS COVERING THE MUSIC?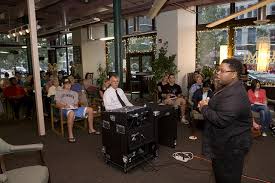 Yes. It's always baffled me how someone like Wynton [Marsalis] could be elevated as the "voice" of jazz when individuals like Bertha Hope, Billy Taylor, Carline Ray or Roy Haynes who "lived" and experienced the music as it was developing are never quoted or even talked about. I don't have a problem with Wynton, but his lived experience in jazz begins in the 1970s if not 1980s. What can he tell you—that extends beyond what you can read–about the rent party culture of Harlem during the 1940s? I've sat at the feet of Billy Taylor and heard him talk about hearing a young Thelonious Monk play at a rent party. Taylor left this earth without recounting much of the history he was a part of in the public forums that have been granted to musicians who give you a bunch of repeated anecdotes, sound bites and stories. The same can be said for Carline Ray, who played with the International Sweethearts of Rhythm and worked extensively with Mary Lou Williams in the 1970s and early 1980s. How many writers are going to take the time to develop relationships with pioneering musicians? I'm not slamming Wynton because I believe he does take the promotion of jazz very seriously, but the history of jazz will not be complete if we continue to privilege the voices of some musicians over others. I'm not going to get into the gendered aspects of jazz writing that's a can of worms that reflects a narrow viewpoint amongst black and white writers.
WHAT'S YOUR SENSE OF THE INDIFFERENCE OF SO MANY AFRICAN AMERICAN-ORIENTED PUBLICATIONS TOWARDS SERIOUS MUSIC, DESPITE THE FACT THAT SO MANY AFRICAN AMERICAN ARTISTS CONTINUE TO CREATE SERIOUS MUSIC?
First many of these publications are no longer black-owned. So the diverse and organic type of coverage of our community has been diluted down to whoever or whatever is popular. They are struggling for relevance against the People magazines of the world. So unfortunately they replicate the templates of white oriented magazines. I look at old issues of Jet and Ebony [magazines] and I'm amazed at the amount of range of coverage black music received. Popular culture in the form of rap, R&B and soul are advanced as "authentic" representations of blackness, which means we have regressed in our own understanding of who we are and what we do. Outside of DownBeat did any black publication discuss Jason Moran's appointment as Artistic Director of Jazz at the Kennedy Center? Is anyone talking about black singers on the operatic stage? No but go through the last few years of Ebony, Essence or Jet and you will see Beyoncé at least three times; Kerry Washington from "Scandal" at least three times. But where is Angela Brown? Where is Audra McDonald who just made history at the Tony Awards? You won't see them because that's not who we as a community embrace or offer as examples of success. More importantly in general we are a public that wants small bits of information that is accessible through our smart phones and tablets. We engage completely different with the published word today, so in order to remain relevant these publications have to tap into what interest the prominent demographic. It's a really conundrum.
HOW WOULD YOU REACT TO THE CONTENTION THAT THE WAY AND TONE OF HOW SERIOUS MUSIC IS COVERED HAS SOMETHING TO DO WITH WHO IS WRITING ABOUT IT?
I think there are instances where this is true, but overall I would not apply this to every situation. I've read the work of some white writers that I would have sworn were black because of their treatment of the subject matter.
IN YOUR EXPERIENCE WRITING ABOUT SERIOUS MUSIC WHAT HAVE BEEN SOME OF YOUR MOST REWARDING ENCOUNTERS?
I met the family of Mary Lou Williams shortly after one of my first articles on her appeared in a journal. During the Q&A of a public lecture I gave on Williams, her niece stood up and thanked me for my work. She said that I had captured the essence of her aunt and her passion for music. Man, it almost took me out. I don't know how I held it together. That was priceless to me! Because those were the people who knew her the most. I've had a lot of people over the years come to me and say thanks for writing about black women musicians the way you do. I so appreciate your work and that's what makes it all worth all the struggles I have sometimes in finding resources or finding the right way in which to describe the music.
WHAT OBSTACLES HAVE YOU ENCOUNTERED – BESIDES DIFFICULT EDITORS AND INDIFFERENT PUBLICATIONS – IN YOUR EFFORTS AT COVERING SERIOUS MUSIC?
Family members and their perspectives on their relative's life and music. Sometimes people have their own agendas and they believe they can dictate what you write, even if it's not true. My earliest work was on the operas of William Grant Still. Initially his daughter was a supporter of my scholarship (she provided me with many of the materials I've used in my work) and when she realized I wasn't willing to repeat some of the commonly held beliefs that circulated amongst her family members because there was no definitive truth, I became her mortal enemy. My work never dismissed these beliefs, but I could not in good conscious substantiate them. She first wrote a letter to my alma mater requesting that they rescind my thesis because it was "blasphemous" and defamed the legacy of her father's memory; then when she was ignored she launched a tour complete with the 5-page single spaced typed letter she sent me. I know this sounds crazy, but it's all true!! I would get messages from people who said I went to this conference and Judith Still was there and she had this display that had her letter to you, etc. I wanted to go straight gangsta on her, but I realized that I was not the only scholar she was targeting. Over the years I would randomly receive these letters from her harassing me further. I never responded. One other scholar actually hired a lawyer; I didn't because her plan of discrediting me only made my scholarship more popular. But it took a mental and spiritual toll on me and I grew to hate the music of William Grant Still. She is one of the very reasons why I and many other scholars no longer write on Still. But that's the price you pay when dealing with individuals who have their own readings of their family member's life and music. What was most distressing is she took issue with two pages of a 70+-page document. Nothing misaligned her family or her father's music. She just read what she wanted to in those pages. I learned from that scenario that integrity is more important than popularity, but there's a cost. She reached out to me a few years ago to participate in a conference of Still, but she specified that she wanted me to present on women musicians. I never replied! I didn't go either because I knew I probably would have caught a case if I were in the same room as her. While I still try and reach out to living musicians and/or family members, I'm more aware of the challenges that some time comes with this. I know my response is long, but the only other obstacle I've faced is people wanting to be paid for being interviewed. Even when I explain that I'm writing for scholarly journals I've had people blow me off when I can't pay them for just relating their experiences. I experienced a lot of that when writing my book on Mary Lou Williams. I really tried to talk to as many of the musicians who played with her. Some were cool; others were just plain rude when they learned I had no budget to pay them. That attitude is one of the very reasons that I haven't seen anyone write on them or mention them in jazz history books.
WHAT HAVE BEEN THE MOST INTRIGUING NEW RECORDS YOU'VE ENCOUNTERED RECENTLY?
Hmm there have been a few I've been listening to—Cecile Salvant's "Womanchild" and Gregory Porter's "Liquid Spirit." I really like the unique perspective they took in their song choices and performance approaches.