Some months back producer Zev Feldman got in touch to speak excitedly about a new, unreleased Charles Lloyd "discovery". Seems there were two live sessions worthy of release from Charles' first quartet, with Gabor Szabo on guitar, Ron Carter on bass, and Pete LaRoca Sims on drums. These two concert performances were subsequently slated for release on two discs by Resonance Records, which has specialized in unearthing previously unreleased live sessions from such masters as Bill Evans and Wes Montgomery. I had initially encountered the excitable Zev when we were part of a panel discussion here in the DC area at Joe's Record Paradise on the subject of his Wes release Echoes of Indiana Avenue.
The Charles Lloyd Quartet recordings in question had been captured at Judson Hall in New York on September 3, 1965, and on an undisclosed 1965 date at the fabled Slugs' Saloon. Zev knew of our annual Lost Jazz Shrines spring concert series at Tribeca Performing Arts Center, which one year focused on the legacy of Slugs', an infamous joint which was about much more than the site of Lee Morgan's shooting. Being asked to contribute to the various year-end best of listings, as a writer-participant in the subsequent 2-CD set Manhattan Stories (Resonance HCD-2016), of course its a conflict for me to include this revelatory recording on my own lists, but I did want to share below the essay I wrote for the CD booklet on Slugs', one of four essays in the extensive accompanying CD booklet, contributed by Zev, Michael Cuscuna, Don Heckman, and Stanley Crouch.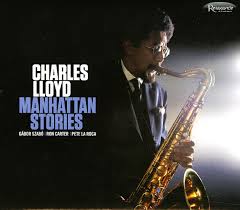 Slugs'
The place was dubbed "Slug's in the Far East" because of its Wild Wild East location, situated in what was then a sort of East Village no man's land, at 242 East 3rd Street, between Avenues B&C, an area now referred to as "Alphabet City". And while the history of Slug's doesn't begin with that chilly February night in 1972 when the great, perpetually troubled trumpeter Lee Morgan was gunned down in the club Frankie & Johnny style by his enraged lover, it is unfortunate that singular event Slugs serves as epitaph for what was clearly a vital home to much that was uplifting and creative about jazz music of the late 1960s-early 1970s.
Bret Primack, in his pre-Jazz Video Guy days, made the trek there frequently. "It was a hairy walk from 2nd Avenue on 3rd Street over to the club. Past the Hell's Angels headquarters and a lot of spooky East Village vibes in the late 60s," Primack recalls. "Now it's a totally different story over there; the Nuyorican Poets Café is on that block, the whole neighborhood has been gentrified."
Slug's music menu was pretty far ranging, featuring a number of artists who operated in the creative space between the hard bop of the day and the developing jazz "avant garde." Jackie McLean in part achieved the broadening of Slug's music policy, himself a restless explorer of the period who was stretching beyond the borders he'd known with Art Blakey's Jazz Messengers and the Charles Mingus Workshop. In early '65 McLean, at the time lacking the city's draconian cabaret card, leaving him scuffling for New York gigs, proposed a dollar admission and a door split for a Sunday matinee to owners Jerry Schultz and Robert Schoenholt. Witnessing over 200 people show up, Schultz got a glimpse of the future and began booking artists for regular gigs. As Schultz told me in a recent conversation from his current home in New Zealand, Slug's rapidly grew a Tuesday-Sunday engagement policy. Soon the joint was jumpin', becoming quite the jazz hang. "The Five Spot was closed, so I had the hottest club in town," he insists. "Miles [Davis] came in once a week as a patron," though voracious talent scout might be a more apt characterization of the trumpeter's East Village forays as Charles Lloyd later learned to his apparent chagrin.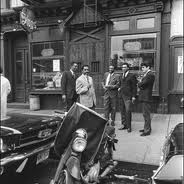 Hangin' outside Slugs'
Slug's became not only a place to sample the music's current doings but also where jazz might be going. Elevating Slug's hipness factor was the presence of a number of edgy painters and poets of the day. As poet-author and retired arts administrator A.B. Spellman, himself a denizen of the East Village at the time recalls his experience, "I was at Slug's probably 2-3 nights a week. Sun Ra had the Monday night slot and it was the steadiest work the band had so it developed some during that term. The black writers and painters were all regulars at Slug's. In an eponymous book on him there's a picture of my ex-wife and me at a table in Slug's with Bob Thompson, probably the most prominent young black artist of the period. Amiri Baraka, then LeRoi Jones, was a regular. I didn't mind seeing the sun come up then; didn't go out until the third set and laughed at the squares who went home after the first set and missed all the new ideas." Other painters who made the Slug's scene included Larry Rivers and Salvador Dali. According to Schultz, one of LeRoi Jones' early plays was staged at Slug's.
So exactly who was developing those "new ideas"? Spellman has vivid memories of seeing such firebreathers as McLean, Ra, Kenny Dorham, Bill Barron, and Booker Little among many others on Slug's narrow bandstand, as well as "Lee Morgan the week [though not the night] he got wasted… that was a blow to us all!" Sonny Rollins and Ornette Coleman plied their trade at Slug's, as did Sam Rivers, free drummer Sunny Murray, and the unusual spectacle of multi-instrumentalist Howard Johnson's Substructure, a band that included five tubas. "Slug's was like no other jazz club ever," Johnson reminisces. "It started out as just a neighborhood bar and never stopped being one. One day, the pianist LaMont Johnson wandered into the place, looked around and said to Robert and Jerry, "If you got a piano in here you could have jazz here every night." He came back the next day with a list of piano warehouses and said that he would be happy to book the bands. [Slug's] had a very hip, jazzy jukebox and the local cats hung out even in the daytime. Pretty soon some serious bookings started happening and the club was launched. For about a three year period I spent some part of every night at Slug's, like checking into the office," Howard remembers. "We heard people there for the first time: Jack DeJohnette, Steve Grossman, Lenny White… everybody, new or old."
Other frequent Slug's habitués included Philly Joe Jones, Freddie Hubbard, Blakey's Messengers, Wayne Shorter, and Elvin Jones. Primack recalled catching Yusef Lateef, Archie Shepp, Herbie Hancock's earliest sextet explorations, and Keith Jarrett's rangy quartet with Dewey Redman, Charlie Haden, and Paul Motian. And of course the reason you're reading this in the first place is because Slug's was home to some of Charles Lloyd's earliest band experiments, including the quartet with guitarist Gabor Szabo, drummer Pete LaRoca (Sims), and the Olympian bassist Ron Carter heard on this recording. Listening to the Slug's session on "Manhattan Stories" one can hear the club's Amen Corner testifying, particularly when Carter solos on "Slug's Blues."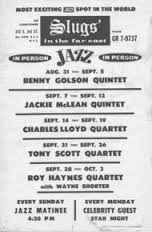 George Avakian, the ace Columbia Records producer, who insisted Jerry book Charles on the spot, first introduced Schultz to Charles Lloyd. "The first time Charles played the club he had Herbie Hancock on piano," Schultz recalls. Lloyd, who Jerry remembered employing several different rhythm sections at Slug's, including the quartet with Keith Jarrett, Jack DeJohnette, and Cecil McBee that made Charles' breakthrough album Forest Flower, eventually played several Slug's stands per year over the course of nearly three years. Eventually Lloyd fell out with Schultz, irked that Miles had apparently purloined DeJohnette out of Charles' band on one of Davis' scouting missions to Slug's. Even though he'd contracted a 2-week stint, and despite Schultz going to Charles' place to plead re-consideration, as Schultz recalls it the saxophonist "flipped out and said Miles had stolen his drummer."
Slug's was by no means limited to small unit blowing sessions. Composers Frank Foster, Weldon Irvine, McCoy Tyner, Tyrone Washington, and Warren Smith found a home there to present their large ensembles and original works. The latter were presented as part of an agreement Jerry Schultz forged with jazz renaissance man Jim Harrison, who based on Jackie McLean's enthusiastic recommendation became promotion manager of Slug's from 1966 until the club's 1972 closure. In partnership with Ernie Jackson, Harrison presented weekend concerts at Slug's, which often included matinees. Where else in NYC jazz club parlance can you find a black man promoting jazz in a downtown spot? Harrison, who later published the jazz periodical Jazz Spotlite News, took to the place immediately because "the people were there for the music. They were hardcore jazz fans," remembers Harrison, who also caught Charles Lloyd there "three or four" times.
Physically Slug's space was pretty non-descript, one of those narrow clubs with a bar on the left soon as you walked in abutting a narrow bandstand sporting a well-worn upright piano, facing a brick wall with small tables & chairs. Pianist Stanley Cowell, who recorded at Slug's with trumpeter Charles Tolliver and their first Music Inc. quartet, recalled Slug's as "a long and narrow venue, the bar near the entrance, stage at the far end from the door; a no-frills, barn-like venue for the real music aficionado." "The audiences were mostly Lower East Siders: very hip, knew the music, and a lot of the musicians," Spellman recalled. Owing perhaps to Harrison's booking policy, Cowell pegged the clientele, certainly unusual for that part of town and that period in history, as "often mostly black [patrons] who ventured into this somewhat depressed and potentially dangerous neighborhood. The feeling for me there was excitement, but an underlying fear of critical acceptance.
"The several times that I had attended [Slug's] as a listener, the audience seemed favorable toward the newer music of the 1960s – free… Sun Ra, Shepp, [Albert] Ayler… But this evolved as time went on and some of the established, straight-ahead veteran groups began to play there, and a less hard-core, politicized audience began to attend from the suburbs and New Jersey as the venue became more established." Obviously the word was out that artists like Charles Lloyd and the Jim Harrison presentations were doing something in the East Village that allayed any fears of navigating the hairy urban terrain around 242 East 3rd Street in that vital, roiling era of American scene change.