Swinging grace personified: Ron Carter at the bass
Has it been 60 years already? Founded in 1954 by George Wein and an old money Newport couple as a means of broadening the inviting summer hang-out, the Newport Jazz Festival celebrated its unprecedented history with a lineup that reflected many facets of the broad-based aesthetic umbrella that jazz has become. Friday afternoon was perfectly suited for toting the old lawn chairs and scavenging out a good vantage point on the great lawn facing the main, or Ertegun Fort Stage at Fort Adams State Park. The day was notably dominated by artists and bands who've largely arrived in the 21st century, starting with the Berklee Global Jazz Ambassadors, a student ensemble directed by pianist Danilo Perez and featuring guest tenorist David Sanchez. They were followed on the main stage by composer Darcy James Argue's Secret Society, the miraculous vocalist Cecile McLorin Salvant, and that excitable young gent Jon Batiste & Stay Human, the leader's yellow suit and pied piper mentality being cause enough for mass revelry in the sun. He closed his raucous set, melodica in mouth, marching his band through the lawn chair brigade, hundreds of smart phones capturing selfies all the while. Someday, after Jon Batiste's stage & screen career is aloft (watch for it…) a youngster will be leafing through his granny's keepsake images and ask "Grandma, is that Jon Batiste you're hugging in the funny-looking yellow suit with the keyboard in his mouth, and what's Grandpa drinking from that jug?"
On the Quad Stage in the inner courtyard of the old fort, John Zorn held court with several of his Masada cohorts for what amounted to a 2-1/2 hour marathon, one which included the trumpeter Dave Douglas and his boundless well of ideas. Over on the Harbor Stage alto saxman Rudresh Mahanthappa premiered his Charlie Parker Project, promising among other intrigues, Bird in an odd-metered environment. The Old Home Week allure of Newport and the revolving sets/multi stage layout make for a happy madness that is a central part of the festival experience, for it seems only those determined to dig into an advantageous sightline at the MainStage, or plop down in an agreeable festival row chair at the Harbor or Quad stage area are likely to catch entire sets, and even those hearty, determined souls are swayed by the occasional midway snack, crafts fair retail stroll, or one or another of nature's calls. But at least on this lone day of the three, disagreeable weather wasn't a culprit if you by chance missed some measure of your chosen sets, as did we.
The impressive throwback/futuristic chanteuse Cecile McLorin Salvant, with the startling pipes (still only 24, no other singer of her generation approaches the extravagant wealth of her lower register and ability to soar upwards with the chops of a vocal Charlie Parker) and proclivity towards Jim Crow era and turn-of-the-20th century lyrics, surely made some new friends that afternoon and on her subsequent Quad Stage performance Saturday afternoon. Fellow writer-photographer (and Ain't But a Few of Us correspondent) Bridget Arnwine shot some photos standing next to a guy new to Salvant's artistry who likely summed up many a first Salvant impression: "I've never heard her before; she sure does sing some weird songs…, but man she's great!" Following Cecile was a tough task, but altoist Miguel Zenon impressed at the helm of his "Identities" Big Band, though despite playing a program of complex originals conveyed by largely young guys this audience had likely never heard before, Zenon chose to only address the audience at the end of his program; big mistake for someone establishing himself as a large ensemble leader in this milieu.
The science of meteorology has advanced over the decades to an uncanny ability to predict the weather (yeah, I know, not exactly profound…). Remember when some storm/inclement weather pattern or other would be predicted and you'd think to yourself 'that may or may not happen.'? Not anymore, these folks nail it now and our advance check of weather.com predicted mad rain for Newport's Saturday afternoon proceedings. Sure enough from the time we crossed the bridge and entered the queue of traffic slowly snaking its way through the quaint streets to Fort Adams, the rain was relentless, coming down like Trane at full throttle and destined for all day. The complimentary yellow school buses transporting festfans from remote parking lots to the grounds could not arrive quickly enough to stave off many celebrants starting their day soaked like some pet pooch left out in the rain. The ride back to the hotel couldn't go quickly enough for coaxing off the shoes, wringing out the socks and a complete change of clothes. Missing the Robert Glasper Experiment and Gregory Porter's storytelling charm whilst slogging our way in, umbrellas, rain parkas and lawn chair placement later the Jazz at Lincoln Center Orchestra gave a platinum accounting, arrangements including Horace Silver's "Señor Blues" and trombonist Vincent Gardner doing his best Jimmy Rushing blues. Wynton on a mission, as always, and in fine fettle at Newport, no quibbles. Alas Saturday was a day more fit for seeking shelter and socializing under some cover than braving the elements to catch what was an exceptional and stylistically expansive day of artists; Dan Melnick is a skilled artistic director indeed. The tented shelter of the Quad Stage (seating is also tented at the Harbor Stage) did beckon, and some substantive sizzle from Cubano conguero Pedrito Martinez's from-deep-in-the-gut small band was the truth.

Vijay Iyer courtesy Matt Merewitz
Sunday did provide a measure of relief from Mother Nature, with only gray skies and intermittent drizzle, but the allure of the Quad and Harbor lineups proved irresistible, particularly as opposed to scoping out a spot in the Main Stage area. The Cookers were followed on the Quad Stage by Vijay Iyer's inspiring unit, including Mark Shim on tenor sax and some Haynes family fire, with Graham Haynes on cornet and his nephew Marcus Gillmore on drums. Fils Roy would have enjoyed this set! At one point Iyer broke it down to a deep groove orientation that drew many a nodding head. Surveying the crowd, one experienced a refreshing youngish sector that belies concerns about the graying of the jazz audience. These kids, raised on hip hop, locked into Vijay's groove with intense familiarity and deep approval. In fact that entire weekend was a breath of fresh air as far as the overall age demographic, recalling an earlier impression that what the younger audience seeks is a portable experience, where they're not locked into a club table or auditorium seating for two hours, but one where they can freely socialize, move around, keep their smartphones active, and lacking the restrictive nature of those good intention/bad idea pre-show admonishments against photography, snap away at will with their devices.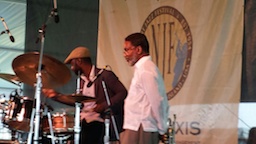 Uncle Graham Haynes checking out dad Roy's grandson Marcus Gilmore's adept and dashing drum work
From Vijay it was a slow drift over to the Harbor Stage to lock down for the next three sets. (Oh boy, Suz found us some front row seats!) Having seen Ravi Coltrane the week prior in Santa Fe with Jack DeJohnette's Trio (scroll down for that impression), it was a refreshing contrast to hear his original composition-laden, piano-less quartet featuring the adventurous trumpeter Ralph Alessi. The driver's seat was industriously occupied by the rambunctious DC-raised drummer Kush Abadey, whose polyrhythmic pallet gave contrasting lift and gravity to Coltrane's music.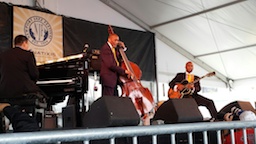 Elegance came knocking with a velvet glove as NEA Jazz Master Ron Carter's suavely, deeply swinging trio filled the Harbor Stage with the kind of élan that never gets old. Time stood still as Carter coaxed a gorgeous "You Are My Sunshine" that was a triumph of pure subtlety over the sometimes disruptive winds of big event jazz. Impeccably draped in matching dark suits and yellow ties, reminding all that Ron Carter is proudly "old school" (and 'you wanna make something of it'?), guitarist Russell Malone and pianist Donald Vega boast remarkable lines of communication, achieving as full a band sound as any ensemble that weekend. Carter, a warm man and one about whom the old saw "doesn't suffer fools easily" also fits, agreeably played "My Funny Valentine" as a dedication to a gentleman intending to propose to his beloved right then & there at the Harbor, which he did to the oohs & ahhs delight of Carter's audience. The temperature rose agreeably as the ebullient pianist-composer and Prince of Panama Danilo Perez played his "Panama 500" program, significantly buoyed by the presence of the percussionist Roman Diaz in the ensemble. Nothing like some intelligent fire to close a good weekend! Nothing we can do about the weather and despite that lack of cooperation, Newport 60 was a blast!



Danilo