Were it not for jazz festivals, which flourish across this country during the summer months, one shudders to consider what the nature of our aggregate cultural calendar would resemble. Two recent experiences further substantiated the importance of these events to our collective cultural psyche, at least for those who enjoy creative music. The distance between Santa Fe, New Mexico and Newport, Rhode Island is practically as far as the eye can survey a map of this country. Yet the earnest presentations of the New Mexico Jazz Festival and the old warhorse Newport Jazz Festival could not be more closely aligned in terms of artistic intent, not to mention diligent presentations of both the classic and the contemporary spheres of the music. So the gulf between their respective chronologies is not as distant as you might think when you consider the mission of each event.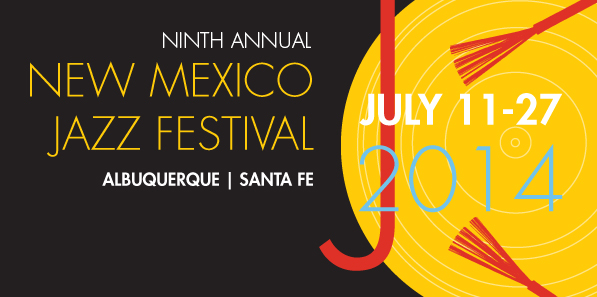 Admittedly pleasant Work and responsibility awaited in New Mexico; a road trip, an extended weekend away, and the prospects of seeing friends & colleagues beckoned in Newport. In each case, the magnetic pull and prospect of splendid performances provided common threads. Ongoing work with the National Endowment for the Arts Jazz Masters program compelled a crack-of-dawn Friday morning (July 25) wake-up call, a Metro to DCA for a 3-1/2 hour flight aboard American Airlines – which operates arguably the least accommodating seating (particularly if you're 6'7″) of any domestic carrier – to Dallas/Ft. Worth, two-hour layover, hour & 45 minutes to Albuquerque, NM and a pleasant 60 mile drive across mountainous desert terrain to high country Santa Fe (elevation 7K+), I-25 bearing zero resemblance to the daily multi-culti/aggressive driver chaos of the dreaded Beltway. Courtesy of the NEA Jazz Masters Live grant program, whose funding renewal is currently in a state of suspended animation (write/call/text your congressman), a site visit was in order for the New Mexico Jazz Festival's engagement of the NEAJM drummer-bandleader Jack DeJohnette. (In what I suppose is perhaps a reflection of the old adage espoused by Miles Davis and others that the most important member of any band is the drummer, named an NEA Jazz Master in 2012 DeJohnette preceded Charles Lloyd (class of '15) – leader of the classic 60s quartet which introduced many to Jack's budding mastery – and his Lloyd bandmate Keith Jarrett (class of '14) with his induction into that ring of honor.)
Layovers sometimes reap unexpected pleasures. Strolling the busy DFW corridor of the flight concourse on arrival, aimlessly seeking some measure of refreshment, I heard my name called. Who could that be? Spinning around and spotting a fellow aimless layover victim, it was yet another splendid drummer – Terri Lyne Carrington, and two of her Mosaic Project band members, bassist Josh Hari and guitarist Matt Stevens. Realizing we had the same destination, airport small talk turned to mild concern for the whereabouts of the band's piano-keyboard player, Rachel Z, who was apparently trapped in some airline delay vortex that might leave a missing link in that evening's Mosaic Project concert. Ah yes, the vagaries of musician travel. Upon Albuquerque arrival we went separate ways – they to their presenter pick-up, me to my rental car and… "See ya'll this evening."
The New Mexico Jazz Festival (2014 was its 9th running; a little brother as these things go, with grandpa coming up the following weekend in Newport) is a collegial partnership of three NM presenters – the Albuquerque-based Outpost Performance Space (under the stewardship of saxophonist-composer Tom Guralnick, one of the real princes of the creative music presenting business), Santa Fe's multi-discipline presenter the Lensic Performing Arts Center, and the Santa Fe Jazz Foundation, whose founder & president is retired rancher/current restaurateur and old friend Bumble Bee Bob Weil. Considering the cutting edge proclivities of Guralnick, the mainstream sensibilities of Weil, and the multi-discipline presenting of the Lensic NMJF is a unique partnership that works, this running featuring 10 performances in Albuquerque (including 6 at Outpost, a converted/redesigned storefront in the manner of a spiffy, southwest-style loft) and 5 in Santa Fe over the course of its 16-day run. Oh yeah, that early morning Eastern time zone wake-up and the arrival in Mountain time did facilitate a mid-afternoon arrival in Santa Fe, just in time to head over to Bumble Bee's Baja Grill for the world-class fish tacos and some catch up time with Bumble Bee himself over a scrumptious coconut flan desert.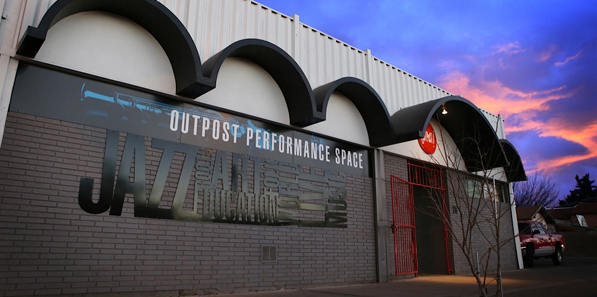 That evening at the Lensic, still short Rachel Z's empty piano chair, TLC's Mosaic Project soldiered on in high style, the drummer occasionally gazing stage left and joking with the audience for the pianist's imminent arrival. The Mosaic Project emphasizes female mastery, Stevens and Hari being the gender exceptions. You could not find two more stylistically diverse vocalists than Lizz Wright and Gretchen Parlato, but somehow TLC's Grammy-winning project makes that vocal diversity work as each took turns in the lead. On alto & soprano saxophones were two youthful and fresh voices, the precocious, rapidly maturing Grace Kelly and the promising Berklee Global Jazz Institute alum Hailey Nischwanger. Matt Stevens is a guitarist with a full and distinctive sound who lends significant voicings to whatever setting he graces, including the modernistic landscapes of trumpeter Christian Scott (Christian a Tunde Adjuah)'s band and drummer Jamire Williams' Erimaj. He was particularly effective shading Parlato's understated stylings. The singers are at the core of this project, Parlato with a subtle and supple approach like none other and the Holy Ghost that always emanates from deep within Lizz Wright, an old soul who must have been here in a previous eon. An unlikely pair to be sure but clearly TLC knows what works in service to her music and she brings the two together in seamless fashion. Arriving straight from airport pick-up to her piano chair, Ms. Z brought added heft to the ensemble following intermission.
From the beginnings of the NMJF Guralnick has engaged author-poet and retired NEA executive A.B. Spellman as the festival's scholar-in-residence. An engaging, informative inquisitor Spellman conducted a Saturday afternoon Meet The Artist interview for a robust house at the Lensic with Jack DeJohnette. Cannily beginning the session by noting the recent passing of Jack's fellow NEAJM Charlie Haden, Spellman elicited warm remembrances of Haden/DeJohnette encounters past, including the "80/81" Pat Metheny ECM record session they shared and reminiscences on the essence of the unique personage of Charlie, whose warm legacy obviously touched many in light of the outpouring of love at his passing (scroll down for the Independent Ear's remembrance of Charlie). The Spellman/DeJohnette conversation touched upon their shared experiences at Slug's Saloon in Jack's early New York days, including performing with the NEAJM Sun Ra who enjoyed a lengthy Monday night residency at the noted Alphabet City dive, and Jack's first prominent New York gig with NEAJM Jackie McLean, who inaugurated Slug's live music policy. Particularly vivid was Jack's recall of an opportunity to sit in for NEAJM Elvin Jones in the monumental John Coltrane Quartet. DeJohnette informed the audience that early 2015 will see the release of the stellar Chicago Jazz Festival concert he made last year with NEAJM Muhal Richard Abrams, Roscoe Mitchell, Henry Threadgill, and bassist Larry Gray as part of the drummer's 70th birthday year.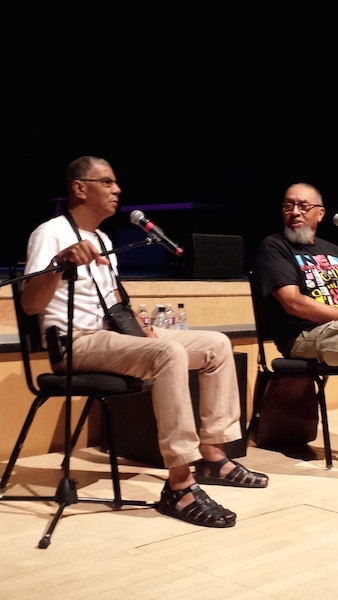 John Coltrane was a looming presence in DeJohnette's NMJF residency. That evening's concert featured his rangy trio with Ravi Coltrane on saxophones and Matthew Garrison, son of Trane's long time bassist Jimmy, on bass guitar. In an interview with Garrison at his hotel, following the Spellman/DeJohnette session, the bassist spoke of the free nature of this trio and how their sets wove familiar themes within a largely edgy context that inevitably reached standing ovation audiences despite the unbound nature of much of their performances. The evening opened with DeJohnette manipulating his vocal mic and crash cymbal to gong-like effect, Garrison playing atmospheric bass guitar with live electronics, thoughtful Ravi alternating tenor and soprano saxes, both orbiting around the drummer's rhythmic core. The set included DeJohnette's "7th D", Trane's "Spiral", Joe Henderson's classic, spacey ballad "Black Narcissus", and the drummer's lovely tribute to his wife of four+ decades "Lydia". Then DeJohnette sat down at the piano, where one gains a clear connection with his drumming style. A finely spun "Blue in Green" compelled Ravi's soprano, followed by an unexpected "Sidewinder" cleverly invoked by Garrison's bass, sparking some knowing audience recognition of Lee Morgan's soul-jazz anthem by the jazz vets in the house. This was some of the most successful trio music one might experience these days, especially on an agreeable night in Santa Fe.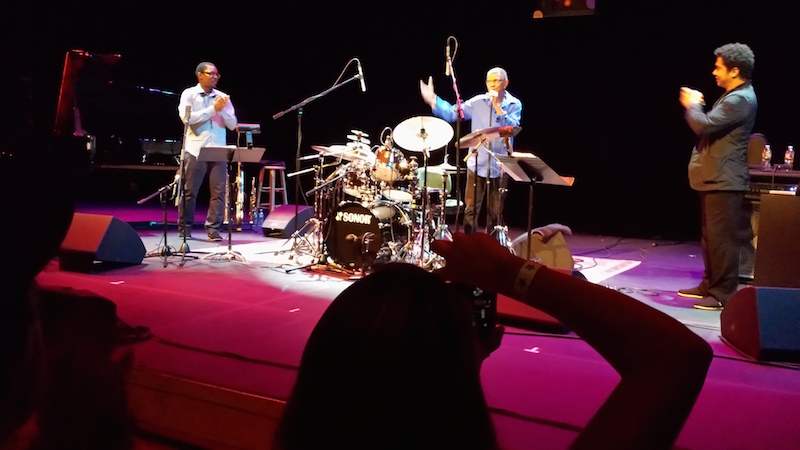 NEXT TIME: the 60th anniversary Newport Jazz Festival…