Musing on summer just past. You know how it is; you're going to the beach and unless you're a surfing fanatic or an enthusiast of wave riding boogey boarding (I'll leave that to my 14-year old nephew), your main goal is to sit/lay/sleep and otherwise loll in some preferably inert position, beach umbrella tilted just so, bathed in sun block, bare feet planted firmly in the warm sand, the hypnotic wash of oceanic tides providing a tranquil soundtrack. You may roust yourself every now and then and take a quick dip, head up to the boardwalk for some fries or assorted tempting empty calories, running the gauntlet of other bad bodies, and occasionally raise your sun dappled pate just high enough to scope out the kids having a blast in the surf. But most of us will spend that precious time decompressing from the daily grind. Speaking personally, part of that beach ritual will include a good book; and mind you I'm not talking about tomes or literary gravitas here, just something to enhance your maximum chill mode.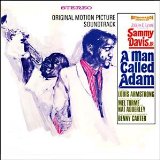 While the sisters in the family went off on other pursuits on the retail drag at Rehoboth Beach, DE last week, the ever intrepid nose for vinyl crate digging turned up this soundtrack gem from the film "A Man Called Adam" – sealed, I might add! Often overlooked in discussions of jazz realism on film, this should-see featured Sammy Davis Jr. playing a brooding, mercurial Miles-like trumpeter, Cecily Tyson as his muse, Ossie Davis and Louis Armstrong as a sort of fading but still powerful representation of jazz past, with performances by Mel Torme and Nat Adderley giving Sammy's trumpet playing its authenticity.
It should be noted here that personal tastes in old vinyl and crate digging in general are all about the pursuit of material pertinent to encouraging some set or other on my weekly radio program ("Ancient/Future" Wednesdays 10pm on WPFW 89.3 FM in the DC area, streaming live at www.wpfw.org), and not necessarily concerned with matrix numbers, first pressings or some other discographic ephemera of such intense interest to the more dedicated, obsessive vinyl seeking crate diggers among us.
For this year's beach week, intrigued by certain of the notices, Do Not Sell At Any Price: The Wild, Obsessive Hunt for the World's Rarest 78rpm Records (by Amanda Petrusich) slaked the beach week book jones. "Wild" would be one optimum descriptor for some of the odd obsessives and their assorted hunts for rare 78s Ms. Petrusich encounters as she digs headlong into the world of crate diggers in search of rarities from the history of our original record format. Along the way she finds herself questioning this obsession from a number of different perspectives – including her own magnetic attraction to the pursuit, which at one point leads her to take scuba diving lessons for the express purpose of plunging into the Milwaukee River in search of discs legend has it were flung merrily into the river by disgruntled employees at the Paramount pressing plant in Grafton, WI. Along the way she meets but one woman collector and largely encounters characters for whom the actual hunt outstrips the end game – the acquisition – along with one or two collectors for whom misanthrope might be an accurate descriptor. A common thread – unlike certain other collectors of what for most is esoterica in the extreme – many of these 78 hunters truly enjoy the music uncovered in those shellac 78s. One of them is in fact a man after my own heart, he shares his treasures via radio broadcasts; while yet another has developed a lucrative DJ business spinning purely 78s on an old Victrola.
Professionally the author's proclivities as a music journalist run more towards assorted strains of rock. By the end of her book Petrusich's sympathy for this crate digging subculture is considerable, as evidenced by this passage written in observation of a release party for a reissue package of 78s: "The whole scene was disorienting. I felt suddenly and fiercely protective of a subculture I had no real claim to. I wanted 78s to continue offering me – and all the people I'd met – a private antidote to an accelerated, carnivorous world. I didn't want them to become another part of that world. I wanted them to stay ours."
Though not a particular fancier of 78s (my current, Low-Fi turntable won't enable 78 spins anyway) Ms. Petrusich's intriguing examination of this collector phenomenon did take the mind back to a dusty box of 78s from Dad's old collection sitting on a neglected shelf in the basement; certainly an investigation for another day, but from this book's account one worth pursuing. The book also brought to mind a current volunteer stint. The Friends of the Library of Montgomery County, MD (FOLMC) operates two bustling used book stores in their ongoing efforts at financially supporting the MC Public Library system. (For scale, Montgomery County, MD is bigger than the state of Rhode Island.) In addition to steady book donations from the public these stores also accept audio and video software discards… and that includes often sizable donations of Lps and CDs. As many of us downsize our listening media to the dreaded MP3 level – or heaven forbid some wall-to-wall online music service – boxes and boxes of Lps from yesteryear are offloaded for tax write-off donations by MC residents.
Which brings me to my own crate digging enabler enterprise. Several years ago, after accepting a seat on the FOLMC Board of Directors I began frequenting our two bookstores in search of their many hidden, way inexpensive literary treasures, only to be magnetically drawn to their assorted Lps. The largest of these two stores, in Wheaton, MD, had particularly ramshackle shelves of Lps mashed together in no particular order. Picking through those shelves revealed a few gems. I soon volunteered to better organize that section of the store and inventory the hundreds of Lps – which were admittedly in varying degrees of playability, from mint to dumpster level. So for the last two years every available Wednesday morning for a couple of hours I volunteer to do intake and inventory, pricing and shelving new arrivals, discarding a few that have lingered overlong to make room in the robust but finite record aisle space. (The Lps pictured below are among some recent gems that have arrived in the jazz section at the Wheaton FOLMC store.)
Like many nostalgic items considered valuable by at the very least a hard core of collectors, coupled with the burgeoning DJ culture and the audiophile-driven recognition that there indeed is a sonic difference between the sound of a quality Lp versus the digital formats, Lp collecting is more than an underground pursuit. Labels have been issuing special products on vinyl, both new and reissued, for the more sonically astute among us over the last decade. It seems practically every week Lp-aholic jazz publicist Jim Eigo is posting some news item trumpeting renewed interest in Lps or detailing yet another record collector's gathering. So the interest is out there, and quite intense in some pockets. And, aside from the promise of great music, who could resist the artful quality of an Lp cover like this Count Basie band chronicle that arrived from a donation last week?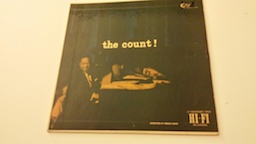 This volunteer stint has also engendered a sort of grudging appreciation for the enormity of the popularity of certain artists and recordings from yesteryear. Now I fully understand Herb Alpert's financial largesse and his ability to so graciously endow the UCLA Music Program for example. Based on donated evidence, this man sold an enormous number of records during his Tijuana Brass heyday. But just when the malaise sets in from the endless copies of Alpert discards, and the rejects of folks who actually sunk hard-earned cash into somnambulant 101 Strings Lps, along with recognition of the enormity of the assorted discographies of a Frank Sinatra or Barbara Streisand or Bill Cosby comedy records, up jumps something wild like this number from Bob Dorough's discography.
So what, you ask is/was the Medieval Jazz Quartet? "Conceived and Arranged by Bob Dorough" as the cover declares? This was a quartet (including our leader) of – wait for it – recorder players! You know the recorder, that end blown instrument you may have encountered in your earliest music ed class? Well here its played by Dorough and his 3 associates in its soprano, alto, lead tenor, second tenor, bass, and second bass incarnations, along with Alto and Tenor "Krummhorn", Baroque Flute, and finger cymbals, with a notable rhythm section of bassist George Duvivier, guitarist Al Schackman, and drummer Paul Motian. And what are they playing? Standards, the likes of "How High the Moon", "Nature Boy", and "Mood Indigo" among the eight tracks. And besides the curiosity factor, the far-as-I-can-tell uncredited liner notes include a hilarious Dorough interview and lines like this one: "There is much more to tell of Mr. Dorough, but one of his selves seems to be leaning over the typewriter whispering "Cool it, man."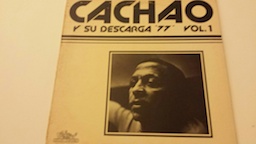 Here's something hip that arrived at the FOLMC Wheaton store from the Latin side
Alert to the across-the-board $1 per record price (regardless of condition), 25 cents for the assorted 45s which arrive, more than a couple of local dealers hunt these shelves. I see them every Wednesday, chatting among themselves nonchalantly waiting for the new arrivals shelving process along with the savvy collectors who recognize Wednesday as "that time." Practically all of these guys – and the crate digging clientele is almost exclusively male – do check the incoming jazz section, clear indication of the ongoing value placed on jazz recordings, which admittedly arrive at a premium and generally in decent shape. By contrast, the category with the largest number of weekly donations to this particular store is classical music. So if you're a classical Lp buff, then this be the place. If you're of the jazz persuasion, crate digging at the FOLMC Wheaton store may turn up a beauty like this recent mint condition arrival from one of DC's favorite jazz ancestors, the inimitable Shirley Horn.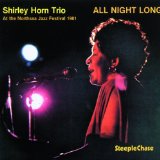 Whatever your music interests (not to mention shelves upon shelves of worthwhile books) these two FOLMC locations are worth some crate digging…
1710 Georgia Avenue
(at the rear of the Wheaton Public Library)
Silver Spring, MD
301/933-1110
4886 Boiling Brook Parkway
Rockville, MD
301/984-3300