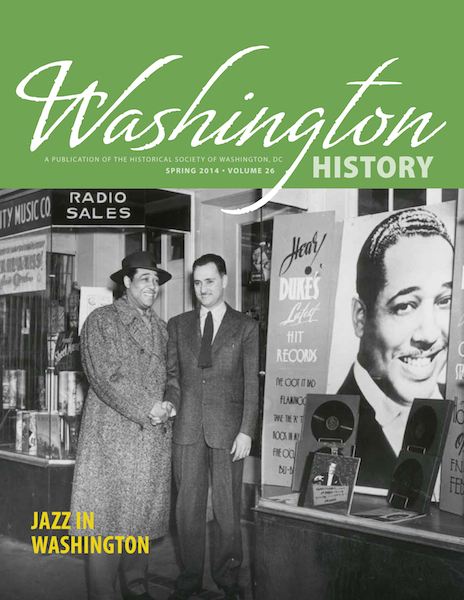 The all-to-familiar, deeply romanticized up the river from New Orleans lineage of jazz history is a flawed cliche. Several cities can boast of their own indelible contributions to jazz history, some even make compelling cases for historic developments parallel to those of the Crescent City. Other great cities offer their own jazz development spanning over a century or more. One such city is our nation's capital, Washington, DC, with a documented though often overlooked contribution to jazz history and a vibrant contemporary scene of musicians and venues.
Over a year ago I was invited to a confab at the home of Smithsonian jazz scholar and curator John Hasse to discuss measures aimed at raising the international profile of DC's importance of place in jazz history. A number of ideas were discussed and not long afterwards Georgetown University professor and author Maurice Jackson and Woodrow Wilson Center VP Blair Ruble, author of Washington's U Street: A Biography, met with the Historical Society of Washington, DC. The result of their meetings is the splendid new Jazz In Washington edition of the Washington History journal.
Quoting co-editors Jackson and Ruble in their editors' preface: "…The nation's capital has been a fertile city for jazz for a century. Some of the most important clubs in the jazz world have opened and closed their doors here, some of its greatest players and promoters were born and grew to maturity in town and still play here, some of the institutions so critical to supporting the music remain active."
They go on to disclaim this as a "comprehensive picture of the vibrant and still vital DC jazz scene. Instead these verbal portraits represent one idiosyncratic gathering of articles about Washington jazz rather than the authoritative collection." This publication was supported in part by a generous gift from Mrs. Mica Ertegun, widow of Atlantic Records founder Ahmet Ertegun, himself – along with his brother and Atlantic jazz record producer Neshui Ertegun – noted DC jazz history makers during their time in Washington as sons of the Turkish ambassador. Their efforts at bringing black and white Washington together under the banner of jazz at the Turkish Embassy is extensively chronicled in the book The Turkish Ambassador's Residence And The Cultural History of Washington, DC (info: www.iku.edu.tr) by John Hasse. Several years ago the Turkish Embassy happily renewed its elegant jazz series evenings, presenting numerous contemporary jazz artists, including DC resident artists and such touring artists as saxophonist Tia Fuller, trumpeter Roy Hargrove, pianist Jonathan Batiste, vibraphonist Warren Wolf, and vocalists Gretchen Parlato and Cecile McLorin Salvant.
This superbly illustrated Jazz In Washington journal is chock full of historic photographs and luminaries who've made DC jazz history, including a portrait of "Washington's Duke Ellington" contributed by Ellington scholar John Hasse. One of the historic geographic crossroads in Washington's vital jazz history is the area around 7th and U Streets. Blair Ruble addresses that deep history, including the essential Howard Theatre, in his chapter "Seventh Street." Not only this nation's capital, but long a capital and critical juncture in the history of black America, Maurice Jackson writes on "Great Black Music and the Desegregation of Washington, DC." And this being the seat of U.S. government, Anna Harwell Celenza tackles the legislative side of jazz in her contribution "Legislating Jazz," which chronicles jazz at the White House and the Jazz Ambassadors history at the State Department among its elements.
Poet E. Ethelbert Miller contributes three slices of jazzoetry, and Felix Grant Archivist Michael Fitzgerald, co-author of Rat Race Blues: The Musical Life of Gigi Gryce, details the myriad institutions in DC that offer significant sustenance to jazz researchers in his chapter "Researching Washington Jazz History", including the University of the District of Columbia's growing Felix Grant Archives, Howard University's Moorland-Spingarn Research Center, and the usual suspects, the Smithsonian and the Library of Congress and the enormity of their respective jazz offerings.
"Jazz Radio in Washington" was contributed by my WPFW colleague Rusty Hassan, a veteran DC jazz radio host for over four decades. Rusty's stroll through DC's vibrant jazz radio annals details such important voices as the Voice of America's Willis Conover, Felix Grant (whose extensive archives are the core of UDC's Felix Grant Archives), Jimmy "Black Fire" Gray, Yale Lewis, Ron Sutton, and the inimitable Jerry "The 'Bama" Washington among many other contributors to Washington's rich radio history.
When Jackson and Ruble were developing their blueprint for this journal, as part of the original study group that met at John Hasse's home, my sense was hearty approval for the plan to celebrate key elements of Washington's jazz story. But considering the vibrant jazz scene we continue to enjoy here, my thoughts turned to the continuum; namely what of the musicians making their mark on the DC scene right now? Our host for this special Washington, DC jazz history journal is after all the Historical Society of Washington, DC. With that in mind I recently published my sense of "A Select who's who on the contemporary DC area jazz scene" as a bit of a companion piece in the Independent Ear on April 4 (http://www.openskyjazz.com/2014/04/a-select-whos-who-on-the-contemporary-dc-area-jazz-scene/).
For Jazz In Washington it was my pleasure to spend some revealing interview time in the Capital Hill area apartment of producer-journalist-historian, all around DC jazz scenester and fellow Ohio native transplant Bill Brower. Landing here post-grad from Antioch College, Brower has been a broadcaster, contributor on jazz to the Washington Post, and several other local publications, concerts & festival producer-technical adviser (including the annual Congressional Black Caucus jazz day) and a keen observer of the DC scene for the last four decades. Our interview, "Bill Brower: Notes from a Keen Observer" details elements of jazz in Washington since the 1970s, including Brower's observations of the essential scene Bill Warrell and his DC Space and District Curators carved out for the cutting edge of jazz.
To obtain a copy of Jazz In Washington visit the website of The Historical Society of Washington, DC on the web at www.historydc.org.