"Music expresses that which cannot be said and on which it is impossible to be silent."
— Victor Hugo (from The Quotable Musician by Sheila E. Anderson)
Vision Festival 19 opens on Wednesday, June 11 at Roulette in Brooklyn honoring the indomitable, force-of-nature saxophonist Charles Gayle with its Lifetime Achievement award. Other festival honorees include two recent ancestor champions of the festival, the late trumpeter Roy Campbell and poet laureate Amiri Baraka, whose artistry helped define this uncompromising event. The Vision Festival, whose core programming is "avantjazz", is based on a foundation of "Art that exhibits a disciplined disregard for traditional boundaries."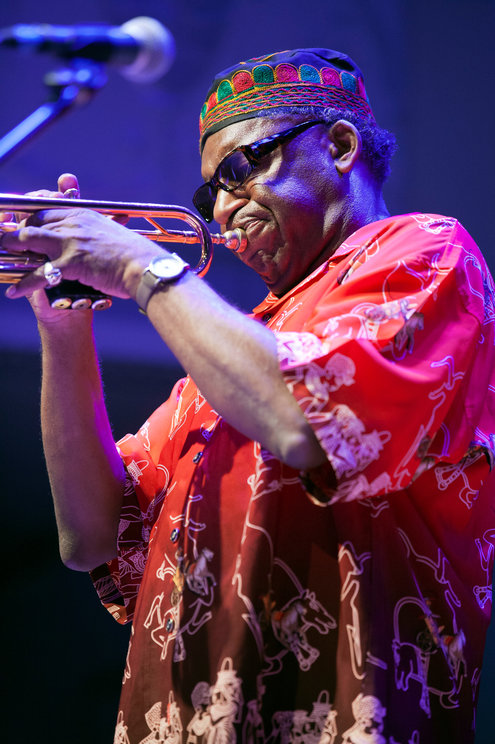 ROY CAMPBELL
The primary movers and shakers of the Vision Festival, which is presented by the not-for-profit Arts for Art (AFA) organization, are dancer-choreographer Patricia Nicholson Parker and bassist William Parker. Regarding more on the philosophical underpinnings of the Vision Festival we recently sought out Ms. Parker with some questions. Following our dialogue is the complete Vision 19 schedule.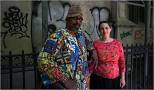 WILLIAM PARKER & PATRICIA NICHOLSON PARKER
In your latest AFA post on the festival there is this line: "LISTEN TO MUSIC that changes your perspective…" Tell us what you mean by that, as far as the change of perspective aspect.
Most people are most comfortable with what is familiar to them, the known. To stay in the boundaries of what we know to be good or acceptable, greatly limits us. When we 'get out of our comfort mode, allowing ourselves to experience and contemplate different ideas or new sounds, we have the capacity to grow and our perspective evolves.
When art challenges us – new ways of perceiving the world and our relation to it become possible. For any of this to happen we must wholeheartedly embrace this process of freeing – letting go of all of the must dos, should haves, and could haves – and open our minds to the unknown. If we don't, the alternative is static.
You've expanded the reach of Arts for Art into more of a year-round presenting profile as well as what appear to be partnerships with other presentations of a like mind. How do you see that element of a year-round presenting profile enhancing the core festival every June?
Those things and people who become meaningful in our lives have in common the way that they are consistently present in our lives. If you only exist once a year, you affect peoples' lives in a much less substantive way.
If the festival is to have impact – it needs to be as present as possible through time. This will then make it possible to make a real difference – for the artists, the audiences and a growing community.
Each year the Vision Festival appears to expand, either artistically or in sheer scope. What broadening of your festival can your audience expect for the 2014 event?
More so than broaden, what I have tried to do is to deepen the understanding of who the artists are and why they have dedicated their lives to sharing their art.
We also are interested in contextualizing it as art and music in present time and history. This lends greater meaning to the art and to the audience's experience of the art. We don't just book groups, we attempt to reveal and talk about the Vision behind the art. As opposed to presenting entertainment in a vacuum, AFA endeavors to draw connections, and create context for the music and art. We talk about the back-story (through the interviews, poetry and essays we now print in our Vision booklet) so people have greater understanding of what it all means.
For example, this year, AFA is honoring Charles Gayle and we publish his words on the music to which he has dedicated a Lifetime, so that the world hears about him from him. We honor Jeff Schlanger, the musicWitness, who has been documenting the music in drawings that have since become closely associated with creative music in general and this music in particular. So we are printing his ideas and other artist's informed ideas on his work so that the audience can gain insight into his process. AFA believes that the artist must have a hand in defining his or her own work.
We are honoring Roy Campbell who is so loved for his craftsmanship and also for defying the boundaries that have been set up within Jazz and for his support of his fellow artists. And we honor Amiri Baraka who loved and supported free jazz and our Vision Festival. Amiri is a constant reminder of the power of art to make a difference. Through his art he defended the rights and dignity of African Americans. By honoring the African American, white America can begin to regain its self-respect. When we belittle African Americans, gays, women, Latinos, Asians and others who have been oppressed- the oppressors are themselves degraded.
At the festival we are honoring Amiri Baraka. We will have a poet reading one of his poems as well as their own. And the panels that are being hosted this year recognize the Legacy of Amiri Baraka: Art in Action. These panels further deepen the understanding of what this music and this festival is about. Amiri reminds us of what it means to be human.
What is the theme of this year's Vision Festival?
This year the theme is Studies in Freedom – as we try ourselves to deepen our understanding of what Freedom means for us as creative responsible human beings.
The freedom found in music is an indicator of the capacity of inner freedom and the ability to think for oneself and respond in real time to life as it happens. Real freedom is a journey that involves much discipline, self-discovery as one loses the dictatorship of the mind and opens oneself to the listening present. How this kind of music sounds – is personal. I like Charles Gayle idea about titling this music, he prefers the title Personal Music over avant-garde. But nowadays, I am going with Free Jazz.
Who are some of the artists the festival will present for the first time at this year's event?
For the first time:
Poets: Quincy Troupe, Ramya Ramana, musicians who never performed at all: Susan Alcorn, Antoine Roney and Angelica Sanchez & Omar Tamez & Satoko Fujii New Trio+1 – none of them played except for Todd Nicholson and Mary Halvorson is leading her own group for the first time at Vision and Michael Wimberly is leading a group on the main stage for the first time. James 'Blood' Ulmer and Jemeel Moondoc haven't played Vision for years.
What advice would you have for artists like yourself who want to do something in their community as far as presenting events that either fill a void in that given community or expand the perspectives of their community in terms of the more uncompromising?
Don't be afraid to tell your truth. Look for the ways that you can be heard. Listen to others. Deepen your understanding of 'self-determination' Understand who you are and set yourself free. For example, or to begin with, don't let others tell you what music is good or not or enforce rules that don't feel intrinsic to you. Define your music instead of waiting for others to define it. And don't be divisive. Find commonalities for as even the right wing will say, "Divided we fall' United we stand."

VISION 19
AT ROULETTE 509 ATLANTIC AVE BROOKLYN
WEDNESDAY, JUNE 11 CHARLES GAYLE LIFETIME ACHIEVEMENT
(sponsored by Robert D. Bielecki)
7:00 Charles Gayle Trio + Dance
Charles Gayle – bass & piano Daniel Carter – reeds
Miriam Parker – dance + Guest Michael T.A. Thompson – drums
8:15 Charles Gayle Quartet
Charles Gayle – tenor sax William Parker – bass
Dave Burrell – piano Michael Wimberly – drums
9:15 Quincy Troupe reading from the work of Amiri Baraka + his own poetry
9:45 Charles Gayle & the Vision Artist Orchestra
Charles Gayle – piano, conduction
Kidd Jordan, Hamiet Bluiett, Ingrid Laubrock – sax
Ted Daniel – trumpet Steve Swell – trombone
Jason Kao Hwang, Mazz Swift – violin, viola
Nioka Workman – cello Shayna Dulberger – bass
Andrew Cyrille – drums
THURSDAY, JUNE 12 HONORING JEFF SCHLANGER musicWITNESS®
6:30 CHILE•NEW YORK•AfghanIRAQ by Michael Lucio Sternbach,
documenting the work of Jeff Schlanger / Music by William Parker & Roy Campbell
7:00 Steve Dalachinsky reading from the work of Amiri Baraka + his own poetry
7:15 Wimberly's Harlem Ensemble 'Signs & Rituals'
Michael Wimberly – drums, percussion Larry Roland – bass
Antoine Roney – tenor, soprano sax Nioka Workman – cello
Dyane Harvey-Salaam & Souleymane Bodolo – dance, choreography
8:15 Mary Halvorson + Susan Alcorn
Mary Halvorson – electric guitar Susan Alcorn – pedal steel guitar
9:15 Cardinal Points
Ned Rothenberg – alto, clarinets, shakuhachi
Gamin – piri, taepyeongso, saengwhang
Samita Sinha – vocals Satoshi Takeishi – percussion
10:15 Peter Brötzmann + Hamid Drake + William Parker
Peter Brötzmann – reeds William Parker – bass Hamid Drake – drums, percussion
FRIDAY, JUNE 13 FROM SPIRIT TO SPIRIT – in Action
4:30 Panel:The Legacy of Amiri Baraka: Art in Action: Part 1
Cultural Identity / Self Empowerment / the role of Free Jazz
A retrospective in the First Person Moderator: Mike Burke Democracy Now
Panel : Oliver Lake, Wiliam Parker, Jason Hwang, Mazz Swift, DD Jackson, Fred Moten
7:00 Whit Dickey Quartet
Whit Dickey – drums Mat Maneri – viola
Rob Brown – alto saxophone Michael Bisio – bass
8:00 Ramya Ramana Poet – reading her own work and that of Amiri Baraka
8:15 Women with an Axe to Grind
Kris Davis – piano Shayna Dulberger – bass
Mazz Swift – violin Patricia Nicholson – dance, words, rhythm
9:15 Jemeel Moondoc Quintet Remember Roy
Jemeel Moondoc – alto saxophone
Steve Swell – trombone Nathan Breedlove – trumpet
Hill Green – bass Newman Taylor Baker – drums
10:15 James "Blood" Ulmer Music Revelation Ensemble revisited
James "Blood" Ulmer – electric guitar
Calvin "The Truth" Jones – bass Cornell Rochester – drums
SATURDAY, JUNE 14 12:30 A FUTURE OF VISION
Forum on : The legacy of Improvised Music
Dave Sewelson, Connie Crothers, T.A. Thompson, Lisa Sokolov, William Parker
2/ 4pm Music Is Mine Youth Groups
2:00 Visionary Youth Band–Bklyn / Jeff Lederer, Jessica Jones directors
2:30 Achievement First Middle School Band – Brooklyn / Gene Baker director
3 :00 P.S.182Q – CCNY "Quest Band " Queens / Michael T.A. Thompson director 3:45 All students (70 musicians) under direction of Jason Kao Hwang + guests
4:30 Panel– The Legacy of Amiri Baraka: Art in Action Part 2
Decolonizing the Music: The conversation continues: Moderator: Basir Mchawi
Panelists: William Parker, Juma Sultan, Ahmed Abdullah, Mae Jackson, Hamid Drake
7:00 Satoko Fujii New Trio +1
Satoko Fujii – piano Todd Nicholson – bass
Yoshi Shutto – drums Kappa Maki – trumpet
8:00 David Mills Poet – reading the work of Amiri Baraka + his own poems
8:15 Matthew Shipp Trio
Matthew Shipp – piano Michael Bisio – bass Whit Dickey – drums
9:15 TarBaby
Nasheet Waits – drums Eric Revis – bass Orrin Evans – piano
10:15 Sonic Projections
Nicole Mitchell – flutes David Boykin – tenor saxophone
Craig Taborn – piano Chad Taylor – drums
SUNDAY, JUNE 15 FREEDOM IS HARD WON
2:00 Panel Discussion on The Legacy of Amiri Baraka: Art in Action
Part 3 – The Legacy of Art in Social Action – creating our Future
Naima Penniman, Daro Behroozi, Hamid Drake, Dave Burrell? Luke Stewart
5:00 Angelica Sanchez + Omar Tamez
Angelica Sanchez – piano Omar Tamez – electric guitar
6:00 Fay Victor + Tyshawn Sorey
Fay Victor – voice Tyshawn Sorey – drums, percussion, found instruments
7:00 Jordan + Burrell + Parker + Drake
Kidd Jordan – tenor sax Dave Burrell – piano
William Parker – bass Hamid Drake – drums, percussion
8:00 Poet David Henderson reading the work of Amiri Baraka + his own poetry
8:20 TIMES THREE
Connie Crothers – piano Henry Grimes – bass, violin Melvin Gibbs – electric bass
9:30 Roy Campbell Tribute Band led by Sabir Mateen
Sabir Mateen – reeds, conduction Rob Brown – alto saxophone
Daniel Carter – reeds, trumpet Dennis Gonzalez – horns
Andrew Bemkey – piano William Parker – bass
Hamid Drake – drums