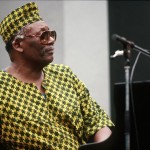 Premiere of :
"An African Nubian Suite"
Composed and performed by Randy Weston & his African Rhythms Orchestra.

April, 8, 2012 at the Skirball Center for Performing Arts, NYC, USA
http://www.nyuskirball.org/calendar/weston
http://africanastudies.as.nyu.edu/object/Weston.html
An African Nubian Suite salutes the Nubians who were the first human race on earth
and the oldest of the great civilizations in Africa.
The suite was conceived through Weston's relationship with the traditional peoples of Aswan
where he married his wife.
An African Nubian Suite was developed with support of the Guggenheim Foundation.
Listeners can expect to hear the spirituality of Africa with music and poetry.
With:
Special Guests: writers Wayne B. Chandler and Robin D.G. Kelley; poet Jayne Cortez
Musicians:
Randy Weston (Piano)
Alex Blake (Bass)
Lewis Nash (Drums)
Candido (Percussion)
Neil Clarke (African Percussion)
Billy Harper (Tenor Sax)
T. K. Blue (Sax & Flute)
Robert Trowers (Trombone)
Cecil Bridgewater (Trumpet)
Howard Johnson (Tuba)
Martin Obeng (Balafon)
Ayodele Maakheru (Banjo)
Salieu Suso (Kora)
Min Xiao Feng (Pipa)
Lhoussine Bouhamidy (Gnawa)
Tanpani Demda Cissoko (Singer)