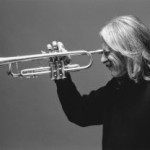 Reading friend & colleague Ted Panken's always inquisitive and informative interview style, on this occasion with the potent Italian trumpeter Enrico Rava in the March '12 edition of DownBeat http://www.downbeat.com/digitaledition/2012/DB201203/single_page_view/38.html, was thought-provoking on several fronts. The mind drifted to considerations of the European scene, and the fact that Rava is an excellent example of what one might consider the first wave of home-grown Euro improvisers. Through the various biographies/autobiographies and periodical accounts of the Masters since the time of black artist migration (escape?) to Europe during the latter part of the first half of the 20th century we are well acquainted with their romance of European touring and in some cases expatriation – from Sidney Bechet to tenormen Dexter Gordon, Johnny Griffin, and Ricky Ford (what's become of him?).
More recently the mantra, particularly from African American artists, has been about the contraction of European performing opportunities for U.S. jazz artists. A big reason for that has been quite simple – through various measures of assimilation and educational development, Europe has a home-grown coterie of improvisers. These artists have filtered the so-called jazz esthetic through the lens of their cultural perspectives to build their own native approaches to the music. Italy has been an incubator for artists who still cleave to the more soulful aspects of the music, elements which have often been seemingly dismissed, denied or patently avoided by their Nordic brothers and others. Some of that same soulful element can be found in France as well, but not quite as potently as in Italy, from elders like Rava to precocious youngsters like Charlie Parker's spiritual great-grandson/Phil Woods' spiritual grandson, the altoist Francesco Cafiso.
You could see that coming years ago when U.S. music schools like Berklee began affiliating with festivals such as Umbria Jazz to produce music education intensives. Sitting in on some of those classes as a reporter back in the late '80s this writer was struck by the thirst and zeal with which Italian youngsters flocked to their Berklee classes for that fortnight. Race hasn't seemed quite the issue with Italian assimilation of the jazz esthetic as is suggested by eyewitness accounts in France, thus perhaps the inherent soulfulness of Italian improvisers. As for France, there has long been a covert racism designed to limit African American musician's access; witness the thinly veiled racism practiced by the French pianist and critic's darling Martial Solal and his backdoor efforts at excluding black musicians from the French jazz equation; accounts of that covert racist doggishness came this way through impeccable sources. Hopefully someone with first-hand experience will continue to pull those covers back, but I digress.
Italy has been a bit of a different story however. Panken's inquisition with Rava and the trumpeter's series of ECM recordings reveal an artist comfortable with expressing recognition and gratitude for the African American root of the music. Early in his odyssey Rava was befriended by such African American artists as Don Cherry and Archie Shepp, and he's never forgotten or dismissed that. Along more general lines, check the following cogent passage from Panken's interview about the basic responsibilities of a jazz musician from a band perspective:
"I feel that all bands are like a tribe. Once I read that the Cherokees had a social organization where nobody owned anything, everything was for everybody and everybody used what they needed. It's a perfect idea of democracy. In a jazz group, when it works, that's what it really is. No one renounces their ego, but you don't impose your ego on everyone else. It's a perfect harmonic situation, like the cosmic balance, where everything is right. Maybe I bring a line, some chords, a little point where we meet and play, what I want, but I leave everyone freedom within that frame to find what to add or take out. That way, I think the musicians who play with me give their best, better with me than when they play their own thing."

Enrico Rava's latest recording is Tribe for the ECM label; also featuring the prodigious trombonist Gianluca Petrella.