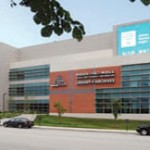 Cuyahoga Community College's new Center For Creative Arts; a case could be made for this being the House that Tri-C JazzFest Built
Tri-C JazzFest (TCJF), produced by Cuyahoga Community College (Tri-C), will celebrate it's 33rd anniversary festival April 19-28 as the Cleveland metro area's most enduring and important annual jazz-based event. (See our complete 2012 lineup elsewhere on www.openskyjazz.com or visit www.tricpresents.com/jazzfest/. The festival was originally conceived by the late Dr. Reginald Buckner and our director emeritus Dr. Thom Horning, primarily as a catalyst for development of a jazz studies program at Tri-C, and also as part of the college's commitment as a partner in the ongoing development of the downtown Cleveland Playhouse Square theaters. Those four theaters – the State, the Palace, the Allen, and the Ohio – have been a TCJF lynchpin ever since, today serving as the festival's bookend major weekend concert component. The Playhouse Square theaters are an excellent example of a successful urban recovery story. They were classic old downtown movie houses, with seating capacity ranging from approximately 950 to over 3,000. Such grand old theaters are no longer fashionable in the movie business, and that coupled with Cleveland's unfortunate and ongoing downtown retail malaise resulted first in their being vacant hulls, and later in the decree that they be demolished. At the 11th hour they were rescued from the wrecking ball by a combination of the late U.S. Senator Howard Metzenbaum's intervention and a newly developed not-for-profit whose mission was to save the theaters, the Playhouse Square Foundation; a classic case of vigorous civic and social activism. Sidebar: my great friend Dr. Larry Simpson, former Tri-C Provost and current Berklee College of Music Provost, and I served on the original TCJF organizing committee as representatives of the Northeast Ohio Jazz Society, which we'd founded in 1977.
The inaugural Tri-C JazzFest featured a burgeoning education component at its core, along with weekend concerts at a Playhouse Square theater featuring the likes of McCoy Tyner, and Herbie Mann. Since then the festival has grown its education component to close to an entire week of clinics, masterclasses, and high school jazz band (non-competitive) performances and adjudications; the concert component now encompasses approximately ten days. Out of Tri-C's jazz education efforts have come such promising young players as the trumpeters Sean Jones, Dominick Farinacci, and Donald Malloy. The first step in growing our concert component was the presentation of performances at Tri-C's attractive and very accommodating 800+ seat Metro Campus Auditorium (Tri-C has 3 campuses: Metro (just east of downtown, right across the street from the nation's oldest public housing project), Eastern Campus, and Western campus), and secondarily in the smaller 300+ seat Metro Campus Theater. Tri-C JazzFest has always had a mission of presenting concerts throughout the Greater Cleveland community, including what has become a significant concert component in some of Cleveland's traditional African American communities.
TCJF built this component with such venues as East Cleveland Public Library (East Cleveland, OH is an urban African American community just east of Cleveland), the historic black theater Karamu House, Mt. Zion Church, Olivet Baptist Church, and Antioch Baptist Church. TCJF's highly successful series of presentations at East Cleveland Public Library were part of the catalyst which energized the library's visionary, now-retired CEO Gregory Reese to raise $10M to build a gorgeous 270-seat chamber hall on-site as a home for jazz. For the most part, Karamu, Mt. Zion, Olivet and more recently Antioch have been venues for special (often themed) presentations of some of Cleveland's finest artists, sometimes augmented by visiting special guests, ala young vocalist Charenee Wade (backed by Farinacci's band) as part of a Betty Carter tribute and Columbus, OH B3 ace Bobby Floyd for an organ summit with Cleveland's B3 king Eddie Baccus last April.


East Cleveland Public Library
East Cleveland Public Library has long been the scene for presentations of some of our visiting artists-in-residence, including NEA Jazz Masters Bobby Hutcherson and Randy Weston, as well as such stalwarts as Cecil Bridgewater, Marcus Roberts, Bobby Watson, Lesa Terry, Cyrus Chestnut, Mulgrew Miller, Winard Harper and a raft of other recording artists. Mt. Zion, and now Olivet, have been the scene of our annual Women in Jazz concert, and last April Antioch hosted our first Gospel Jazz concert.
The crux of this commentary relative to our ongoing Independent Ear dialogue on the black audience question is that each of these venues is based in Cleveland's African American communities, so the great majority of our audiences at these presentations is black folk. Every concert we present in these venues, which per festival typically average anywhere from 4-5 concerts, is blessed with energetic – bordering on raucous – SRO, turn-away crowds. The longest standing of these, at East Cleveland Public Library and Karamu House, witness audiences which line up in the street hours prior waiting for the doors to open. And lest one think black folks only show up for black artists, we're talking across-the-board SRO audiences here. A couple of years ago we launched our own resident ensemble, the multi-racial TCJF SoundWorks for annual thematic programming. Their first performance, an evening of their arrangements of McCoy Tyner's music to celebrate our 30th anniversary, was met with the same SRO audience at East Cleveland Public Library, the same amen corner. SoundWorks second concert featured special guest, and that year's artist-in-residence, NEA Jazz Master Charlie Haden and his Liberation Music Orchestra music. Here I should emphasize that these have always been FREE concerts.
This April will mark my 18th as the festival's artistic director. Several years ago, largely in response to the growing number of young artists who communicated about the possibility of being presented at the festival in spite of the fact that they had no discernible track record of performance in our market, we created our Debut Series. This afforded us an opportunity to present young artists who had not previously played the Cleveland market in their festival debut. The Debut Series has been a very successful venture, presented largely at the East Cleveland Public Library, and on several occasions at Nighttown, an intimate supper club in nearby Cleveland Hts. which under Jim Wadsworth has become the area's most vibrant venue for visiting and touring artists.
Some of our Debut Series artists have included pianists Helen Sung, Gerald Clayton, and Jonathan Batiste, saxophonists Eric Person and Tia Fuller, The Barber Brothers (Rahsaan & Roland), drummer (and Cleveland native) Neal Smith, trumpeters Theo Croker and Maurice Brown, and vocalist Sachal Vasandani. Our 2012 Debut Series will present bassist Ben Williams and saxophonist Marcus Strickland and their bands.
One of the hippest circumstances at all of our African American community venues for these free concerts is the level of audience involvement. There is absolutely nothing like an engaged black audience, responding to the music with great vigor, energizing the artists with their interaction, again that amen corner feeling. More than one of our visiting artists has delightedly asked our community series concert audiences if they could pack them up and take them on the road. These are deeply appreciative audiences which always sell-out the artists' CD stock post-concert. Last April's Olivet audience went positively nuts for Charenee Wade, and we expect a similar response to our other Debut Series artist this April, Canadian vocalist Kellylee Evans, who'll pay homage to Nina Simone.
These audiences and their enthusiasm for our artists strongly suggest that there is certainly an African American audience out there for this music, but one wonders how much of a Field of Dreams factor there is to that equation – an if-we-build-it-they-will-come mentality, given that each of those venues is in one of Cleveland's black communities. And I can't emphasize enough that heretofore these concerts have been FREE of charge. Besides TCJF its been my experience in other parts of the country that if jazz artists are presented free of charge – particularly if they're African American artists and there's a black community in the vicinity of the venue – the African American audience will be significant. Witness the annual Rosslyn Jazz Festival and Silver Spring Jazz Festival, presented in my home community of the Washington Metro area; and in that community they sure didn't need George Clinton to sing about the DC area being Chocolate City to know that. Despite the fact that those festivals, both featuring robust talent rosters neatly balancing resident artists with touring artists, are presented on the same fall Saturday afternoon, and each enjoys large African American audience participation. Not sure if it matters much, but it should also be pointed out that most of the TCJF Debut Series concerts, as well as the Rosslyn and Silver Spring events, are all matinee performances.
So the question becomes, are we dealing here with a purely economic issue? I can't really co-sign that because from my own audience observations – and I serve as MC of TCJF concerts and have been a frequent MC at the Rosslyn Jazz Festival through WPFW, affording an up close & personal audience viewpoint – these are decidedly not audiences comprised of economically-deprived black folks. Remember, I characterized this installment as a case study. What are we to make of the twin phenomena of presentations either in or near large pockets of black populace, presented free of charge, and their resulting in at or near capacity audiences? Let me tell you, a real test case is coming at TCJF in 2012. Current harsh economic realities have compelled the Cuyahoga Community College administration to determine that we must charge a nominal fee ($10) for our Debut Series this April (Ben Williams and Marcus Strickland). Thankfully that's not the case with our Women in Jazz presentation of Kellylee Evans' tribute to Nina Simone at Olivet, but it will be quite interesting to compare these three separate audience results for artists who are being introduced to our Cleveland community.
What's your take on this black audience conundrum? Next installment we'll include reader responses to the overall question of Where's the Black Audience for Jazz?, and you're welcome to be part of the dialogue. Hit me back at willard@openskyjazz.com. Also forthcoming is master saxophonist and conceptualist Greg Osby's take on this issue. As we say in radio, stay tuned…