Our ongoing Independent Ear dialogue on the black audience for creative music (wherefore art thou?) continues with contributions from two readers responding to question as well as previous posts. Stay tuned, shortly we'll be posting our public interview with Nicholas Payton from last weekend's Mid-Atlantic Jazz Festival.
Our first response comes from Jackie Harris, director of the Louis Armstrong Jazz Camp in New Orleans, a former administrator at the New Orleans Jazz & Heritage Foundation, former cultural commissioner of the city of New Orleans, and a keen observer of black culture and the overall cultural scene.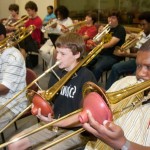 Classroom work at Jackie Harris' Louis Armstrong Summer Jazz Camp at Loyola University in New Orleans
Twentieth century Jazz artists and supporters are unfortunately leaving us. We – boomers and generation x'ers – did not fight hard enough to keep music education in the schools of our children and grandchildren. Every generation will support the music of its era. Therefore, young people are always going to listen to what they create and what appeals to them. They will not look for what they know nothing about. Therefore, we must expose and teach.
We – boomers – were immersed in the music of the R&B greats – Stevie, Gladys, Patti, The O'Jays, SOS, Temptations, and many other groups. However we were also a part of the Jazz community. Jazz was played in our homes, we heard it and saw the joy and excitement as we sneaked a look into the neighborhood bar while walking home some evenings. That time has come and gone. Jazz is now taught in the classroom, in summer and after-school programs. Many young parents do not know nor are they able to see the advantages of having their kids enrolled in arts education. They are embracing the hype of more academics to pass standardized testing as justification to exclude music education.
We said "it takes a village." Let's be the village that makes the commitment to support and help parents in our school districts advocate for music education in their schools. Let's insist the music taught in our schools include Jazz instruction. Where is the Jazz audience? The Jazz audience is in remote non-urban communities in middle and high schools, universities and colleges. These communities are not heavily populated by African Americans.
As for BAM [editor's note: i.e. New Orleans' own Nicholas Payton] that is up to my homeboy. He can call it whatever he wishes. I respect his wishes. As for me, it will always be Jazz, the art form that was created by African Americans in New Orleans – "The Birthplace of Jazz."
A voice from a younger perspective…
Jackie Harris, as is the editor of The Independent Ear, is of the so-called baby boomer generation. Another reader, Atane, contributed the following to our dialogue.
These conversations about the lack of a black audience for jazz (BAM) are always the same circular discussion that rarely, if ever, puts the blame squarely where it belongs, the older generation. They have failed us. Our parents failed us. It's not "the black community" in total, it is the stewards of the black community, the elders. The older generation needs to squarely look in the mirror and understand that the problem exists because of them. Young kids are a product of their environment. No one grows up in a bubble. So if we see that the audience continues to dwindle, why are obvious reasons (guardianship/parenting/education/access) not the focus of the conversation?
I'm a young man who was fortunate enough to have grown up exposed to music, but I can't say the same for most of my peers. Why didn't the older generation champion this music to us? When inner-city schools were being decimated by cuts to music education programs, where were our parents to make a stink about it? Why didn't they raise hell? Why wasn't this seen as valuable to them? How else will young black kids gain exposure to the music if one of the main avenues is always on the chopping block? Where were the initiatives to fight this? Meanwhile, as this was going on to poor black kids, jazz education for the people that can afford it is big business and continues to grow. So, why are we shocked when fewer and fewer black kids are getting involved?
Also, while the black audiences are smaller, the narrative that black people have turned their back on the music is simply not true. I have no delusions that this will ever be popular music for the average black person, but it is quite insidious to continue this meme of black people not coming out to see this music. It's not true, or at least not in NYC. The problem is how jazz is covered. In the NYC press, the jazz worlds does not exist above Lincoln Center. There is absolutely no coverage of the happenings above there [editor's note: apparently the writer is referring to uptown, north of Lincoln Center]. Everything is either the clubs downtown or midtown (Village Vanguard, Blue Note, Birdland, Iridium, Jazz Standard) and Lincoln Center; all venues frequented largely by whites. If those were all the places I went to, I'd think blacks didn't care for the music also. In all this, it's almost like the clubs in Harlem don't exist; clubs where there are black patrons! The Shrine, St. Nick's Pub, Lenox Lounge, Smoke to name some. What about them? I guess if there is no Winter Jazz Fest happening there, then it's not important.
Why is there little to no coverage of the Central Brooklyn Jazz Festival (http://www.centralbrooklynjazzconsortium.org)? It is mostly attended by black folks. I won't hold my breath for coverage from the major jazz publications, but it is painful that the black press ignores it entirely also. Young folks aren't running media companies, so why won't the older black people with clout come out and show support, or those with influence make sure [jazz] gets coverage? How will people know about it, if no one covers it? Who is at fault there? Part of the problem is that no one is exposed to these happenings. I'm glad that outfits like Revivalist (http:///revivalist.okayplayer.com/ at least focus on many of the black musicians still dedicated to the craft. Lord knows NPR, DownBeat, and JazzTimes, etc. won't cover half these guys grinding away in obsurity.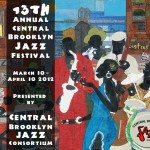 To reiterate my point, our parents failed us. That's why we are in the precarious situation with the music today. They didn't lead by example.