Nnenna Freelon – with Lois Deloatch – sings an impromptu tribute to Jazz Griot Donald Meade at the JEN conference
At last month's very successful Jazz Education Network (JEN) conference (1/5-7) in Louisville, one of the more heartwarming programs was bassist-educator Larry Ridley's Jazz Legacy performance. The music was rich, and specific to Ridley's Indianapolis roots. Following the performance two vocalist sister-friends, Nnenna Freelon and Lenora Zenzalai Helm joined other celebrants, including JEN's own founding member Mary Jo Papich and vocalist Lois Deloatch, in paying homage to Jazz Griot Donald Meade. Apropos they bestowed the Meade Legacy Jazz Griot Award on Donald. The distinguished, folksy Donald Meade is someone I've seen for years and chatted with occasionally at the old IAJE conferences, who now supports JEN with zeal. Always in the company of one great or another, whether it was the ancestor and drum master Ed Thigpen, or NEA Jazz Master Clark Terry, Mr. Meade seemed to always be holding court, dropping wisdom on various folks in the music, be they grizzled vets or callow youngsters, his quick wit always at the ready. Since Nnenna and Lenora traveled to Louisville specifically to honor Donald Meade, I asked them to reflect on what he means to them and why they inaugurated this Meade Jazz Griot Award on this most deserving gentleman and namesake. Here's what Lenora wrote in response.
Basically, Poppa (Donald Meade) is considered a Jazz Griot because he tells the stories we ought to know about jazz history as it was being made, but tells us the missing components about how lives were impacted in the midst of those stories. To read about Ella Fitzgerald's career being pivoted for the better under Norman Granz's influence is one thing, but to have Poppa tell you how Ella REALLY felt about it (because of his conversation with her in the moment), and Norman Granz, was quite another thing. To hear him recount what Ella would say to her musicians backstage, or how she felt compelled to sing 25 – 30 numbers a night in one concert – is a deep treasure; in what history book would I get that?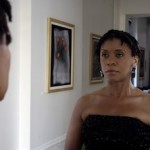 A Griot tells us stories for the protection of the owners of the history, so that things withheld (whether inadvertent or deliberately cloaked) are made transparent, and in that transparency, clarity comes, THEN ownership IS protected. Poppa gave me an understanding of the inner workings of how jazz history, as we see presently, is discussed and documented in the media and how it is impacted by a jazz musician's decisions. The decisions we make as jazz musicians about repertoire, personal and social politics, from the very small creature comforts of how we live, to how all of those decisions are perceived – so that we take nothing for granted, so that we don't miss anything as we scrutinize our decisions.
So, so many times, Poppa has been my personal crystal ball. He has been a father, brother, friend, confidante and mentor. He was at my father's funeral and told each of my siblings that he would "look after me" after my dad's passing. In the almost decade that I've known him, I've discussed each personal, musical and career decision I've wanted to make, prior to making it. That's why I got on a plane to be there when he was honored – and I had no previous intentions to be at the JEN conference. I was there for Donald "Poppa" Meade. He's encouraged all of us – Nnenna (Freelon), Lois (DeLoatch) and I, to continue being a part of the JEN conference – to not be derailed by the machinations that surround the jazz music industry. He impresses upon us the importance of staying in the conversation, and being at the discussion table, no matter how frustrating or political those machinations have become – basically to not give up our rightful seat at that table – but stay focused on being honest to the music. To do that, we only have to remember the time he took – hours of phone and in-person conversations, getting on a plane to be at our life events (marriages, births, deaths, concert performances, career events), and the promise he asked of us to keep to pay it forward to the next generations of jazz musicians and students – and audiences.
[The following account of the JEN program honoring Donald Meade with the Meade Legacy Jazz Griot Award originally appeared in the site polyrhythms.ning.com.]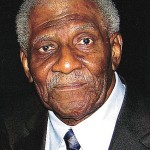 Louisville, KY, Jan. 5th: It was the best of times at the 3rd Annual Jazz Education Network Conference with the diligent support of Past President, Mary Jo Papich, as Larry Ridley & the Jazz Legacy Ensemble sponsored by the African American Jazz Caucus made time for his friends and the Universe to honor noted jazz historian Donald Meade as the first recipient of the Jazz Griot Award. (See attached) This annual award which will forever bear his name was made before an excited throng thrilled to pay homage to one of the most knowledgeable jazz historians of our time.
What is a Griot?
The Griot emerged from West African traditions as a storyteller, historian, chronicler and keeper of the timeline. The Griot in short, remembers through word and song all of the important events and experiences of a particular community. He holds sacred the collective memory, preserving for future generations.
Donald Meade is a timeless treasure. His life parallels the evolution of jazz music and culture. His love for music extends far beyond mere knowledge of facts and important figures. Meade brings to the conversation reflections on the origins, dynamics and byways of jazz music. He includes more than just an intimate familiarity with the people that inhabit the landscape, but a thorough knowledge of how these artists mirrored and informed the development of the American culture at the time. His first voice stories embrace the social, political and cultural realities that shape and created musical truths. He was in fact there when what we refer to as "history" was being made. One cannot argue with living history!
Meade, born December 8, 1928 in Joliet, Illinois, was raised in Joliet and later in the Watertown area of East Moline, Illinois, during the time when jazz was coming of age. Meade speaks fondly of growing up musically in the time of Duke Ellington, Nat Cole, Pat Patrick, Louis Armstrong, Clark Terry and many other pioneers and innovators of the day. He has been a life-long friend and confidant to many of the jazz legends and innovators, and has traveled extensively with jazz giants such as Ed Thigpen, Ray Brown, Oscar Peterson, Milt Jackson, Cedar Walton, the Heath Brothers, Art Farmer, and Ella Fitzgerald to name a few. "At one time jazz was the popular music" he says.
The son of a revered labor leader, Alfred (Mule) Meade, Donald Meade remarks: "The history of some aspects of the culture in this country cannot be explained without first understanding the country's labor history." As a former laborer at John Deere Harvester Works and later a TWA baggage supervisor, Meade comments: "Were the opportunity to work not here, all of those musical influences from New Orleans to New York, would not have gravitated and uniquely jelled here." We have all heard versions of the history of this music, but rarely in the context of the symbiotic relationship of arts and labor. It is an insightful view of life and music unique to Mr. Meade.
The history of jazz has often depended upon the reports of witnesses regardless of how far removed. A supremely valid history of jazz is on the lips of those who were there. Meade's retelling of first-hand accounts has influenced jazz education and generations of young people.
It is fitting that Donald Edward Meade be honored as the first recipient and namesake of the 1st Annual Meade Legacy Jazz Griot Award. Recognized internationally by top jazz musicians, loved and respected by the jazz community, Donald Meade has been a faithful steward of the oral history of this music we all love.

The latest from vocalist-educator Lenora Zenzalai Helm