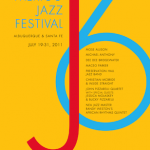 New Mexico is one of the less publicized beauty spots of this country. Past experiences in Santa Fe and Albuquerque have been very agreeable. Last weekend's experience there as a small part of the annual New Mexico Jazz Festival was just one such occasion. Good friend and erstwhile saxophonist-composer Tom Guralnick is one of the unsung jazz arts presenting heroes. From virtually nothing Tom has carved out a scene for jazz and creative music in Albuquerque via his visionary performance space known as Outpost Productions. I first met Tom when Outpost was selected as one of the charter members of the former Lila Wallace-Reader's Digest National Jazz Network. Back then Tom was in the early stages of building a scene in Albuquerque and Outpost occupied a small abandoned storefront. Since then Tom has carved out an aesthetically-pleasing, comfortable 160-seat Outpost performance space that is somewhat reminiscent of Ruth Price's comfortable former Jazz Bakery space in SoCal. (Interesting sidebar: old friend and jazz activist Yvonne Ervin, now based in Tucson, AZ, was on hand for some of the festivities in Albuquerque last weekend and is currently consulting with the new Jazz Bakery phoenix project; stay tuned…)
Some years ago the former Santa Fe jazz festival event morphed into the New Mexico Jazz Festival, which just celebrated its 6th running under the co-leadership of Tom Guralnick, Bob Martin (director of Santa Fe's Lensic Performing Arts Center), and another old friend Bumblebee Bob Weil of the Santa Fe Jazz Foundation. So the NMJF now operates on a principle of presenting programs in both Albuquerque and Santa Fe during its annual July run. I was out there principally to participate in a book interview and signing with Randy Weston for our book African Rhythms on a lovely Saturday afternoon at the Outpost space in Albuquerque, an interview conducted by our distinguished friend, poet and retired NEA exec. A.B. Spellman (author of the essential book Four Lives in the Bebop Business). Later that evening Randy's African Rhythms Quintet played a beautiful concert before a packed and deeply appreciative audience to close the NMJF '11 at Santa Fe's lovely Lensic Performing Arts Center (after some scrumptious fish and shrimp tacos at Bumblebee and his wife B.J.'s comfortable Baja Grill that is).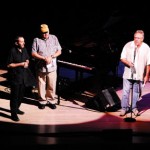 Tom Guralnick (left) and Bumblebee Bob Weil (center), Bob Martin (right) onstage at the Lensic
On Sunday afternoon Outpost presented a screening of ethnomusicologist and musician Steven Feld's deeply-penetrating film "Hallelujah!", a study of the artistry of the late Ghanaian drummer-percussionist Kofi Ghanaba (aka Guy Warren), an old friend and colleague of Randy. It was a pleasure and honor to participate in the ensuing 3-way post-film discussion with Feld and Randy. If you're not familiar with Ghanaba, don't sleep… his was one of the deepest engagements with jazz music of any native African musician, including several recordings under his Western name Guy Warren.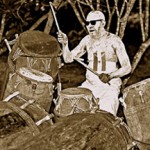 The late Ghanaian drummer–percussionist-visionary Kofi Ghanaba (aka Guy Warren) in a scene from Steven Feld's documentary "Hallelujah"
Another of the great pleasures of the trip to New Mexico was catching up with my dear friend, the great flutist-composer-conceptualist James Newton. James and his fabulous spouse live in a beautiful home north of Albuquerque, an abode festooned with an amazing art collection, including a significant number of Elizabeth Catlett's works. Newton is living a sort of bi-state life as he continues to teach at UCLA, but as far as residence its obvious that his New Mexico abode is definitely where his heart is. On the drive up for one of his wife's sumptuous meals (he'd duly forewarned me that she could "burn") we had a chance to catch up. How'd he wind up in New Mexico? It seems the influence of his friend and NBA legend Michael Cooper of Laker fame was indelible and Newton soon fell in love with New Mexico climes. Flute-wise Newton's singular artistry has been slowed by a lingering hand ailment, but that has merely accelerated his composition work. Newton has for many moons effectively straddled the jazz and contemporary classical music worlds and his latest release "Sacred Works" (New World Records) is a beautiful declaration of his mastery of the latter. Newton continues to compose prodigiously and reports that he has made progress in physically rehabbing his hand and is far from done with that golden flute. So again… stay tuned…




Multi-poll winning flutist-composer-educator James Newton