Harlem jazz scribe Ron Scott, a past participant in our series of conversations with black jazz writers "Ain't But a Few of Us," and a regular contributor to the Amsterdam News among other outlets, wrote this appreciation of a truly unsung master jazz pianist, Johnny O'Neal. A native of Detroit Johnny O'Neal is most assuredly part of the pantheon of Detroit pianists. A former Jazz Messenger, O'Neal is one of those many unsung jazz artists deserving of your – and wider – recognition. In addition to the regular Johnny O'Neal gigs Ron chronicles here, you might also catch him in the DC area as part of the Jazz Knights lovely Monday night jazz series at Vicino's in Silver Spring, MD. There are a number of such unsung masters out here toiling in the jazz fields and we intend to feature some on an occasional basis in The Independent Ear.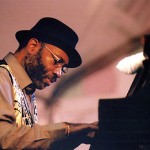 JOHNNY O'NEAL PURE PIANO
By Ron Scott
Pianist Johnny O'Neal has two regular weekly gigs; one on Saturday the "Round Midnight Session, starting at 12:30am at Smoke Jazz & Supper Club-Lounge (West 104th Street and Broadway), and on Sundays the "After Hours" session at 12:30am to closing at Smalls Jazz Club (183 West 10th in the West Village).
Those of you who haven't had the pleasure of seeing him should definitely do whatever it takes to catch his performance. Art Tatum was the best pianist to touch the keys. O'Neal is a close second bar none. His unique genius style swings from the down-right home blues to gospel, stride, crazy improvisational straight-ahead jazz and his ballads will pull your heart strings to capacity.
So why this incredible pianist is just playing late night gigs is baffling to me, he is assuredly a marquee performer with all the goods. His talent is beyond approach, he possesses that old school performance motto; great playing ability, he is extremely engaging with a little humor and wit. Like Ray Charles he plays and sings his butt off.
During his recent gig at Smoke O'Neal wowed the audience with tunes like "This Could be the Start of Something Big." This was not the Broadway Show tune that we were accustomed to he transformed this tune into a rousing uptempo jazz burner. The song was filled with his unique rich tones that transitioned into fierce melodic notes with wild crescendos before he easily came back to the familiar melody.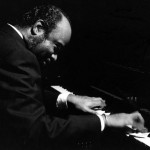 On the ballad "Please Don't Talk About Me When I'm Gone" he opened with an acappella intro with a smooth transition to scatting and then a cascading run of the piano keys and he was off into a signature O'Neal reconstructed ballad.
Eubie Blake's song "I'll Give A Dollar for a Dime" is one of O'Neal's favorites, on this ballad his piano playing and vocals send vibrations to your soul.
He was amazing on Duke Ellington's composition "Please Be Kind," O'Neal noted it was a tribute to Art Tatum. On this tune like the rest he has the ability to stretch the basic melody into an exciting journey of rich crescendos, and acrobatic rhythms before returning to the original melody.
He closed the set with a down home gospel song "While the Blood is Running Warm in Your Veins." The only thing missing was the southern Baptist preacher.
"I don't like to be predictable," stated O'Neal. I never write down what tunes I will be doing during a set. I just call out the tunes as we go along." The Detroit pianist knows over 1,500 songs that he can play in any key. His improvisational interpretation of the American songbook and jazz repertoire is a unique gift.
The noted saxophonist Lou Donaldson [a man not generally given to heaping high praise] was also in the house that evening. After his set Donaldson walked up to O'Neal and said, "Man you can play, you are king of the piano." Not only is O'Neal a genius on the piano but he an exceptionally nice person. In 2004 O'Neal portrayed the great Art Tatum in the Academy Award nominated film Ray. Upon hearing him play it immediately becomes clear why he was selected for the role.
O'Neal was inducted into the Alabama Jazz Hall of Fame in 1997. In Alabama he worked with local jazz musicians before moving to New York. As a member of the Art Blakey Jazz Messengers he toured extensively throughout the U.S., Europe, South Africa and made five trips to Japan. His mentors are pianists Art Tatum and Oscar Peterson. It was Peterson who recommended him for the role in Ray. "When I think about the people that came before me it keeps my humility in check," said O'Neal.