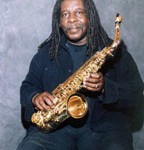 Carl Grubbs



Carl & Earl Grubbs with JC
Saxophonist-composer Carl Grubbs first came to my attention in the 1970s through the twin-saxophone ensemble he co-led with his late brother Earl called The Visitors. Part of their notoriety came from their being part of John Coltrane's family. But from the Visitors releases it was obvious that both Carl and Earl Grubbs artistry could stand on its own; there was no sense of their pandering to the Coltrane legacy. Since that time Carl has settled in Baltimore, where he is quite active. Equally so is his activist wife Barbara Grubbs. Together they founded Contemporary Arts Inc., which recently received a Residency Program grant from Chamber Music America to foster an extensive residency by Baltimore reedman-composer-bandleader Todd Marcus. That such a grassroots organization as this, outside the usual media capitals and engaging a young, emerging artist like Marcus would garner such a grant was good news and raised some questions, so a sort of oral history with Barbara Grubbs seemed in order. And besides that, a lot of folks tend to sleep Baltimore and its rich jazz history; so here's a chronicle of some contemporary jazz activity in Charm City.
What is the mission and activities of Contemporary Arts Inc.?
Founded in 1997 by Carl and Barbara Grubbs, Contemporary Arts Inc. is a nonprofit 501© (3) arts organization. After many years of involvement with performing arts organizations in Baltimore and Washington, D.C., the founders have brought together the musical and artistic expertise of Carl Grubbs, internationally renowned Saxophonist, composer and educator and the administrative skills of Barbara Harrell Grubbs, retired educator. Carl Grubbs, Artistic Director, and the Artistic Committee of Contemporary Arts Inc have the responsibility for program development.
From 1997 – 2003 Contemporary Arts Inc collaborated with Govans Economic Management Senate, Inc. and Loyola College to bring SAX: Music and Dance Camp to the community. In 2004, GEMS withdrew from the partnership and St. Ambrose Housing Aid Center, Inc. became a partner in the collaboration and the fiscal agent for Contemporary Arts Inc. In 2002 Contemporary Arts Inc. was incorporated in the state of Maryland. The organization obtained its 501© (3) tax exempt status in 2004. Since 2004 WEAA. /MSU 89.9FM radio has served as the media partner for the camp program.
The mission of Contemporary Arts Inc is to preserve and advance the appreciation of the Jazz art form throughout the community through education and performance. Contemporary Arts Inc has as its primary objectives under its mission:
• Preserve Jazz, voted by the U.S. Congress, "America's National Treasure" as an American art form
• Provide role models and opportunities for aspiring artists of all ages
• Focus on the educational, creative and artistic well-being of children
• Provide opportunities for education and entertainment to general audiences, musicians, students and other live music enthusiasts
• Collaborate with professional artists and other like-minded organizations regionally, nationally and internationally
• Expose the community to new exciting performing arts
Accomplishments – Since our inception we have:
? Provided music and dance training and appreciation to over 1,000 youth participants
? Provided tuition-free scholarships to students attending local public and private schools in the Baltimore metropolitan area
? Provided referrals to families to enroll participants for private music lessons
? Provided Field trip learning experiences Examples: Open rehearsal of the BSO (2000); Smithsonian exhibit, "300 Years of the Piano" (01); US. Navy Commodore Jazz Band Concert (US Navy Yard, Washington, D.C.)(02); Franklin Institute, IMAX Theater, PULSE: A STOMP Odyssey, Philadelphia, PA (03); New Haven Lounge jazz concert for participants and parents (04); The Maryland Science Theater (05); Walters Art Gallery/An Die Musik – Lunch and Jazz workshop/concert with Ernest Dawkins Trio of Chicago (06); The American Visionary Arts Museum – tour, lunch, jazz concert by Vann Durham, Blues harmonica (07); NASA Goddard Space Flight Center – tour and lunch (08) and the Hippodrome Theater (09)The Baltimore Museum of Art (10)
? Provided opportunities for participants to interact with internationally renowned professional artists which include Odean Pope, Saxophonist and Pew Foundation recipient and (00), Elmer Gibson, Pianist (01), Rene McLean, Saxophonist (02) Ronnie Burrage, Drummer (03) Sel Kardan-Peabody (04) Cleveland Chandler (04); Frederick Joiner, trombonist, composer, educator (05) Elizabeth Borowsky, Miss Patuxent 2005, Classical pianist (05) Aaron Walker, Drummer/Percussionist (06) Chris Sullivan, bassist (07) and Nassar Abadey, drummer (08) and the Philadelphia Clef Club Youth Jazz Ensemble (09) Donald Harrell, Drummer/storyteller(10)
? Presented The Annual Coltrane Celebration on the anniversary of the birthday of John Coltrane for the past five years in collaboration with An Die Musik Live, Baltimore City with such guest artists as Reggie Workman, Odean Pope, Salim Washington, Francis Davis and Ashley Khan,
? Presented the 2009 & 2010 Baker Award recipients in performance during Free Fall Baltimore (in collaboration with The Enoch Pratt Free Library, downtown branch
? Established partnerships with St. Ambrose Housing Aid Center and WEAA/MSU Radio, the Baltimore County Department of Aging, ARTLink – Waverly community, Baltimore City Dept. of Human Resources, the Howard County Dept. of Recreation and Parks, Randallstown H.S. in Baltimore County , An die Musik LIVE and the Enoch Pratt Free Library.
? Concluded the Maryland Traditions Project Grant with the recording of the CD, Maryland Traditions in Jazz, featuring the Carl Grubbs/Lafayette Gilchrist Ensemble, performing the music of Eubie Blake, Chick Webb, Billie Holiday, Albert Dailey and Carl Grubbs.
? PresentedThe Makanda Project Band of Boston in concert (a partnership with An die Musik)(2009,2010) Performing the music of Ken Makanda McIntyre
? Presented The Elmer Gibson Trio in concert (a partnership with An die Musik)(2010)
? Presented the Warren Oree and The Arpeggio Jazz Ensemble
? 2008 – 2011Jazz Academy Summer Camp with the Howard County Recreation and Parks. Carl Grubbs, Camp Director at Hammond H.S. for campers 8 – 16, M-F,
? 1997-2011SAX: Music and Dance Camp Program, Loyola University Maryland. . Artist-in-Residence and visiting artists: John Lamkin (Trumpet), Adam Hopkins (Bass), Rob Levit (Guitar), Eric Allen (drums), David McDuffie, chess master
? 2009 – 2011Jazz Improvisation Workshops for instrumental students, with Carl Grubbs at Randallstown H.S. Sept. 2009 – April 2011. Twelve workshop sessions will at times include visiting artists. Three concert performances for parents and the community
? Jazz at Senior Centers in Baltimore County is a collaborative effort with the Baltimore County Department of Aging. Performances at six senior centers will feature the Carl Grubbs Ensemble, St. Paul School Jazz Band and other local youth jazz ensembles
? Administering the 2011CMA Residency Program grant and our partnership with The Todd Marcus Jazz Orchestra
How did you develop this partnership with the Todd Marcus Jazz Orchestra and why did you feel he and his band were so ideally suited for this project?

Todd Marcus (bass clarinet) with his quartet
Initially I contacted the Director of the program to get information as to how Contemporary Arts Inc could submit our artists to participate in the Residency Partnership program. However, our artists were not suitable for the program.
CMA is looking to support small ensembles that have a history of performing together and provide these ensembles the opportunity to expand their performances to many different audiences and youth. It was suggested that we support another ensemble, The Todd Marcus Jazz Orchestra.
I have great knowledge of The Todd Marcus Jazz Orchestra, the musicians in the group, and their continued efforts to bring the music to audiences over a period of time. In addition Todd Marcus, in the early stages of his career, had been a student of Carl Grubbs. Todd is actively involved in promoting the Orchestra and finding supporters to provide a means to financially continue their work. In addition, over a year ago Todd became a volunteer of Contemporary Arts Inc. We do have a working history.
I contacted Todd and he readily agreed to the partnership opportunity that this grant provided. I am also aware of his work ethic and that made our working relationship so very rewarding. Carl and I have on many occasions attended performances of the band at a variety of venue in the Baltimore area.
The Todd Marcus Jazz Orchestra is ideally suited for this project because of the length of time they have been together, their board experience in teaching and conducting clinics in the U.S. and abroad and their repertoire which includes standard tunes and original music. The music they perform is consistent with the mission of our organization; to preserve the traditions of the jazz art form as well as to encourage the creation of new music.
Two of the goals of this project are kind of the Holy Grail for jazz presenters: "..to engage youth in jazz and build greater support among the general public.: How do you foresee this project engaging youth and developing audiences?
The project is organized so that the Jazz Orchestra (9 members or any other grouping) will provide clinics and concerts. Currently Contemporary Arts Inc conducts three projects that are designed to engage youth; The Jazz Academy, a two-week jazz camp in Howard County, The SAX: Music & Dance Camp Program, a two-week jazz, music and dance program on the campus of Loyola University and the Workshops in Jazz Performance and Jazz Improvisation held at Randallstown H.S. in Baltimore County during the school year. The orchestra will provide clinics at these locations. During these sessions, clinicians will provide information, and demonstrate performance techniques. Participants will have the opportunity to perform with professionals.
The orchestra will provide a clinic on July 15th at the Jazz Academy, Atholton Middle School., 1 – 2:30 pm.
The orchestra will conduct a clinic/concert at St. Paul's School in Brooklandville, MD, a private institution.
How did you determine the particular sites where the programs of this project will take place, and how do they in particular meet your stated goal of presenting the music outside the "traditional performance venues.
Clinics and concerts are supported by participating community partners who have committed their venues for these activities. As a means of bolstering our current programs for youth therefore clinics/concerts have been scheduled for Atholton Middle School, Loyola University Summer Camp Program and Randallstown H.S.
Randallstown does not have a jazz band, so the clinics will be directed to music students with an interest in jazz. A Concert will be held at the school for the student body. Carl Grubbs is Jazz Band Director and therefore recommended St. Paul's school as a participating community partner. Other community partners are Jubilee Arts Inc and the Maryland Academy of Music with whom Todd Marcus has a relationship.
The Jazz Orchestra will also perform a concert at the Reisterstown Senior Center.
Non-traditional concert venues included are: Jubilee Arts, Kittamagundi Community Church, St. Paul's School, Randallstown H.S., and Reisterstown Senior Center.
Traditional venues for the concerts are the Creative Alliance at the Patterson and An Die Music LIVE. Concerts at these venues will bring revenue to assist us in matching the funds we receive from CMA.
Ultimately what do you hope the impact of this project will be on the Baltimore community, and what would you say to encourage other organizations to pursue similar projects in their communities?
This award has brought a great deal of excitement to the members of our organization as we see it as giving us national notoriety for the work we do in the community.
This project has garnered the support of a variety of performance arts venues, schools, senior centers who have committed their resources to this partnership. That we have been able to acquire the support of such diverse community partners is encouraging and speaks to their interest in providing jazz arts education and appreciation to their clients and persons of all ages. Our community partners are Randallstown H.S. in Baltimore County (a public school) and St. Paul's in Brooklandville (a private school); Jubilee Arts (a non-profit community organization); the Maryland Academy of Music (a private organization). To further the participation of youth in the community, clinic/concerts will be offered at the two camps sponsored by our organization; Jazz Arts Academy in Howard County (July) and SAX: Music and Dance Program on the campus of Loyola University Maryland (Aug.). Youth participants from school and camp programs will be invited to participate in upcoming concert performance. Through the sponsorship of our organization the band will perform at Reisterstown Senior Center in Baltimore Co.
The Baltimore community can take note of these collaborations and take this as a sign that through perseverance, they too can obtain the necessary support required for the growth and development of up and coming jazz artists, jazz presenting organizations and the continuance of jazz in non-traditional places throughout the communities. The key words for the creation and development of this project have been relationships and determination.