Last weekend was a great one to be in DC! Friday evening at the Smithsonian Museum of Natural History's Baird Auditorium, it was Bay Area percussionist John Santos (see his earlier Independent Ear Q&A feature on his recent folkloric exploration "La Esperanza") speaking the truth about Afro-Caribbean music and it's multi-hued expressions as filtered through the jazz experience (which after all owes much of its root source to the Caribbean). The occasion was another of the Smithsonian's Jazz Appreciation Month (its the 10th anniversary of that excellent development!) presentations and despite sound reinforcement challenges, Santos' sextet truly represented the quintessential small ensemble aspect of that expression, from a decidedly west of the Mississippi perspective. Their performance was made all the more remarkable by the fact that all but the trap drummer were doublers — including a mid-set switchup of the trumpeter and the pianist, who wielded a highly demonstrative flute, while the trumpeter played authoritative piano.
Next stop was the Bohemian Caverns on U Street, one of the music hubs of that bustling corridor of the city. Dig the web site for their complete and quite expansive schedule; in coming weeks they've got folks ranging from the exquisite Moroccan singer Malika Zarra to Pharoah Sanders; not to sleep such weekly hangs as their Monday night Bohemian Caverns Big Band hits. Young proprietor Omrao Brown is fast becoming a very impressive and savvy jazz club presenter. On this particular weekend the attraction was the subtle, modern artistry of vocalist Gretchen Parlato, on the cusp of her highly-anticipated new date for Obliq Sound "The Lost and Found". Parlato's understated approach and soft-textured voice really reached the packed, multi-kulti audience, starting from the second selection reprising her clever arrangement and treatment of Herbie Hancock's "Butterfly." Parlato is also blessed with a certain Brazilian sensibility in her artistry.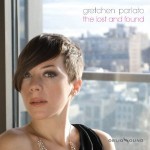 The following afternoon it was back to the Bohemian Caverns second level venue Liv Nightclub for "Sacred Conversations," a triologue between bari master Hamiet Bluiett, wordsmith Dr. Acklyn Lynch, and Ghanaian percussion Okyerema Asante. Each spoke and in turn played dialogues about coming up in villages — Bluiett in Illinois outside East St. Louis, Lynch on the island of Trinidad, and Asante in Ghana 50 miles outside the capital Accra. Spirits were high in the company of a slice of the African American cognoscenti of DC as the refreshing triologue wove itself through Bluiett's baritone saxophone, flute and notably his clarinet, which he's engaging with greater frequency these days. Asante essayed on a variety of hand and mallet drums, bells, gongs and assorted "toys" of his trade. He spoke about how as a pre-teen drummer he used to accompany the great Kwame Nkrumah on his various political missions as Ghana's first President.

Then it was on to Twins Jazz (see our earlier Indy Ear Q&A with Twins young proprietor Love-Leigh Beasley) to participate in a performance and dialogue — call it an informance — between the young student musicians of the Dave Brubeck Institute (other delights of that weekend's garden: the patriarch himself was in the midst of a weekend of performances across town in Georgetown at Blues Alley) and myself. This was yet another aspect of the Smithsonian Institution's Jazz Appreciation Month, presented in conjunction with the Twins Jazz Foundation. As I said, it was a great weekend to be in the Nation's Capital!



Joann Stevens, the coordinator of the Smithsonian's annual Jazz Appreciation Month (April), is also the sister of trumpeter-composer Eddie "Ghetto Music" Gale…