NEA Jazz Master Randy Weston has been announced as a 2011 recipient of the prestigious Guggenheim fellowship award. This particular award is a purpose-driven honorarium and Randy does indeed have big plans for his Guggenheim. I spoke with Weston recently on this subject after he'd surprised me with the great news in the midst of a plethora of activities in the Washington-Baltimore area celebrating his 85th birthday (April 6).
Randy excitedly detailed the fascinating archealogical discovery in recent years of the human remains now known as "Ardi Pithicus" — the oldest human ancestral discovery at 4-1/2 million years old, older even than the previously known human remains archealogical discovery, the legendary "Lucy". He chuckled at the irony of these two ancestors being of the female gender, saying "The woman represents the earth."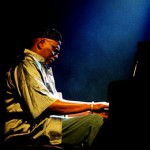 With his Guggenheim fellowship Weson intends to craft a new African suite based on the origins of the human species, pointing out that Ardi Pithicus disputes the chimpanzee lineage theory because she apparently walked in an upright position. To accomplish and inspire the composition of this new long-form piece Weston intends to travel to five African countries in a process of ancient discovery research. "I'll be seeking communion with the traditional music masters of each country, spending time with traditional masters for 2-3 months," towards the end of 2011-beginning of 2012. Included among those traditional musicicians is likely to be such masters as drummer-soothsayer Dou Dou N'diaye Rose of Senegal.
The culmination of this deep research and process of ancestral/spiritual immersion and resulting discovery is envisioned as a major large ensemble concert (or series; venue tbd), though as Randy is quick to point out "not a traditional [jazz] big band," quite likely to include traditional, ancient African instruments and musicians alongside jazz musicians. And if you know anything about Mr. Weson's history you know that this will be much more communion than any sort of fusion.
Stay tuned to The Independent Ear for news as this exciting journey unfolds for Randy Weston.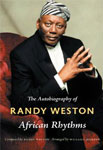 Randy Weston's autogiography "African Rhythms" (Composed by Randy Weston, Arranged by Willard Jenkins – Duke University Press – is a nominee for a 2011 JJA Jazz Award as book-of-the-year.