TRI-C JAZZFEST JUMP STARTS SPRING WITH A LEGENDARY LINEUP
32 Annual Festival Showcases the Best in Jazz from April 28 – May 8
CLEVELAND (March 31, 2011) – The 32nd annual Tri-C JazzFest Cleveland jump starts spring with a stellar line-up of jazz, blues and R&B artists from around the corner and across the globe. Iconic R&B singer and songwriter Smokey Robinson, the King of Motown, plays JazzFest for the first time, crooning selections from his seemingly endless arsenal of Top 40 hits.
Dee Dee Bridgewater and the Cleveland Orchestra salute Ella Fitzgerald, the First Lady of Song, plus Orchestre National de Jazz, straight from France, pays tribute to drummer and vocalist Robert Wyatt.
From April 28 to May 8, JazzFest heats up Cleveland with a dizzying array of the best in jazz.
The always popular Smooth Jazz All-Stars return with an award-winning cast, including Dave Koz and Brian Simpson, and "avant-groove" group Medeski, Martin & Wood highlight a jam- band evening of free jazz, funk and hip hop. New Orleans legend Trombone Shorty564 and his group Orleans Avenue kick off the festival with their rollicking "Supafunkrock" sound at the House of Blues.
JazzFest continues its tradition of spotlighting up-and-coming artists with the "Debut Series," this year featuring trumpet players Ambrose Akinmusire and Maurice Brown and saxophonist
Tia Fuller.
"Women in Jazz" salutes singer Betty Carter, the Godmother of Jazz, while local great Ernie Krivda and an all-star band of Midwestern artists pay homage to jazz from the Heartland. For the young, and young at heart, Joe Hunter reprises his "Jazz for Kids" series at the Children's Museum of Cleveland, while MOCA hosts versatile pianist Robert Glasper, who effortlessly connects jazz and blues to contemporary urban sounds.
Tickets are on sale now. Unless otherwise noted, tickets are available at 216-987-4444 or www.tricpresents.com. For groups and special packages, call 216-987-4444.
For artist photos, contact Phil Barr at pbarr11@roadrunner.com. Here's the 2011 Tri-C JazzFest lineup (free performances are in red):
Wednesday, April 27, 8:00 p.m. – Special JazzFest Preview for the Community: The Eddie Baccus Organ Summit with Special Guest Bobby Floyd, Karamu House
Cleveland's legendary Hammond B-3 virtuoso Eddie Baccus, Sr. returns to Karamu House with special guest Bobby Floyd for a rollicking organ duel. Baccus is hailed as a bridge between legends Jimmy Smith and Larry Young; Columbus, Ohio native Floyd has played with the best in the business, including David "Fathead" Newman, Bobby Watson and Billy Hart, among others.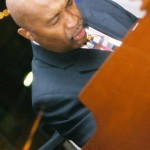 B-3 burner Bobby Floyd
Thursday, April 28, 5:00 p.m. – Kick Off Day: Mardi Gras Parade, Tower City Center
Voted "Best Marching Band" by Cleveland Magazine in 2009, The Shaw High School Mighty Cardinals piled on the acolytes in 2010 and even performed at a rally for President Barack Obama at Cleveland State University. This popular, high-energy group helps kick off the 32nd annual Tri-C JazzFest with a rousing parade through Tower City and into Public Square where they will delight fans with their special musical artistry. Joining Shaw to create a true Mardi Gras parade is New Orleans' own Stooges Brass Band.
Thursday, April 28, 7:00 p.m. – Trombone Shorty & Orleans Avenue, House of Blues
New Orleans legend Troy "Trombone Shorty" Andrews and his band Orleans Avenue mix rock, funk, jazz, hip-hop and soul to create their signature "Supafunkrock" sound. The kind of player who comes along once in a generation, Andrews is equally adept at trumpet, trombone and a host of other instruments. The group's latest album and first national release, "Backatown," bottles the 200-proof intensity of their high energy performances, which have earned them a rabid and growing following.
Opening for Trombone Shorty is the Stooges Brass Band, winner of New Orleans' Red Bull King of the Streets Brass Band Battle.
Tickets $25; call 216-987-4444.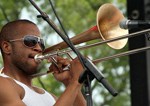 Friday, April 29, 7:00 p.m. – Orchestre National de Jazz: Around Robert Wyatt, Rock and Roll Hall of Fame and Museum
Created by the French Ministry of Culture in 1986, Orchestre National de Jazz (ONJ) is a collaborative laboratory under the artistic direction of Daniel Yvinec involving musicians, composers and arrangers. The performance pays homage to English drummer and vocalist Robert Wyatt, a member of the venerable band Soft Machine, who pushed progressive rock into the direction of jazz-inspired improvisation. In a review of ONJ's 2009 album "Around Robert Wyatt," All About Jazz described it as "witty, accomplished and fun."
Tickets $10; call 216-987-4444.


ONJ's Robert Wyatt recording
Friday, April 29, 8:00 p.m. – A Tribute to Ella Fitzgerald with Dee Dee Bridgewater and The Cleveland Orchestra, Severance Hall
Two-time Grammy Award winner Dee Dee Bridgewater and The Cleveland Orchestra pay tribute to the First Lady of Song Ella Fitzgerald with a night of hidden gems and beloved classics. Since her New York debut in 1970 with Thad Jones and Mel Lewis, Bridgewater has piled up the accolades, including a Tony Award and France's top honor, Victoire de la Musique, which recognizes the best musical artists of the year. She currently reigns over NPR's "JazzSet," which presents live jazz performances by artists around the world.
Tickets $82/63; call 216-231-1111 or 800-686-1141.
This performance is co-presented by the Cleveland Orchestra's "Celebrity Series"and Tri-C JazzFest.
Saturday, April 30, 1:00 p.m. – Women in Jazz – A Tribute to Betty Carter, Olivet Baptist Church
With its unique sound, Betty Carter's voice is thought of as more a musical instrument than just a set of vocal cords. The first woman to write, produce, record and distribute music under her own recording label, Carter re-wrote the book on musical self management and is remembered as the "Godmother of Jazz" for cultivating young musical talent. Singers Evelyn Wright and Charenee Wade, backed by the Dominick Farinacci Quartet, interpret Carter classics in this special tribute performance.
Saturday, April 30, 8:00 p.m. – Smooth Jazz All-Stars Featuring Mindi Abair, Rick Braun, Dave Koz, Kenny Lattimore, Ray Parker, Jr. and Brian Simpson, State Theatre at PlayhouseSquare
This all-star gig, featuring multi-Grammy nominee Dave Koz, includes an award-winning cast of vocalists and instrumental favorites. Brian Simpson, touring keyboardist for stars including Janet Jackson and Koz, received rave reviews for his 2010 release "South Beach." Also on the bill are trumpeter Rick Braun, whose "RnR" album hit #1 on the Billboard Contemporary Jazz chart; Mindi Abair, who has performed with some of the biggest names in popular music; Ray Parker, Jr., who has won numerous awards for his solo hits; and singer Kenny Lattimore, whose Top 20 hits include "Never Too Busy" and "For You".
Tickets: $45/$35/$25; call 216-241-6000 or 1-866-546-1353.
Sunday, May 1, 4:00 p.m. – Debut Series with The Ambrose Akinmusire Quintet and The Tia Fuller Quartet, East Cleveland Public Library
Before he was 18, Oakland native Ambrose Akinmusire had already played with jazz greats Joe Henderson, Joshua Redman and Billy Higgins. Hailed by the New York Times as a "rising star," the trumpet player won the prestigious Thelonious Monk International Jazz Competition in 2007 and garnered rave revues for his debut album "Prelude . . . to Cora" the same year.
A member of the band for R&B star Beyoncé, saxophonist Tia Fuller performs regularly with the T.S. Monk Septet and the Nancy Wilson Jazz Orchestra, among others. Hailed by All About Jazz as "one of the finest new musicians on the scene," Fuller's new Mack Avenue release "Decisive Steps" is the long-awaited follow-up to her acclaimed label debut in 2007.

Sunday, May 1, 8:00 p.m. – Debut Series with Maurice Brown, Nighttown
Chicago-bred trumpet virtuoso Maurice Brown has shared the stage with numerous jazz legends, including Clark Terry, Johnny Griffin, Curtis Fuller and Ellis Marsalis. Brown's critically hailed 2004 debut album featured his soulful melodies and infectious personality uniquely marrying traditional be-bop to hip-hop sensibilities. Brown's latest release, "The Cycle of Love," got a Best Album of 2010 nod from Huffington Post.
Monday, May 2, 6:30 p.m. – Celebrating the Music of Tito Puente with Sammy DeLeon y su Orquesta, State Theatre at PlayhouseSquare
The International Children's Festival and Tri-C JazzFest are teaming up to present Sammy DeLeon y su Orquesta, celebrating the music of Tito Puente, the King of Latin Music. A timbales player, DeLeon has performed in New York, Chicago, Miami and San Juan, Puerto Rico, as well as locally, and has opened for Tito Puente, earning his praise. DeLeon is joined by his 15-piece Latin jazz ensemble and professional dancers performing a varied selection of dance numbers, including Latin jazz, salsa, and meringue.
Tickets: $14; call 216-241-6000 or 866-546-1353.
Monday, May 2, 7:00 p.m. – The Dave Sterner Quintet and the Tri-C Jazz Studies Performance Combo, Brothers Lounge
Projecting the uncontainable enthusiasm of Cannonball Adderly, saxophonist Dave Sterner channels those be-bop roots with the modern accessibility of Joshua Redman. The Cleveland native has played with Ernie Krivda's venerable Fat Tuesday Big Band, and with jazz legends David Sanborn, David "Fathead" Newman and Buddy DeFranco, among others. Sterner's latest
album, "Sidetracked," features his quintet playing new compositions in a dizzying variety of styles.
The Tri-C Jazz Studies Performance Combo, under the direction of Ernie Krivda, opens the show.
Tickets: $10; call 216-987-4444.
Tuesday, May 3, 7:00 p.m. – Ernie Krivda's "Thunder from the Heartland", The Hermit Club
In a career that spans almost 50 years, tenor saxophonist and Cleveland legend Ernie Krivda has played with the best in the business, including Cannonball Adderley, Ella Fitzgerald and Jackie Wilson, among others. A recipient of the Cleveland Arts Prize in 2009, Krivda has garnered praise for his distinctive improvisational style and his unique compositions, which have been documented on over 30 recordings. This performance features an all-star band of jazz artists from the Midwest, focusing on the great jazz history of one of its cities.
Ernie Krivda – Saxophone, Cleveland; Pharez Whitted – Trumpet, Chicago; Steve Allee – Piano, Indianapolis; Marion Hayden – Bass, Detroit; Joshua Breakstone – Guitar, Cincinnati; Roger Humphries – Drums, Pittsburgh
Tickets: $20, call 216-987-4444.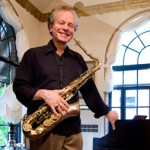 Cleveland stalwart Ernie Krivda plumbs the heartland with his latest project
Wednesday, May 4, 8:00 p.m. – The Robert Glasper Trio, MOCA Cleveland
Houston-born pianist Robert Glasper impressed critics and audiences when he burst onto the jazz scene with his first two Blue Note albums, "Canvas" (2005) and "In My Element" (2007). New York Magazine calls him "direct, forceful (and) inventive," while Time praises his "improvisational creativity and technical skill." The versatile performer makes waves as leader of both the acoustic Robert Glasper Trio and the electric, hip-hop-infused Robert Glasper Experiment, always connecting jazz and blues to contemporary urban sounds.
Tickets: $25, call 216-987-4444

Thursday, May 5, 8:00 p.m. – "Miles & Trane @ 85 – Re-Imagined" TCJF Soundworks with special guests NEA Jazz Master Benny Golson and drummer Ndugu Chancler, Tri-C Metro Auditorium
Now in its third year, TCJF SoundWorks, under the direction of saxophonist Howie Smith and bassist Glenn Holmes, welcomes NEA Jazz Master Benny Golson and others to celebrate the 85th anniversary of the birth of Miles Davis and John Coltrane. An American bebop and hard bop tenor sax legend – plus composer, arranger, lyricist and producer – Golson grew up in Philadelphia with Coltrane and his 1996 album, "I Remember Miles," covers five Miles Davis book standards.
Pre-Concert Live Interview, 7:00 p.m., Tri-C Metro Auditorium
Join the Round Table discussion and hear first-hand what it was like to work with Miles Davis and John Coltrane from NEA Jazz Masters Benny Golson and George Avakian.
Friday, May 6, 7:00 p.m. – "Tri-C JamFest" – Three Bands-One Jam: Medeski Martin & Wood, the Dr. Lonnie Smith Trio, and Will Bernard, State Theatre at PlayhouseSquare
Formed in Brooklyn in 1991, jazz trio Medeski Martin & Wood (MMW) draws on influences from a number of musical traditions, from free jazz to funk to hip hop, and is known for an unconventional style sometimes described as "avant-groove." Praised for the exploratory nature of their live performances, the group was voted #1 "Beyond Artist or Group" in the 75th Annual DownBeat Magazine Reader's Poll in 2010. Hailed by the Jazz Journalists Association as "Organ Keyboardist of the Year" from 2003-2005, Hammond B3 master Dr. Lonnie Smith has built a worldwide following over 50 years and more than 70 albums, playing with such greats as Dizzy Gillespie, Ron Carter and Grover Washington, Jr. Berkeley, California native Will Bernard plays in a variety of styles, ranging from jazz and hip hop to world music, and was called "one of the best-kept jazz guitar secrets on the planet" by Billboard Magazine.
Tickets: $45/35/25; call 216-241-6000 or 1-866-546-1353
Saturday, May 7, 11:00 a.m. & 2:00 p.m. – Jazz for Kids, Children's Museum of Cleveland
Now in its fifth year, the "Jazz for Kids" concert is an entertaining and educational performance for families with young children led by pianist Joe Hunter. A Cleveland native, Hunter is the co-host with Bill Rudman of the very popular "The Song is You" series and a frequent contributor to Ernie Krivda's Fat Tuesday Big Band.
Tickets $5 for members of the Children's Museum; $10 for nonmembers (children under 11 months admitted free). Tickets can be purchased exclusively at the Children's Museum or by calling 216-791-KIDS.
Saturday, May 7, 3:00 p.m. – Gospel Jazz with Present Day and special guest Sean Jones, Antioch Baptist Church
Under the direction of Chris Anderson and Theron Brown, the group Present Day explores the richness of American culture through gospel and jazz music with a fresh approach. This event, the first of its kind for JazzFest, will feature special guest Sean Jones on trumpet and a 50-voice gospel youth choir.
Saturday, May 7, 8:00 p.m. – Smokey Robinson, State Theatre at PlayhouseSquare
Iconic R&B singer, songwriter and producer Smokey Robinson is one of the primary figures associated with Motown Records, second only to the label's founder, Berry Gordy. Robinson's
consistent commercial success and creative contributions earned him the title "King of Motown." As a member of the label's first vocal group, The Miracles, and as a solo artist, he delivered 37 Top 40 hits between 1960 and 1987. In 2007 Robinson sang his classic "Tracks Of My Tears" at the Grammy Awards in a tribute to R&B music. He is a Rock & Roll Hall of Fame inductee and a Kennedy Center Honors recipient.
Tickets: $50/$40/$30; call 216-241-6000 or 866-546-1353.
Sunday, May 8, 10:30 a.m. – Oikos Ensemble – Jazz Vespers, Pilgrim United Church of Christ
Named after a Greek New Testament word meaning "spiritual dwelling place," the Oikos Ensemble is a highly acclaimed jazz and world music group that has performed at venues coast to coast. Led by saxophonist Reverend Cliff Aerie and pianist Christopher Bakriges, Oikos is a consortium of gifted musicians who use jazz to illustrate stories of transformation, enlightenment and spiritual renewal, painting vibrant soundscapes with the brushstroke of jazz improvisation.
Sunday, May 8, 3:00 p.m. – Regina Carter's "Reverse Thread", Gartner Auditorium, Cleveland Museum of Art
In her relatively short career, multi-talented jazz violinist Regina Carter has spanned fusion, avant-garde and mainstream jazz, and returned to her classical upbringing to perform improvisational versions of Ravel and Debussy on a world-famous violin. In 2006 she was awarded a MacArthur Fellows Program grant – also known as a "genius award" – and with it developed her critically acclaimed "Reverse Thread Project," seamlessly merging contemporary American jazz with traditional African folk melodies.
Tickets: $30, call 216-987-4444.



Regina Carter will close TCJF '11 with her ancient/future project "Reverse Thread"
All artists and programming are subject to change.