Vocalist Suzanne Pittson previously accepted the challenge of lyrically interpreting John Coltrane's opus "Resolution" from "A Love Supreme." With Alice Coltrane's consent she did so with all due humility… and with gusto! Her latest effort is a loving tribute to an artist whose legend appears to be growing slowly in ancestry, the late NEA Jazz Master trumpeter Freddie Hubbard. For "Out of the Hub" Suzanne addresses compositions credited to Freddie and songs he indelibly enhanced through his artistry, and she achieves this admirable goal in the company of some of the finest contemporary musicians, including trumpeter Jeremy Pelt, saxophonist Steve Wilson, bassist John Patitucci, drummer Willie Jones 111, and spouse Jeff Pittson on piano. An agreeable sort, Suzanne gave the nod to an Independent Ear inquiry into her latest recorded endeavor.
Why Freddie Hubbard, and what is it about his music that inspired you to make this recording?

Let me explain it this way – the minute I hear a Freddie Hubbard recording, I just have to go transcribe his solo and I invariably strengthen my resolve to become a better musician and improviser. I think this epitomizes the concept of a mentor. So I'd have to say that this recording was made as an expression of my gratitude and as an opportunity to further develop my improvisational skills through compositions that I love.
I first heard Freddie with the VSOP – Herbie Hancock, Wayne Shorter, Ron Carter & Tony Williams – at the Greek Theatre in Los Angeles. I was completely taken with Freddie's playing and after that went to hear him whenever possible. His command of the instrument and passionate delivery were staggering. I grew up in a family of jazz musicians and heard jazz from a very young age; however, at that time, I was studying to be a classical pianist. When hand problems forced me to find another means of artistic expression, I began to sing jazz. With an extensive piano background and a Bachelors and Masters in music under my belt, I became very determined to learn the jazz language, and began transcribing and singing solos by the modern jazz instrumentalists. The more I studied Freddie's music, the more I gained respect for the depth of his artistry. He just never missed. Ironic that my husband Jeff shares my feelings, and there was one point when we listened constantly to a homemade tape of nothing but Freddie solos. Over the years, I performed tunes like "Skydive," "Take It To The Ozone," and "Byrd Like." But it wasn't until 2003 that I began writing lyrics to several of his tunes, and performed a complete set of his music.
I see from the CD photo montage that you did have an opportunity to interact with Freddie before he passed. Did you have the concept of interpreting his tunes at that time?

This project is something I've been thinking about for a very long time. As I mentioned above, I had written lyrics to quite a few of Freddie's tunes in 2003, performing them throughout the years. However, the 2005 move from San Francisco to New York delayed the project until 2008. In June, 2008 Jeff and I went to hear Freddie's 70th birthday gig at the Iridium Jazz Club in New York City with the intention of telling him about the project. As we stood backstage, where this photo was taken, I not only asked for his permission to record his music, but also told him that he was my idol (he had just told the guy in front of us that Clifford was his idol, so I followed his lead). He referred me to his publisher, Laurie Goldstein who helped me to submit the lyrics for official approval. Freddie approved the lyrics to five of his compositions on September 15, 2008, just three months before he passed, saying that he was very flattered and looked forward to hearing the CD. I will never forget his kindness or the trust he placed in me.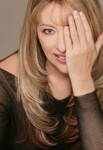 You chose a broad range of material related to Freddie, from his jazz classic "Up Jumped Spring" to one of the pop tunes he interpreted, "Betcha By Golly Wow!" Considering his book, how did you go about making these choices?

After speaking with Laurie Goldstein, I discovered that some of the tunes I had hoped to record were not owned by Freddie. They had been appropriated by the record company in the early years, before he copyrighted his music or had set up his Hubtones Music Company. Just hearing this angered me, and I promptly switched my repertoire to tunes from the Hubtones Catalogue – that were actually owned by Freddie – and along with my husband Jeff and teenage son Evan, began writing new lyrics. This included Lament For Booker with the vocalese, True Colors, The Melting Pot and One of Another Kind. Evan, who was 15 at the time, penned the lyrics to One of Another Kind, retitling it Out of the Hub. I had already written Byrd Like and Crisis with vocalese, had been performing Up Jumped Spring (with Abbey Lincoln's incredible lyrics), You're My Everything, Moment to Moment and Betcha By Golly, Wow! The Gibraltar lyrics were written by Catherine Whitney, a singer in Chicago that I found through Hubtones. Freddie's amazing improvisational language really excites me, so I'm drawn to the tunes that display these complex lines. When viewed from this perspective, it becomes clear why I made some of these choices. Of course, most of Freddie's tunes reflect this element of his playing. But they are never about sheer technique – they also embody lyricism. A few years ago, Freddie participated in an "Artist Selects" compilation of his music from the Blue Note years. I happened to see this CD about a month ago and noticed that 5 of the tunes that Freddie selected as his favorites are ones that I recorded – Byrd Like, The Melting Pot, Lament for Booker, Up Jumped Spring and Crisis. I took this as a nod of approval.
You're also fortunate to be working with such a strong cast of musicians on this date. What planning went into selecting this particular group of musicians and how did you work these selections out with them?

Yes I am very fortunate that these guys agreed to play with me and this did take a great deal of planning. Fortunately Systems Two Recording accommodated my session on the only 2 days that John Patitucci was available!!! John, in addition to being an incredible bassist and musician, is also a colleague at the City College of New York. So I asked John first and built the scheduling around him. That gave me a starting point. I played with Steve the year before, and Jeff met Jeremy at a session. Willie's name came up and he was free. And they knew each other from various sessions and gigs. My husband Jeff conceived new arrangements for the horns (with fabulous original solis for voice and instrument) and I created all the charts in Finale. We had a rehearsal the day before the session then just went in the studio and played……with the horns on the first day and with just myself and rhythm section on the second. These guys are master readers, so they are used to getting things right the first time around. They all played great as you can hear, and I believe we were true to Freddie's spirit. I've since performed the material with other bands, and everyone brings a unique concept to the table. I enjoy creating an environment where each musician can express themself freely, where they don't feel locked in or restricted. With this said, I am anxious to see how this material evolves out on the road!!!
"The task of art is enormous. Art should
cause violence to be set aside. And it is only art that can accomplish this."
–Leo Tolstoy
INFO: www.suzannepittson.com