Randy Weston and his African Rhythms Sextet, with master drummer Lewis Nash joining the aggregation on traps, closed out the month of January with a splendid week at Dizzy's Club. The occasion was in part a celebration of Randy's latest release The Storyteller for the Motema label. Numerous good folks were on hand to join in the celebration and the band was literally on fire. One of the two evenings I was there was capped by an interview Randy and I did with Mark Ruffin for Sirius XM satellite radio's Real Jazz channel on our new book African Rhythms, the autobiography of Randy Weston (Composed by Randy Weston, Arranged by Willard Jenkins; Duke University Press). While strolling the Jazz at Lincoln Center corridors afterwards I spotted prime vocalese exponent Giacomo Gates in the hallways. Later Mark Ruffin excitedly told me about the new disc he and Giacomo are working on. The subject of this forthcoming project was more than a little intriguing — the music of Gil Scott-Heron — seemingly a good ways from Gates' bebop vocalese firmament. Seems some questions for Giacomo were definitely in order.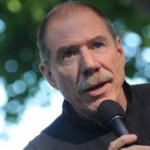 Talk about your upcoming recording project.
Willard… First off, thank you for your interest.
I dug Gil Scott-Heron when he was releasing his words and music, so it's not new to me. Producer Mark Ruffin came to me with this idea, with over 40 of Gil's tunes. To pick 10-12 of these tunes to record was different for me, though not abstract. We come from the same generation and that music was important to us ….what Gil said was valid then and valid now.
I didn't want to sing it just like GSH did, nor did I want to have the same musical vibe behind me, but I respect the author and composer of the music, so I listened enough not to listen anymore, and hear what's in my head. In collaboration with John di Martino, we gave some of the tunes a different feel. Some have a Lee Morgan vibe,…some maybe a "New Jack Swing" feel,… some are slow as Shirley Horn,… and I hope we certainly retained some of the funk!…and the band is happenin':
John diMartino – piano & arranger
Lonnie Plaxico – bass
Vincent Ector – drums
Tony Lombardozzi – guitar
Claire Daly – flute and tenor
What was your motivation behind this project and why that particular music?
As I said, it was the idea of Mark Ruffin, although my motivation was what GSH was saying, as well as the vibe and groove of the music. It's the truth for me, as I can't sing something I don't believe in. The music that I was, and am a fan of, is straight ahead Jazz, although it wasn't from my generation. I was listening to Bebop, Modern Jazz, Big Band Swing, Hard Bop, and I grew up with Rhythm & Blues, Motown, and Funk. I wasn't listening to The Beatles or The Beach Boys.
What inspired you to address music and subjects which some might find unusual for you?
If some folks find this music unusual for me, it may be a misconception. It may be because they don't know me, or know where or how I grew up. I picked GSH tunes that I could connect to… Show Bizness,… hello!,… Madison Avenue,… all of us have been exposed to advertising,… New York City,… I've been in and out of NYC since I was a kid. Winter In America, that's about "today," not the season,… Lady Day & John Coltrane,… two innovators in the music I love,… Is That Jazz?, hello again,… Legend In His Own Mind… how many cats think it's about them?! It's Your World,… we're all our own reality,… Gun,… this is real, read the papers, watch the news. This Is A Prayer For Everybody To Be Free,… that's a nice gift to give to anyone, and being free is a human emotion.
I chose tunes that are about times, places and feelings…that's not unusual.
What has been the role of poetry in your music up to this point?
Lyrics are poetry, put to music. I'm fortunate to have read and recited some of the greatest poets,…Shakespeare, Keats, Shelly, Frost, Bob Dylan, Cole Porter, Johnny Mercer, Jon Hendricks, Lord Buckley, Eddie Jefferson, and on and on and on…….
Ultimately, do you envision this project representing a turning point in your career?
Every day that I get up, I envision as a turning point in my career! I do hope that this will reach folks that are GSH fans, and folks that are aware of me might get turned onto another side of what I sing, and perhaps get hip to Gil Scott-Heron, if they aren't. Of course, I hope Gil digs it.
INFO: www.giacomogates.com