One artist and band whose evolution has been palpable and consistently spiraling upward is saxophonist JD Allen and his trio. The Detroit-born Allen wields a brawny, constantly questing tenor saxophone and in the company of bassist Gregg August and drummer Rudy Royston he is forging new vistas for the saxophone trio. Their stream-of-consciousness set, with barely a perceptible break in between selections — be they originals or cleverly re-imagined standards — at DC's Bohemian Caverns was one of last year's highlights for me (and is destined to become JD's first live recorded album). The JD Allen 3 is on the cusp of a new recorded chapter, Victory!, for the Sunnyside label. The recording is set to arrive in May with a bit of a twist, an accompanying short philosophical film that will further propel a man fast becoming one of the essential tenors of our time.
Following his Bohemian Caverns set JD, Suzan and I were joined tableside by DC Jazz Festival impresario Charlie Fishman — each of us duly energized by what we'd just seen & heard — for a lively discussion on the artist's obligation to their audience. When the subject was raised again to JD in a recent communication, here's what he had to say:
IN THE WORDS OF JD ALLEN

Catch phrases like complex music or play for the audience are two terms that
I try to keep a close eye on. Whenever I hear a person say "a particular
music is limited or not so complex" or "you should really play for the
audience", I can guess, with almost certainty, on what kind of books their
book shelves might be holding. Playing or writing complex music serves a
valuable purpose, especially if you are trying to extend yourself into your
minds ear. I have always associated the complex musician or composer with
being an athlete; setting goals and reaching for their very best personal
heights. Selfish to many, applauded by few. Playing for the audience has a
very special place in a musician's development: figuring out what kind of
audience you are playing for is an art form. In certain situations like
church, the music is in service to the congregation, or playing music so
people can forget theirtroubles for that day. That musician has to extend
himself into an audiences' heart, and that ranges from being the funniest
clown at the circus or being the fastest car in a race. The real challenge,
at least in my opinion, is to find the balance between both worlds. Strive
to give an audience what they need and not what they want, while letting
them fall in love with your desire to give your ALL in ALL. Two halves make
a whole.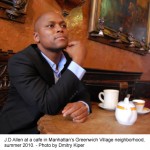 Is playing the blues or swinging a core skill for any jazz musician?
Waking up every morning tells me it is.

INFO: www.jdallennow.com