FESTIVAL PERFORMANCES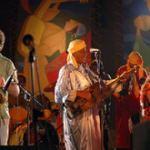 JOIN
Willard and Suzan Jenkins
celebrating the
GNAOUA & WORLD MUSIC FESTIVAL
MOROCCO
Marrakech * Essaouria
JUNE 12 – JUNE 23, 2011
DEPARTURE CITY
New York – JFK $3,895.00 per person double occupancy
$510.00 single supplement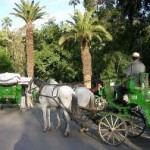 The magical city of Marrakech
WILLARD & SUZAN JENKINS
Willard and Suzan Jenkins are distinguished and well-known members of the international arts community. They have been outstandingly original, creative and productive, recognized for their unique and innovative approach to projects.
Willard is an independent arts consultant & producer, and writer under his Open Sky (www.openskyjazz.com) banner. Willard's current activity includes concert, festival, and concert series planning/development, artistic direction, consulting, music journalism, teaching, and broadcast work. Jenkins is a successful and widely recognized workshop, symposium, conference facilitator, and speaker at universities, conventions, and arts conferences across the country and internationally. He has facilitated long-range planning processes and written subsequent long-range plans for the Cleveland Orchestra, Greater Hartford Festival of Jazz, and the Cleveland Education Fund. Willard Jenkins has taught on the university level at Cleveland State University, Open U, and currently teaches at Kent State University.
"African Rhythms"; the as-told-to autobiography of NEA Jazz Master Randy Weston, composed by Randy Weston, arranged by Willard Jenkins, is now available. Randy Weston lived in Morocco in the late 1960s-early 1970s, introduced Willard to all things Morocco and, among other things, established a historic club called African Rhythms in Tangier, Morocco,
Suzan is a visionary CEO with a knack for leading cultural initiatives. She has over 20 years extensive experience spearheading organizational and programmatic development in the non-profit arts and culture sector. Suzan is a strategic, agile thinker and team builder who develops innovative projects that respond to and cultivate communities. She is ingenious at crafting policy and forging partnerships and collaborations in the global marketplace.
Suzan received a Peabody Award for her role as Conceptual Producer of the series Let the Good Times Roll produced for Public Radio International; an Outstanding Leadership Award from Jazz Alliance International; is Certified in Leadership by the National Leadership Institute; is Certified by the School of Economics, Hong Kong Polytechnic University and School of Economics, Renmin University of China.Her past Board service includes Berklee School of Music Board of Visitors, The Rhythm and Blues Foundation and the World Music Institute; she has served as a consultant for the Fes Festival of World Sacred Music and Jazz at Lincoln Center's Armstrong Curriculum Program.
Suzan Jenkins has taught at Loyola University (New Orleans), and American University in Washington, D.C.
THE GNAOUA
The Gnaoua lineage bears ancestral ties to the lineage of African Americans. The Gnaoua are black Moroccans who come from the same ancestral roots as the majority of African American ancestry. At the same time — and from the same geographic regions of Africa – as the majority of African Americans' ancestors were shipped in captivity on the Middle Passage, Gnaoua ancestors were sold and trekked across the Sahara in bondage to North African destinations, the greatest concentrations in Morocco.
The Gnaoua originated from North and West Africa, to be precise the Ancient Ghanaian Empire of Ouagadougou, who came together to establish brotherhoods throughout Morocco. Despite being Muslim, the Gnaoua blend African and Arabo-Berber customs to create their unique music-based rituals. These rituals are based on djinn – or spirits – that come straight from the African concept of possession. Their most important ceremony is Lila during which the maalem – or musicians – call upon the saints and supernatural entities to take possession of their followers. The followers and listeners of the music then fall into trances, the ceremony itself is said to be therapeutic.


THE FESTIVAL
The Essaouira Gnaoua & World Music Festival is at its core a celebration of the rich music tradition of the Gnaoua (or Gnawa) spirit music brotherhood of north Africa, primarily Morocco.
The Gnaoua have evolved a rich music tradition that is the core of this festival. The festival – which annually attracts nearly a half-million participants to the beautiful seaside town of Essaouira – features Gnaoua ensembles from across Morocco and other parts of North Africa such as Tunisia. Also invited are musicians from the west and from sub-Saharan Africa, to collaborate with the Gnaoua. Essaouira was a prime vacation town or hangout for the counter-culture of the late 1960s-early 1970s, when such notables as Jimi Hendrix, members of the Rolling Stones and Led Zeppelin, and assorted others vacationed in the town. Legend has it that Jimi Hendrix wrote his song "Castles Made of Sand" based on such a structure in Essaouira. Orson Welles filmed his version of "Othello" in Essaouira; subsequently there is a statue of Orson Welles in one of the town squares.
The city of Essaouira comes alive with the hums, beats, and dancing of thousands of music lovers uniting under one sky.


ESSAOUIRA
Essaouira is a beachside city which stays pleasant all the year round. The city has well planned streets and the place has rich culture with a blend of English, Carthaginian, French and Portuguese. The famous festival – Essaouira Gnaoua World Music Festival – is popular worldwide and artists from around the globe gather to display their musical talents and styles. A vast genre of music like rock, pop, jazz, acoustic and many other forms of world music are played by artists from various backgrounds. Music and art lovers come here to witness this amazing festival.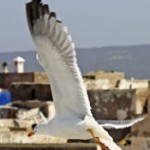 MARRAKECH
Marrakesh is not only a fabulous place to visit, but also a true symbol of ancient Morocco. Founded by the Almoravids, Marrakesh remained a political, economic and cultural center for a long period. Its influence was felt throughout the western Muslim world. For centuries, the city has been known for its popular seven saints. The festival devoted to the seven saints was founded by Abu Ali al-Hassan al-Yusi, during the reign of Moulay Ismail. The tombs of several renowned figures were moved to Marrakesh, in order to attract pilgrims and visitors, and the seven saints became a firmly
established institution. Djemaa el Fna, which is one of the busiest squares in Africa and the world, always bustles with acrobats, story-tellers, water sellers, dancers and musicians. The Menara Gardens is considered to be the most romantic place in the city. The city tour includes all principal sites of Marrakesh. View the towering Koutoubia Minaret, then visit the Dar Si Said Museum, Menara Gardens, and Saadian Tombs. Continue to Djemaa El Fna Square, where street performers, storytellers, snake charmers, and magicians create a spectacle to behold. Explore the souks and medina of the old city.
Directly north of Djemaâ El Fna square, the Souks quarter is made up of ancient souks (markets) that are divided into craft guilds, which have retained their location on the square for centuries. This is probably the most touristy quarter of the medina, with its numerous surrounding riads and its maze of little alleyways, which are full of shops and always crowded with pedestrians. In the center of it all, you'll find the shadowed kissarias (covered souks) area.
Morocco is a shopper's paradise!!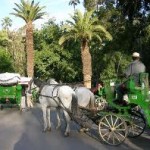 Included Features
Scheduled Round-Trip Air Transportation – USA/Morocco/USA * Accommodations at Luxury Hotels * Transfers between Airports and Hotels * Breakfast and Dinner * City Tour of Essaouira * City Tour of Marrakech / Lunch included * Attend performances at the Gnaoua and World Music Festival *Baggage Handling between Airports and Hotels * All USA and Morocco Airport Taxes Included * And much more!
Contact Information
Willard & Suzan Jenkins YourWorld Consultant Group, Inc.
Open Sky Jazz www.yourworldgroup.com willard@openskyjazz.com info@yourworldgroup.com
suzan@openskyjazz.com Phone Toll-Free 1-888-535-3536
www.openskyjazz.com
301-816-2976
Reservation Application
GNAOUA & WORLD MUSIC FESTIVAL
MOROCCO
JUNE 13 – JUNE 23, 2011
Name and Date of Birth MUST match in Passport and Air Ticket.
Name(Last) ________________________ (First) _________________________
Middle Int._____
Address__________________________________________________________
Apt. No._____________
City_____________________________State/Prov.____________
Zip/PC______________Country___________
Date of Birth ___________________________________________
Telephone(Home)_______________________(Office)______________________
e-mail____________________________________________________________
Male__________Female_________Smoking__________Non-Smoking___________
Special Assistance_______________________________________
Single Supplement ___ Roommate ____________________________
Enclosed is a deposit in the amount of____________
(Minimum deposits $250.00 – Check or Money Order Only)
Balance payments accepted with Visa or MasterCard
Create your very own payment plan. Minimum payments $300.00
Final Payment due 45 days prior to departure
Make checks payable to: YourWorld Consultant Group, Inc.
Send payment to:
YourWorld Consultant Group, Inc.
P.O. Box 2526
Laurel, MD 20709-2526