On Monday, January 10 Dr. Billy Taylor was given a rich, warm send-off totally befitting one of the classiest musicians and people jazz music has ever produced. Dave Brubeck wrote of "The Real Ambassadors", Dr. Billy Taylor was the most REAL Ambassador of all. Here's a man responsible for introducing the beauties and wonders of jazz music to the masses, through his media work and on various and sundry stages. There is no better concert exemplar of how to de-mystify jazz and make it friendly to the new or relatively uninitiated audience than his peerless series of Kennedy Center concerts recorded for the NPR series "Billy Taylor's Jazz at the Kennedy Center.
For those unfamiliar with this series, the format was Billy's trio (Chip Jackson on bass, Winard Harper on drums) plus a guest soloist. They'd play some of Billy's music, some of the guest's music, some common music, and talk about the nuts & bolts of the tune and the guest's career in the music in between; followed by the audience being invited to pose questions about what they'd heard. Having attended numerous of those concerts, I can attest to the delight of those audiences and how obvious it was that previously-locked doors to the inherent mysteries of jazz music and how it is made, had been unlocked for many. Some of the most poignant remarks at Billy's service at the auspicious Riverside Church in upper Manhattan, were delivered by the director of Jazz at the Kennedy Center, Kevin Struthers. Throughout the busy 4th quarter of Billy Taylor's rich and full life he and Kevin worked tirelessly to make jazz a cornerstone of our nation's cultural center, the Kennedy Center; and indeed they have succeeded royally. I asked Kevin if The Independent Ear could re-produce his farewell to Billy remarks and he graciously consented.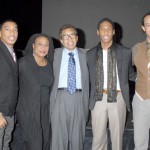 Billy Taylor in his usual nurturing mode with some of his pianistic "children": Geri Allen, Jonathan Batiste, and Gerald Clayton
Mrs.Taylor. Kim. Anthony. Rudy. Members of the Taylor Family. Friends. I am Kevin Struthers, Director of Jazz Programming at the John F. Kennedy Center for the Performing Arts, Washington, DC – the United States' National Center for the Performing Arts.
I am deeply honored to be invited to speak to you today about the gentle giant of jazz, Dr. Billy Taylor. Husband. Father. Brother. Son. Pianist. Composer. Educator. Recording Artist. Broadcaster. Esteemed colleague. Mentor. Friend.
For the past 14 years, I had the distinct privilege of working with Dr. Taylor at the Kennedy Center– where, since his appointment in 1994, he served as Artistic Director for Jazz.
TAYLOR MADE was the name of one of Billy's music companies, he established years ago. TAYLOR MADE is also an apropos description of jazz programming today at Kennedy Center. Since opening its doors in 1971, the Kennedy Center has annually presented jazz from its many stages. However, prior to his appointment in 1994, there was little structure – no thoughtful, big picture approach to the programming befitting the music as one our country's most important indigenous art forms – or as Dr. Taylor coined it – America's Classical Music.
The season before his appointment, for example, the Center presented just four jazz concerts. Sixteen seasons later, the annual concerts number in the hundreds. And not just ticketed events – but free programs – allowing access to hundreds of thousands to experience live jazz music and performance, at their best, both at the Center and online.
You can imagine the list of performers, too. His friends and colleagues….many of whom are here, today. These are the world's premiere jazz talents, who have graced our stages annually.
He opened a new Kennedy Center Jazz Club, which remains our most popular venue for jazz performance at Kennedy Center.
He opened the Kennedy Center's doors to jazz performances for children from across the metro-DC region, including students from the Shaw neighborhood of Washington, where a young Billy Taylor – and Frank Wess – grew up and learned to play the piano.
He initiated local – and national – educational programs – including free satellite and internet-based television broadcasts, which he often hosted – appropriately combining his skills as a performer, educator and broadcaster.
TAYLOR MADE, indeed. Upon his death, the front page Washington Post obituary and tribute CITED Dr. Taylor as making Washington's Kennedy Center "one of the nation's premier concert venues for jazz."
The Kennedy Center's jazz programming reflects his personal passions, including education – and – granting opportunities for performance by the world's many talented female jazz artists, particularly instrumentalists – who Dr. Taylor felt often didn't get the attention they deserved, or opportunities to perform. In 1996 – to counter this – he founded the Kennedy Center's Mary Lou Williams Jazz Festival. With his intended effect, sixteen years later, the Festival has spawned other, similar events across the United States, greatly enhancing opportunities for women to perform – and helping to nationally raise the profile of many of the most talented artists, who just happen to be women. He often laughed and told the story that when he suggested the Kennedy Center present the Mary Lou Williams Festival, someone at Kennedy Center replied "are there enough women to perform an entire concert?"
Following his many years on New York's WLIB, he was one of a small group of people who came together to help form National Public Radio. He eventually became one its most active and recognized jazz hosts and performers.
Following the popular NPR series JAZZ ALIVE, which he hosted, it was another radio show – BILLY TAYLOR's JAZZ AT THE KENNEDY CENTER- that cemented Dr Taylor's role as Kennedy Center's Artistic Director. For seven years on NPR, Billy would talk some, then play some, with a special guest artist – and Billy's superb trio – recorded in live concert at Kennedy Center. As a young man, I – as the front-line presenter for these concerts and radio tapings – I learned so much about jazz at the foot of the master interviewer. So, too, did the millions of listeners from around the country.
Kennedy Center's connection with NPR remains, today, with our annual Piano Jazz Christmas and New Year's Eve broadcasts – and our active partnership with 'JAZZ SET with DEE DEE BRIDGEWATER'. You think jazz on the radio airwaves is limited, today – imagine if jazz had not had the eloquent, articulate, passionate advocate Billy Taylor on the radio all of these years! Where would it be?
A few days ago I was sharing memories with Dr. Taylor's dear friend – Marian McPartland. Unable to be with us, today, Ms. McPartland recalled meeting Dr. Taylor when he was but in his twenties, at Birdland. She said he was just "a young, skinny kid" – and they immediately became fast friends. As we discussed our great sorrow at his passing, she said – with her best British understatement – that he was "Greatly loved. Talented. Brilliant. A decent and most likable fellow."
When Dr. Taylor arrived as a young man on the scene in NY, his talent as a musician was recognized by the then, current generation of masters – who taught, counseled, and advised the young pianist about the music and the business. Inherent to the music is the tradition of passing on knowledge from master to novice, generation to generation. Dr. Taylor's experience – was paid forward – and his commitment to passing on to the next generation has never waivered, whether at his Jazz in July program in Massachusetts, or at the Kennedy Center, where he invited Betty Carter to bring her JAZZ AHEAD program, to foster the careers – the training – of young composer-musicians.
Walk onstage with purpose, he'd say. Dress for respect. Address the audience directly, articulately. Respect the audience. Connect with your audience. Engage them. Give them something they can take away with them. Find your own voice, he'd say. Your own unique delivery that makes you – well, you! Then, you will succeed.
Behind the scenes throughout his career – away from the public eye – what many don't know about are his tireless – selfless – efforts to assist other musicians. Connecting the dots. Connecting artists with other artists; connecting artists with presenters and promoters; to use his leverage as a public figure to foster the careers of so many – on the radio, on television, in New York, around the world. To help out a musician down on his luck, in need of a job. To bring attention to those who deserved greater recognition. Many of the beneficiaries of these acts of selflessness are sitting in this sanctuary today. We will never know how many artists would not be successful if it weren't for the efforts of Dr. Billy Taylor. And that is the way he wanted it. Without recognition. All behind the scenes – these efforts were not about Billy Taylor….No, they were for the benefit of the MUSIC – for the benefit of OTHERS.
I've been with Dr. Taylor in so many different contexts over the years……and his thoughtful, gentlemanly demeanor never waivered. Whether it was in the White House, on the streets of Washington – or in the halls of the Kennedy Center speaking with patrons – wherever – he always spoke in the same, measured tone of respect for everyone he met. When he spoke to anybody – stranger or friend – he would make you feel like you were the only person in the world.
I heard him speak numerous times about his most widely recognized compostion – among the hundreds he created – "I Wish I Knew How It Would Feel to Be Free." Penned in just fifteen minutes to teach his daughter, Kim, a bit about the swingin' offbeat rhythms of her African-American heritage. He told me once how when he was involved with Dr. King and the Movement in the 60s, that there was a large gathering in Birmingham, AL, at which Dr. Taylor was performing. A number of people were onstage – when suddenly a portion of the stage collapsed. Amidst the immediate confusion and tumult that followed, Dr. King turned to Dr. Taylor and said – play that song! And just like that, Dr. Taylor started with "I Wish I Knew…..," and the crowd calmed down.
Following his stroke a few years back, our relationship grew ever stronger. With our many common references, we would have long conversations – although he sometimes was unable to say exactly what he was thinking. I understood exactly what he was talking about, and wonder if anybody listening to us would have the foggiest idea what we were discussing. Looking back, I cherish those talks. It was during this time that he would end our conversations by not saying 'Good-bye,' but rather he'd say 'STRAIGHT AHEAD.'
I think that 'STRAIGHT AHEAD' was a testament to his positive energy – always looking ahead – looking forward.
It is impossible to truly gauge – to measure – the impact Dr. Billy Taylor has had on the music. Quite simply, Dr. Taylor was the world's most articulate and prominent educator for HIS music, HIS love. And although he is no longer with us in person, his recordings and books, and telecasts and music and compositions, will live on, forever….forever sustaining the future of jazz.
Truly, without the least bit of cliché I tell you that I am certain that Dr. Taylor truly knows – NOW – how it feels to be free. For the past couple of weeks, I'm positive that he has been sitting in Heaven at a Steinway, with an entire crowd surrounding him, as he performs knock-out concerts with his fingers flying, the heads of the fellow angels boppin' – the Heaven's above, swingin'.
Husband. Father. Son. Brother to but a few. Pianist. Composer. Educator. Recording Artist. Broadcaster to millions. My esteemed colleague. My mentor. My friend.
You were a gentle giant of jazz – Billy Taylor – and you will be missed tremendously.
STRAIGHT AHEAD
Kevin Struthers
Jazz at the Kennedy Center