Our series of commentaries from black music writers continues. This time we hear from a jazz documentary writer-producer-editor who is based in the seemingly unlikely outpost of Duluth, Minnesota, as editor of the Duluth News Tribune (stay warm Robin, I lived in beautiful, idyllic Minnesota for five years myself). Producer of the public radio documentary "My Favorite Things at 50". on the subject of John Coltrane's epic essay of that familiar song, Robin Washington (www.facebook.com/myfavoritethingsat50) had read past submissions to our series and determined to weigh in with his perspectives. He is an award-winning journalist and documentarian who has provided guest commentary for NPR, MSNBC, Fox News, ABC News, and the BBC.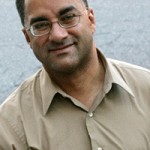 WHAT MOTIVATED YOU TO WRITE ABOUT SERIOUS MUSIC?
Robin Washington: I'll speak primarily of "My Favorite Things at 50," which makes this question easy. It's my favorite piece of music and I wanted to share everything about it with as broad an audience as possible. I'm not, however, insisting it be everyone's favorite. I'm very careful not to tell listeners how to feel. My intent is to give them the back story and ingredients to the piece to let them form their own opinion, which is the way I approach all works of criticism. Once that happens, though, I doubt many listeners would be able to just walk away from it.
WHEN YOU FIRST BEGAN WRITING ABOUT MUSIC WERE YOU AWARE OF THE DEARTH OF AFRICAN AMERICANS WRITING ABOUT SERIOUS MUSIC?
That's always top of mind. By no means does that mean non-black writers are incapable of accurately or even emotionally conveying the essence of the music or of the artists' lives, but you always have to be cognizant of the legacy of some white writers who have done so much damage in the past. I don't think that statement needs to be qualified.
In researching "My Favorite Things at 50," I made a point of reading Cuthbert Simpkins' biography of Coltrane before Lewis Porters' and even went back and forth between Simpkins and the work of Ingrid Monson, who I featured in the program. Interestingly, Monson, who is white, speaks more directly about race in jazz than many writers who seem to avoid the issue. I also stopped researching at a certain point, letting Coltrane's own words, the music, and my own interviews take dominance over secondary or tertiary sources, usually written by non-black writers.
WHY DO YOU SUPPOSE THAT'S STILL SUCH A GLARING DISPARITY — WHERE YOU HAVE A SIGNIFICANT NUMBER OF BLACK MUSICIANS MAKING SERIOUS MUSIC BUT SO FEW BLACK MEDIA COMMENTATORS ON THE MUSIC?
I've served for years on the boards of the National Association of Black Journalists and its umbrella organization, Unity Journalists of Color, both of which can cite endless data about the lack of people of color in the media in general. It's across the board in the business, even in areas like sports, where African Americans dominate those being covered. Newspapers, magazines and broadcast media have all made efforts to increase diversity and have gone a long way since 1968, but have not kept pace with the increasing diversity of the nation as a whole.
More particular to jazz writing is the inequity in the academic world that spills over into journalism. Jazz is picked apart, studied and at times even reassembled in the academy by people who indeed become experts and qualified critics, but there too the legacy of institutional racism results in far more white scholars than black. There's nothing wrong with them, and I'm immensely impressed by those who have done research to unearth previously unknown aspects of the music and the composers' lives. Yet far too frequently I find myself explaining things about black music to white devotees that seem to have been obvious to me since childhood. It's simply part of the idiom I grew up with and that others who "discover" the music in adolescence or beyond, didn't.
DO YOU THINK THAT DISPARITY OR DEARTH OF AFRICAN AMERICAN JAZZ WRITERS CONTRIBUTES TO HOW THE MUSIC IS COVERED?
Yes. At the risk of being taken out of context ala Sonia Sotomayor, it's obvious that those with life experience in any condition would reflect that experience more authentically than those who don't have it. Again, that's not saying that every black writer is inherently qualified to write about or even understand jazz, or that white writers cannot, but the odds are greater that they will have a closer connection to it.
No better example exists than a consistency I found in my research for the documentary. To a person, the white scholars (but not the performers) I interviewed heard Julie Andrews' version of "My Favorite Things" before Coltrane's, even though it followed it by five years. The black interviewees — and myself — all heard Coltrane's version first. That doesn't mean those who heard Julie Andrews' first liked it better, some mocked it. But it does make Coltrane's version the norm for those who did hear it first. It's not a scientifically valid sample, certainly, but I don't think it was an anomaly, either.
SINCE YOU'VE BEEN COVERING SERIOUS MUSIC, HAVE YOU EVER FOUND YOURSELF QUESTIONING WHY SOME MUSICIANS MAY BE ELEVATED OVER OTHERS, AND IS IT YOUR SENSE THAT HAS ANYTHING TO DO WITH THE LACK OF CULTURAL DIVERSITY AMONG WRITERS COVERING THE MUSIC?
There's no doubt it was a major factor, as Simpkins documents in his book, referencing — empirically — the DownBeat polls of the late 1950s and early 60s that consistently placed Coltrane subordinate to Stan Getz. While white writers today would never question the beatification of Coltrane and other black giants of that era — many, in fact, bend over backwards to suggest Coltrane and McCoy [Tyner] could do no wrong – I do wonder how they evaluate artists today, though I'll add that I don't know enough about the contemporary scene to judge.
What I do find consistently irksome, and have for several years, is how a white expert in something black can with a straight face tell a black colleague he or she is wrong without stopping to listen to what that person has to say. No better, or worse, example of this is in the only negative criticism I have received on "My Favorite Things at 50," which was from the NPR music director in rejecting the piece for a national feed. The reason given was "My Favorite Things" was not Coltrane's most significant work, and not as deep as "A Love Supreme."
Well, I know that — and those exact words were in my script for the documentary! But the point of the piece was to bring Coltrane to a general audience — exactly the intent of an NPR hard feed — as opposed to something only of interest to jazz aficionados. You could never attract a general audience by saying "Hey, come listen to a piece about Coltane's "A Love Supreme," whereas you can (and I did) garner mass appeal by making the same pitch with "My Favorite Things" — a song everyone knows and most people like even if they never heard of Coltrane.
I can't say for certain (and when can we ever?) that race was a factor in this instance, but the fact remains that a white person told a black person who has been studying something intensely that he wasn't smart enough, or something like that. Also, as the top editor for a daily newspaper, I know the proper etiquette for accepting or rejecting a pitch. This one was disrespectful.
Lest this all sound like all sour grapes, note that something like three dozen music directors who I contacted individually (and some with whom I had no contact with at all) immediately grabbed the piece for air — in fact, they're continuing to do so without any effort from me.. On a hopeful note, they're a multi-cultural bunch — white, black, Hispanic — so maybe that negates any racial aspect of this dis.
WHAT'S YOUR SENSE OF THE INDIFFERENCE OF SO MANY AFRICAN AMERICAN-ORIENTED PUBLICATIONS TOWARDS SERIOUS BLACK MUSIC?
Money. I think they go with what sells and you're going to sell a lot more copies talking about hip-hop than any unknown latter day Coltranes or Ornette Coleman.
IN YOUR EXPERIENCE WRITING ABOUT SERIOUS MUSIC WHAT HAVE BEEN SOME OF YOUR MOST REWARDING ENCOUNTERS?
Producing this documentary. In addition to the wonderful reception it's received on stations coast to coast, putting it together was simply magical. Normally, in documentary work, I transcribe every word of my interviews and write by laying down a sound bite from the interview subject, followed by a line of narration of my own. In this case, I'd lay down music and/or the interview bite, then would take a microphone and start recording my narration "live" without having written it first, going through several takes until I got it right. It was very much like creating improvisational jazz.
WHAT OBSTACLES HAVE YOU ENCOUNTERED IN YOUR WORK WITH JAZZ?
Well, I'll talk about the "difficult editor" again. A hard feed from NPR would mean all stations would air it more or less at the same time, coming in one show like "Morning Edition" or "All Things Considered."
Having gone this route rejected meant I had to market the show individually to stations, which is a bit of work and a lot of time which I as a daily newspaper editor don't have. As I said, about three dozen stations so far have picked it up, including major jazz stations, and several have made a major production of it by interviewing me or scheduling relevant programming around it. In the end, it felt like the show was on tour and was actually more fun than the one-shot of a hard feed.
There's a second bite of the apple, however, and I will pursue NPR national again for the 50th anniversary of the record's release in March 2011. (This previous run was for the October 21, 2010 anniversary of the song's recording.)
WHAT HAVE BEEN THE MOST INTRIGUING RECORDS YOU'VE HEARD RECENTLY?
This one exceeds my expertise! My forte and passion is history, and of course classic, serious music. But overall the experience of producing this has been wonderful and the reception by the jazz community so warm. I can't let myself be a one-hit wonder. Watch out… I may do this again in 2015 for the 50th anniversary of "Maiden Voyage."