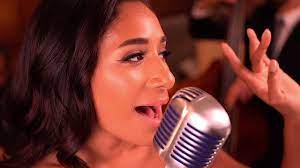 Vocalist and arts educator-activist-radio host Andromeda Turre couldn't help but start life in deep musical immersion… her parents are music masters, cellist Akua Dixon and trombonist Steve Turre. Currently a program host of Growing Up Jazz at Sirius/XM's Real Jazz channel, working her singing career ongoing (she has a forthcoming new album), and pursuing her work as an educator via her Growing Up Jazz program (which is also the title of her radio shows), we recently caught up with this busy woman, who is also the lone woman champion on Jazzology, my bi-weekly jazz trivia show aired on the Savage Content platform at www.savagecontent.com.
Being raised by two first-class progressional musicians, at what point in your life did you determine that you wanted to pursue music on your own terms?
I don't think there was ever a time in my life where I thought I wouldn't be a musician. Some of the earliest memories that I can recall are sitting and listening to my parents' rehearsals, which often happened in our living room. I wanted so badly to join them. On my own terms, I feel like I've only started growing into that in the last few years, although I have been supporting myself as a professional musician since 2003. It took a lot of living, performing, writing my own music… and failing… to be able to discover my own voice and my own philosophy on the genre.
Once you had made that determination to pursue music, how did your parents encourage that pursuit?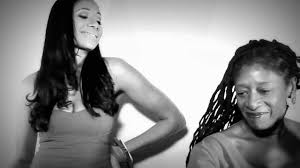 Andromeda Turre & her Mom, master cellist Akua Dixon
Neither my Mom or Dad were surprised that both myself and my brother Orion [Turre], who is a Jazz drummer, pursued careers in Jazz. I think they are both proud and have been encouraging and supportive in a multitude of ways. As a kid they were both great at giving me music to listen to and study, as well as laying foundations for things like ear training and harmony. I remember one year when I was in high school, my Dad gave me a boxed set with 16 CD's of Ella Fitzgerald recordings from Verve Records. He suggested I transcribe it, haha. But I loved it so much, over the course of the time I was in High School, I ended up transcribing probably close to the whole thing. It shaped my understanding of scat vocabulary and vocal improvisation. My Mom helped me establish good pitch by teaching me violin as a child and we would also sing fun intervals and harmonies as we cooked together in the kitchen.
What was your subsequent music training?
Mom has a cassette tape of me singing a song I wrote when I was 2 years old, I've always been a songwriter and creator. I'm grateful that she knew a more formal education would not be the right fit for me.
I started on piano as a young child, studying with Sonelius Smith. She selected him for me because, while she knew he would make sure I would learn proper hand position and technique, he let me be creative with the repertoire and include my own compositions and improvisations. There's actually a video that my Dad took of my first piano recital on youtube. I studied dance extensively both at the Dance Theater of Harlem and Alvin Ailey which was a different kind of music training. Being able to examine tempos and dynamics from a perspective outside of being the one creating the music, and especially from the perspective of a dancer, taught me how music gets internalized in a different way. It also taught me to consider audience experience in a much more engaging way. In high school I was obsessed with choral singing and had an incredible teacher, Ms. Axton. I sang in the madrigals choir, the honors choir and the Jazz choir, all of which she directed. I would get frustrated with her sometimes as she would take the score and give me the most difficult intervals to sing, regardless of whether they were soprano, alto or tenor. I was constantly jumping staves. But it stretched my control over my vocal range, sight reading and pitch. I appreciate now what she saw in me and pushed me to do, I'll never forget her. Another teacher I'll never forget is Patrick Dearborn, my high school musical theater teacher. He pulled me from the choir out into the spotlight. I learn so much about stage presence, carrying a show and connecting to the story of the lyrics from him. After that I attended Boston Conservatory for Theater but I ended up hanging with all the Berklee cats so I transferred there after a year. I made some incredible friendships there, musicians I still work with today. But a formal college education wasn't really for me, I left Berklee after a year and a half and went on tour as the last Raelette hired to sing backup for Ray Charles.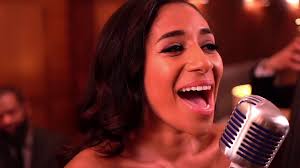 When did you develop your Growing Up Jazz program/project and what's been your mission?
I started developing Growing Up Jazz in 2017 as I was trying to figure out my own voice within the industry. I always had musical instincts that didn't necessarily align with what I thought Jazz was, so I suppressed them or tried to mold them into sounding more like "Jazz" which never made me happy with the end product, because it wasn't authentic. At this time, I'd just gotten married and moved into a house and finally took back some of the boxes I had left with my parents. In the boxes were a lot of memories – pictures of me with Dizzy Gillespie and Lester Bowie, a book I got from Max Roach, a program from the Blue Note Tokyo that I had played tic tac toe on the back of with Mulgrew Miller. I started trying to piece together my experiences with all of these incredible musicians I was blessed to grow up with and connect the dots with what they had taught me.
What I discerned is that Jazz is the oral history of the African experience in America. And that each generation of its artists has incorporated the sounds and the struggles of their era into the music as a reflection of the times. Jazz is a living history, not a museum piece. I also explored Jazz through the lens of the many incredible Latin Jazz artists I got to glean from, like Andy and Jerry Gonzalez, both of whom I adored. Latin Jazz is a beautiful example of what we now call inclusion. When Latin music fused with Jazz, it didn't gentrify it and take it over, excluding its tenets and the people who created it. And Jazz didn't dig in its heels and reject the sounds and culture that the Latin musicians brought to the table. It became a musical conversation on the world stage that was always beautiful, welcoming and heartfelt from my experience. So my mission with Growing Up Jazz is to teach these sides of the history and to have conversations surrounding diversity, equity and inclusion through the lens of Jazz, which I find makes it more palatable for a lot of people. Since I started developing the program with this impetus, I became certified through Cornell University as a diversity and inclusion practitioner to help facilitate this work. Jazz and social justice have always gone hand in hand.
Talk about some of Growing Up Jazz's current activities.
Currently I'm offering three versions of my Growing Up Jazz keynote presentation, one for younger kids 5th-8th grade, a slightly more advanced version for high school and a deep dive for adults. I also have an expanded program that builds upon that over several weeks where I get participants, many of whom often have no musical training at all, to write a Jazz song with me. Many of the institutions I have done keynotes for have invited me to continue working with them as a DEI consultant. Everything from creating policy changes to re-examining school curriculums and offering professional development for staff. Probably one of the most exciting things I'm doing under the Growing Up Jazz umbrella, is Artistic Directing cultural events through a DEI lens. I'm most proud of the premier Juneteenth celebration I Artistic Directed for New York City's Central Park last year, bringing Seneca Village – the Black community that existed there before Central Park – to life. I curated six bespoke performances on a walking tour for visitors, each telling a different story of the former residents there. Of course there was Jazz woven throughout the performances, so it was also a great opportunity to introduce some new ears to the music I love most. I'm thrilled to be Artistic Directing the celebration again this year.
How do you see Growing Up Jazz intersecting with your Sirius/XM radio work and your singing career?
On SiriusXM, I try to bring my philosophy on air in two ways. First, with my Sunday show which airs from 11am-5pm EST. I try to get as many living artists performing original compositions as I can get away with on the air. I will always look at artists' websites to see if they're performing anywhere soon and if so, I share that with my listening audience. PSA to any Jazz musicians reading this – update your website! haha. This initiative of incorporating current music and getting people to go out and support the music in person is important to me in order to keep the music alive. We must continue to listen to the masters, but it's not possible to go and see John Coltrane anymore. However, you can go see Lakecia Benjamin and other such artists that are out there maintaining this music as a living history. My worst nightmare is that Jazz becomes completely antiquated. The other way that I incorporate the Growing Up Jazz mindset is by sharing the history behind so many of these songs. Many people have heard Wynton Marsalis' Black Codes, but they don't know what Black Codes were. They're familiar with Fables of Faubus, but they've never heard of Orval Faubus. Sharing these stories is also important to me as Jazz music has always been an expression of social justice.As a vocalist and composer, Growing Up Jazz informs my artistic practice as I create works that persuade the audience to consider new depths of reality and perspectives and incorporate the sounds and struggles of my generation.
My last project, EMERGING, came about as a response to the pandemic. So many of us were coming out of this ordeal wondering how to get back to normal, I wanted to push them to consider going forward instead. While living in Japan for two years to sing with a big band in 2007 & 2008, I learned about the concept of IKIGAI – the belief that everyone has a reason for being. And that reason is a combination of what you love, what you're good at, what you can be paid for and what the world needs. I've let that guide me since, and created EMERGING to take the audience on a journey through self-discovery to look at their lives and their possibilities in a different way. I collaborated with an incredible motion video designer, Kleidi Eski, to create projections to help facilitate a more imaginative and immersive audience experience during the performance. I had actually started composing the music that ended up being for this show right before the pandemic. And when
I was 7 months pregnant with my son, I got a call from a friend who was setting up his new recording studio and asked me if I wanted to come in one day that weekend so he could test things out. I had just written this new body of music so I called some musician friends and we went into the studio. It was all recorded in one room, so it was a bit hard to mix and basically impossible to edit. But I documented my ideas and where I was at that time in my life and it became my last album, SHINE. I tried to get some momentum around it, but I was consistently met with suggestions to present standards or a tribute show of some kind instead of original music. I love standards, I know hundreds of them. But when there are so many things to talk about in today's world, it feels a bit superfluous to me to do a rehash of something I transcribed in high school, especially when I know I'm not gonna do it better than the Queen, Ella. I've only ever been good at being myself.
Currently, I am working on a new project, a suite I started composing with four movements entitled "From the Earth". The project aims to shed light on the disproportionate impact of climate change on BIPOC (Black, Indigenous and People of Color). The public facing movement of environmental activism often excludes the voices of marginalized activists, so I will be interviewing some of them and incorporating excerpts of their interviews into the music, using Jazz to elevate their voices. Each movement of the four-part suite reflects a different area of environmental decline – From the Earth, From the Ice, From the Sea and From the Sky. If we can all work together as one humanity and include the voices of those most currently affected by climate change, I believe we can problem solve and make necessary change at a much faster rate. I'm also working with an incredible photographer and videographer, Rashida Zagon for this project. We plan to go to these four communities, all of which are here in America, to photograph them and help people see the impact of climate change on BIPOC with their own eyes. I'll need to source a-typical venues once this is completed that can facilitate the display of the photos and videos during the performance. It's a huge undertaking to do without any help, currently I do not have a manager, agent, publicist, or any funding for this project outside of myself. But I feel so strongly about its need in the world, I know I'll find a way to make it happen. Taking on this project is my own way to continue Growing Up Jazz – by expanding the music and using it to reflect the times in a socially relevant way.