Catching up with T.K. Blue…
My first sighting of alto-soprano saxophonist & flutist T.K. Blue was many moons ago at the former Greenwich Village jazz hub Sweet Basil.  On that evening my mission was to see the great Randy Weston, who in part was making a rare stateside appearance amongst his global travels.  That fateful evening Randy performed in duo with a saxophonist I was not previously familiar with, Talib Kibwe.
I was immediately impressed, not only with Talib's passionate alto playing, but also with the obvious brotherly connection he had achieved with Randy.  Then in the early 90s Suzan and I traveled to Trinidad, where Suz had spent some of her elementary school years, for the annual Pan Jazz Festival.  Each morning our room at the Trinidad Hilton was enhanced by the sounds of a flutist warming up nearby.  As those sounds grew more aggressive we realized that musician was practicing next door!  Turns out it was the same Talib Kibwe, who was in Trinidad – an island where he has deep ancestral roots – to lead a band at the Pan Jazz Festival, an event which brought together the uniquely American art form of jazz with Trinidad's rich steel pan music tradition in successful collaborations.
Fast forward to the late-90s, and several performances of Randy Weston's African Rhythms band later (with Talib Kibwe now serving as Randy's music director), I asked Talib whether he would serve as a bit of an intermediary to see if Randy was interested in being trailed by a biographer to write his book.  Randy was very happy with that prospect, began referring to me as his "writer", and ten years later African Rhythms, the autobiography of Randy Weston, "Composed by Randy Weston/Arranged by Willard Jenkins" arrived from Duke University Press and the rest is history.
A few years ago Talib determined to adopt his youthful nickname "Blue" and professionally became known as T.K. Blue.  His work as music director of Randy Weston's African Rhythms band morphed into T.K. becoming Randy's chief arranger when NEA Jazz Master Melba Liston's health deteriorated and she was unable to continue as RW's principle arranger.  I remember when T.K. wrote the arrangement for Randy's Lincoln Center concert collaboration with violin master Regina Carter, he always told the story about how Melba's spirit came to him in guidance as he was crafting a particularly tricky passage.
T.K. continued with Randy in many contexts right up until Weston's passage on September 1, 2018.  And for those who don't know that story, that morning Randy woke up, sat down in his favorite chair awaiting his breakfast, nodded off and passed on to ancestry  in an ultimate moment of peace.  Since then T.K. has continued to honor Randy Weston's memory and his rich book of tunes onstage and on record, as his latest recording, The Rhythms Continue wonderfully attests.  
As life began to slowly re-open from these pandemic times, last month we had the pleasure of catching T.K. leading a band at Brothers' Smokehouse in Ramsey, NJ (info: 551/264-9073) – a highly recommended barbecue-based restaurant owned and operated by Randy Weston's grandsons!  Then two weeks later in May, T.K. and another member of Randy Weston's African Rhythms family, tenor sax titan Billy Harper, co-led a quintet – with Allyn Johnson on piano, Herman Burney on bass, and Eric Kennedy on drums – as part of the re-opening of Todd Barkan's wonderful Keystone Korner resurrection in Baltimore.  With that performance, and on the heels of The Rhythms Continue, clearly some questions were in order for T.K. Blue.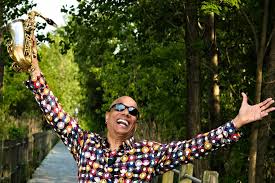 I met NEA Jazz Master Dr. Randy Weston in the late 1970's, in
performance with another NEA Jazz Master Abdullah Ibrahim at Ornette Coleman's place in SOHO called The Artist House. In fact Abdullah's band was one of the last to perform there before it closed. Randy stopped by to check us out with his father Frank Edward Weston and his agent Collette Giacomotti. About a year later I sat in with Randy for a SWAPO (South West Africa People's Organization) fundraiser against Apartheid in South Africa. We played "Hi Fly" with just piano and piccolo. In addition I also played with Dr. Weston at Syncopations, a West Village jazz club owned by drummer John Lewis.  Later in 1980 Randy hired me for my first concert with his band at The
House Of The Lord Church in Brooklyn.
By the end of 1981 I moved to Paris and coincidentally Randy was also living in the France in the town of Annecy. By the summer of 1982 we were working regularly together is a variety of formats.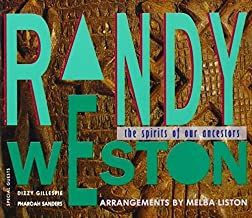 I was anointed with the musical director's chair for African Rhythms during the recording of "The Spirit Of Our Ancestors" for Verve 1992. Melba Liston wrote all the arrangements for this date but she had a stroke. I was asked to direct the band and help run this session, which included many super stars like Pharoah Sanders, Dizzy Gillespie, Idris Muhammad, Jamil Nasser, Dewey Redman, Billy Harper, Benny Powell, Idrees Sulieman, and a host of others.  I have always been fascinated with African culture and history since my college days at NYU and Columbia University. Dr. Weston was a huge proponent of the "African" influence in music and culture across the diaspora. I felt the impetus to immediately continue my association with such a great mentor and master musician as Randy Weston!!!
Dr. Weston's passing deeply touched me in a profound way. I felt tremendous ebullience when a decision was made to honor Randy in an obeisant fashion through sound. "The Rhythms Continue" on JAJA Records reflects my attempt to pay tribute and also look to the future.  It's my reasoning for having relatively young pianists on this date, in understanding how Randy has influenced their artistic creativity: Keith Brown, Mike King, Kelly Green, and Sharp Radway. To know your future, you must know your past, hence Ancient Future!!!
My recent performance at the Keystone Korner-Baltimore was absolutely magnificent. Even though I played with all of these musicians in different configurations, it was the first time we all played together: Billy Harper-tenor; Allyn Johnson-piano; Herman Burney-bass; Eric Kennedy-drums; T.K. Blue-alto sax, flute, kalimba. Besides their incredible excellence in music performance, I felt everyone has a warm spirit with deep reverence for the elders. I knew the connection would be perspicuous. The result was a celebratory performance as witnessed last weekend at the Keystone Korner.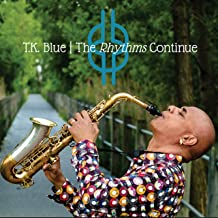 Everyone brought his best effort to the bandstand. Allyn really locked into the "Weston" groove and intrinsically I could feel Baba Randy's spirit in his playing, while he always maintained his personal expression. Herman is rock solid on the bottom and his lock with Eric on drums is infectious. They had some intense telepathy and could change the rhythmic groove instantly. Eric listens quite passionately to everything being played and he accentuates all the nuances. Of course Maestro Billy Harper is a master tenor saxophonist. His penetrating sound and protean improvisational forays captivated the audience. The foundational framework these artists laid down made it enormously sacrosanct. I was uplifted every time I played my instruments. It allowed me to venture into uncharted territory while improvising.
I am so appreciative and grateful that Todd immensely loved our shows. There were many magical moments and I pray additional opportunities will surface for this particular band to perform together.
About that magical weekend at the Keystone Korner with the T.K. Blue-Billy Harper Quintet, Todd Barkan texted me this message: "I wrote quite extensively on my Facebook page as I compared it to the very most inspired ensembles to ever levitate the Keystone stage, in a league with the "Sahara Band" of McCoy Tyner, with Sonny Fortune, Calvin Hill, and Alphonse Mouzon, and the greatest bands of Buhaina (Art Blakey), Cedar Walton, Elvin Jones, Ron Carter, Betty Carter, et. al.  Much love and brighter moments."
NEA Jazz Master Todd Barkan
More information: www.tkblue.com