AN ADVOCATE FOR WOMEN IN JAZZ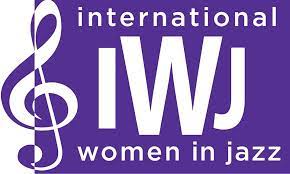 Thankfully we are gradually evolving to a better place in recognizing the absolutely vital roles women occupy across the jazz community, from playing, bandleading, composing, and recording to educating, presenting, managing, directing, producing, providing service, administrating, and mentoring in our collective efforts at flying the jazz flag high.  One organization whose mission is to support women in jazz is the International Women in Jazz.  We had a few questions recently for the president of International Women in Jazz, Jacqueline Lennon…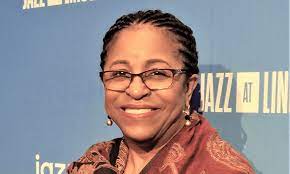 What is the mission and origin story of the International Women in Jazz organization?
INTERNATIONAL WOMEN IN JAZZ, INC. (IWJ) is a non-profit [501(c)3] organization committed to supporting women jazz artists and related professionals, and to fostering a greater awareness of the contributions women make to jazz, worldwide. Through its programs, IWJ provides information and assistance to its members, thus standing dedicated to actively ensuring a place for women as a vital part of the past, present, and future of jazz. International Women in Jazz, Inc (IWJ) has a longstanding relationship and history of jazz presentations at Saint Peter's Church, Midtown, NYC where Pastor Gensel in 1995 founded its jazz ministry, fondly naming Saint Peter's Church The Jazz Church familiar worldwide. IWJ grew out of a seminar on women in jazz organized by Pastor Dale Lind and held at Saint Peter's Church in New York City in September 1995. Many women prominent in jazz were present, including Universal Jazz Coalition founder Cobi Narita, writer Leslie Gourse, and Lorraine Gordon, owner of the renowned Village Vanguard. The discussion yielded such a massive amount of feedback and raised so many issues, that it became apparent an ongoing forum or organization was needed to address the unmet needs of women in jazz. Hiring practices, unequal pay, and less opportunities to excel in a male dominated society were some of the concerns of female musicians. Cobi Narita called a meeting the following November, and International Women in Jazz was founded.
What is the current profile of the typical member of International Women in Jazz?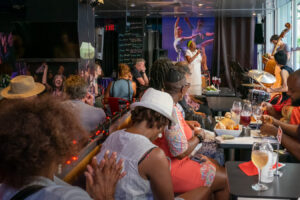 International Women in Jazz membership comprises of women and men jazz professionals and jazz enthusiasts. We support emerging, seasoned musicians and elder artists who include vocalists, instrumentalists, composers, educators, students, and industry professionals and jazz enthusiasts worldwide. We are a diverse ethnic, gender, and cultural organization. We are proud of our members who inspire us. NEA Jazz Masters Sheila Jordan, Dorthaan Kirk and Dee Dee Bridgewater. Celebrated members in our midst are Emme Kemp, Broadway composer and entertainer; Catherine Russell, jazz vocalists and two-time Grammy Award winner for Best Jazz Album; Antoinette Montague, award winning vocalist, educator, radio announcer, and Jazz Woman to the Rescue persona; Kim Clarke, renowned bassist; Ghanniyya Green and Claudette Morgan, sultry vocalists and educators; Hyuna Park and Bertha Hope, pianists; Dotti Anita Taylor, pianist and flutist; Carol Sudhalter, saxophonist; Cobi Narita, producer and jazz philanthropist and president emeritus of IWJ are just a few of IWJ's movers and shakers within our membership. All of our members continue to master their crafts and are creative forces in the jazz world. I would be remiss not to acknowledge those members of IWJ who have passed on leaving their marks as advisors, educators and jazz activists who helped shaped IWJ and the jazz community worldwide: Marian McPartland, pianist, and radio personality; Nat Hentoff, author, and columnist for the Village Voice; The Wall Street Journal; Cephas Bowles, General Manager of WBGO 88.3 FM jazz radio; and multi-instrumentalist and Sweethearts of Rhythm pioneer Carline Ray. We wholeheartedly thank them for their influences that still energize and mobilize International Women in Jazz to this today.
What is the organization's sense of the need for women to join together on behalf of the music and women's presence in the music?
The phrase 'there is strength in numbers" applies. It is vital that female musicians be activists for their own causes; be present on all levels of the music industry whether owning venues, studios, recording labels and be decision makers in the board room and unions to have their say and make a difference. For many years we affiliated with Donne in Música from Italy serving on their International Honour Committee participating in its advocacy for female musicians' rights in its series of women music programs and competitions. IWJ member, composer Jane Meryll, representing the U.S., won their prestigious 2018 Global Women in Music for Human Rights Award and performed in concert in Italy. As president, I continue to dialogue with members asking what concerns they have in securing gigs and obtaining leadership roles in the jazz profession. Resolving some of the unmet needs for female musicians since IWJ's beginnings continue but improvements in female performances in orchestras and presenting more women ensembles are happening. It is still an uphill battle with contract negotiations and receiving compensation similar to their male counterparts. It is also about increased recognition and respect. The history of jazz from African roots to America and beyond must be transparent with acknowledgment encompassing those who have contributed and are unsung heroes and heroines in jazz. We must continue to voice our opinions and concerns to step up the pace for change in the industry. Our membership also includes active performers and legendary statewomen. Emme Kemp, our griot of jazz, provides education and historical information on jazz and shares her experiences from a career that expands over seven decades. Our Youth in Action component encourages young female musicians to age 17 to participate in our events and have co-generate performances. Rising stars at the time and recipients of the IWJ Youth in Action award included vocalists and or instrumentalists: Camille Thurman, Gabrielle Garo, Charenee Wade and We' McDonald; pianist and organist Leonieke Scheuble. All have developed into professional adult jazz musicians.
How do you see your organization positively impacting our collective critical need to grow the audience for jazz?
A recurring event is IWJ's "First Mondays" open mic, a monthly event where musicians perform and share music with one another, network and newcomers can be introduced to IWJ and jazz music in front of an audience of jazz enthusiasts. This event has been open to the public since 1995. In the last few years, we have expanded this event on weekends establishing residencies at venues across New York City to increase our jazz family. International Women in Jazz continues its activities creating a greater awareness of the contributions of women in jazz worldwide. I served as a delegate with the German American Chamber of Commerce Council at the Reeperbahn's German and U.S. Festivals since 2019 to further introduce IWJ to international audiences.
Talk about some of the programmatic efforts the International Women in Jazz organization has undertaken thus far.
Since 1996, IWJ has co-produced concerts in association with Universal Jazz Coalition and Saint Peter's Church, the JVC Jazz Festival and the NYC Parks and Recreation Department. Since 2007, IWJ, in partnership with the Jazz Committee of Saint Peter's Church, has produced a 3-day annual Women in Jazz Festival. Since 2010 festivals are produced solely by IWJ. Prominent and legendary females in jazz highlight our celebration and include members and our young musicians. Our historical list can be found on our website: internationalwomeninjazz.org. Festival includes concerts, open mic and jam sessions, seminars, food court, vendors for jazz, and honoree presentations. We look forward to resuming our annual International Women in Jazz Festival where we pay tribute to the achievements and significance of women jazz musicians while promoting jazz awareness to people of all ages.
What do you foresee for the future of the International Women in Jazz?
Post pandemic will slowly bring back live events on location. Space and scheduled events will be limited and competitive. Alternative techniques to live events were challenging for our survival. In all likelihood virtual events will stay with us and that is a good thing. A learning task but an additional source of social media and meeting new friends around the world from your living room. IWJ must adapt to the industry's new normal and keep up with the technology. Our road to recovery is to seek and access grants and other financial stimuli to sustain our organization and rejuvenate. We must engage and collaborate with other organizations to become stronger voices for the arts and to bring about positive change. Pray and remember those who left us during the pandemic and during crucial times in our nation. We will draw strength and recharge for the love of music and life. As President of International Women in Jazz, and as a vocalist, public access TV producer/host and archivist for IWJ, I am motivated and hopeful to provide the community with an International Women in Jazz library on female legends of jazz. IWJ has a rich history and a responsibility to preserve it, pay homage, and educate future generations. We intend to move forward with what we proudly have to offer.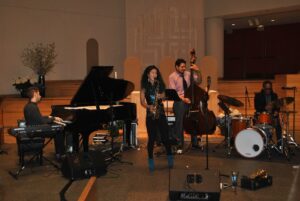 FURTHER INFORMATION & SOCIAL MEDIA:
www.internationalwomeninjazz.org https://www.facebook.com/InternationalWomeninJazz.org https://twitter.com/iwjazznyc https://www.instagram.com/internationalw