The joyous alto and saxophone and flute sound of T.K. Blue (aka Talib Kibwe) has been part of my consciousness for many moons. Before we even met his sound was a subliminal presence. The first time I actually encountered his passionate horns was an 80s era duo performance with Randy Weston at Sweet Basil. Back in 1990 Suzan and I traveled to Trinidad to cover the annual Pan Jazz Festival, a celebration of the melding of Trinidad & Tobago's vibrant steel pan tradition with jazz. That was a particularly memorable trip, not only for the music but also for my first trip to Trinidad and a homecoming for Suzan, who spent some of her early childhood days living in Port of Spain. Among the musicians was T.K., who as it turned out roomed right next door at the festival hotel, Port of Spain's landmark upside down Hilton Hotel, a hotel literally perched on a hillside with it's first floor at the top descending down the hill. Each morning our wake-up call was the incessant saxophone and flute practice of our neighbor. Who was this thoroughly dedicated artist? Suzan's curiosity got the best of her and we soon met T.K. Blue, who has become a true brother, stemming from that Trinidad introduction to his decades as music director of the great Randy Weston's African Rhythms bands. In fact it was Talib who encouraged me to pursue writing Randy's autobiography, African Rhythms (Duke University Press).
T.K. Blue's latest recording is The Rhythms Continue, an equal parts lovely and vibrant remembrance honoring Randy Weston's powerful impact on his and so many other of our lives. The record includes contributions from members of Randy's African Rhythms band, including bassist Alex Blake, African drummer Baba Neil Clarke, drummer Vince Ector, and frequent Weston collaborator Min Xao Fen, a master of the Chinese stringed instrument known as the pipa, plus an apropos rotating cast of pianists. The music is a successful blend of Weston compositions and T.K. Blue originals. The results are so striking that clearly some Independent Ear questions were in order.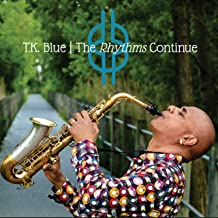 The title of your latest recording is The Rhythms Continue. Would it be correct to assume that's an obvious reference to your many years with Randy Weston's African Rhythms bands and the continuum of that spirit?
Your assessment on the name of my new recording entitled The Rhythms Continue on JAJA Records is absolutely correct. Dr. Weston's spirit and influence has touched the hearts of many people in such a positive fashion. I was quite fortunate to have had an in-depth and profound relationship with Baba Randy, and I am quite sure he would want all of us to continue on our journey, following our dreams and aspirations. He always preached it's more important to tell a story than take a solo.
From the repertoire, your eloquent liner notes on the master, and the CD booklet photograph, this record is clearly your response to the loss of Randy Weston. How did your decades-long odyssey with Randy Weston begin, what were the circumstances behind your becoming a member of his band?
I followed an interesting route in becoming a member of African Rhythms. First was hearing Dr. Weston and his son Azzedin perform at the East in Brooklyn. Next was Baba Randy hearing me perform as a member of pianist's Abdullah Ibrahim's ensemble. Finally was an opportunity to sit in with Dr. Weston for a fundraiser to benefit the abolishment of Apartheid. This led to my first official concert as part of the African Rhythms at the House Of The Lord Church in Brooklyn in 1980. Moving to Paris solidified our wonderful relationship as Baba Randy also lived in Annecy, France.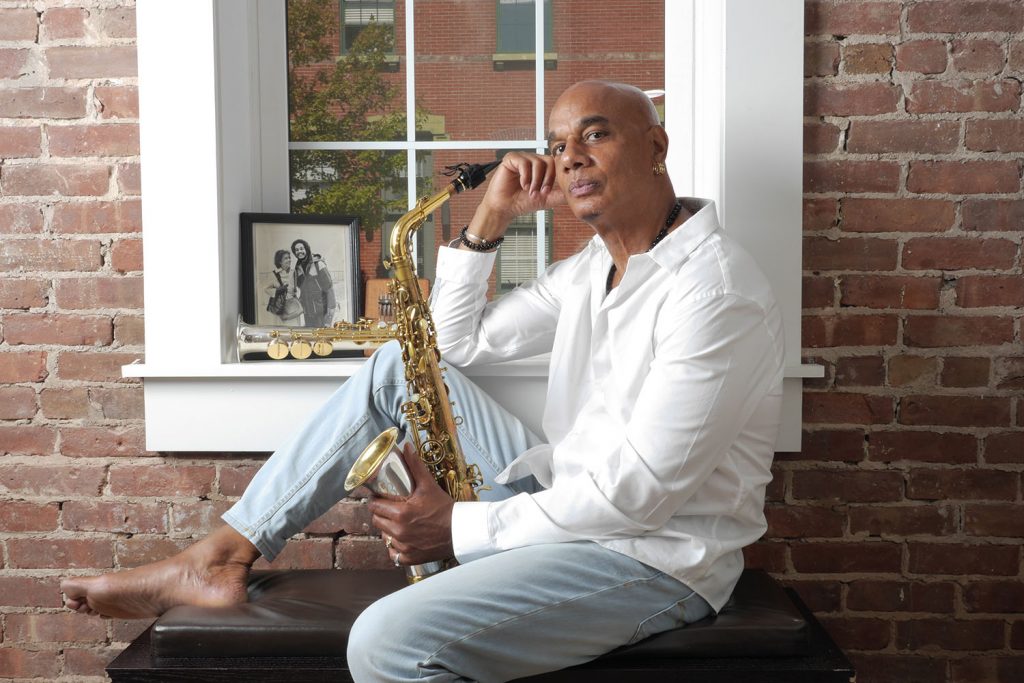 Clearly you were also feeling the presence of Randy's longtime collaborator Melba Liston when you made this record as well. Talk about what Melba, who was to Randy's music what Billy Strayhorn was to Duke Ellington's music, meant to your tenure with Randy's band as his music director.
I had the delightful experience of knowing Melba Liston quite well. My first encounter with Maestro Liston was at the home of saxophonist Billy Mitchell in Lakeview, Long Island. I was still in high school and lived one block away. The next opportunity was while performing at the United Nations in NYC with pianist Patti Bown. "Auntie" Melba wrote her arrangements. Of course the icing on the cake was when Melba and Randy reunited to perform and record in several big band, medium size, and small ensemble settings. I had the opportunity to visit Melba's home in Harlem on a myriad of occasions and saw first-hand the enormous volume of work she arranged and composed. In Randy's amazing biography "African Rhythms", I mentioned how Melba came to me in a dream and helped me rectify an issue while arranging music for Randy's Ancient Future Suite for Jazz at Lincoln Center. Melba Liston, as well as many extraordinary female performers, deserves a huge slice of recognition in Jazz History!
The selections on this record are a combination of Randy and your writing. What went into your selection of this program, particularly considering the depth of Randy's songbook?
Dr. Randy Weston passed away September 1, 2018. I was in his presence for the last time on Saturday August 18th. His passing left a huge void in my life and I felt the best way to express it was through music. It was also the most precise way to heal one's soul experiencing the mourning of a close elder and mentor. I went into the recording studio near my home in Jersey City right away and simply played songs in a solo framework that manifested the tremendous influence of Baba Randy, who had recently become an ancestor. Later on I started fleshing out some original compositions that I wanted to record with the alumni African Rhythms band. I always retained the idea of telling a story in a suite format that depicts my "contemplative memoir" regarding such a prolific figure in Jazz. The precise songs and their sequence for this tribute began to take shape. Those that did not make the cut may very well surface on a subsequent recording.
Two of the tracks, "Night in Medina" and "Ifrane" – ironically each represent his frequent reflections on Morocco and both appeared on Randy's record Blue Moses – you play largely as solo saxophone selections. What made you determine to play them largely solo?
Two of the alto sax solo tracks on this recording are Night In Medina and Ifrane, both from the recording Blue Moses on CTI Records. This is by far one of my favorite recordings of all time. It features an array of iconic figures in Jazz and it was Baba Randy's greatest selling album. My maiden voyage to Morocco was in the mid 1980's. Randy's band just finished a concert for the International Jazz Festival in Sevilla, Spain. He asked me to accompany him to Morocco, which I happily accepted. We drove from Sevilla to southern Spain and took the ferry to Morocco. We then drove to Tangiers and Rabat. Needless to say this voyage was quite overwhelming, complete with seeing the building that housed his African Rhythms Club, meeting his extended family in Tangiers, a traditional Moroccan dinner at the minister of finance's home in Rabat, and experiencing the traditional Moroccan hamam, or hot bath. I decided to record these two songs in solo fashion to denote this special journey to the Motherland.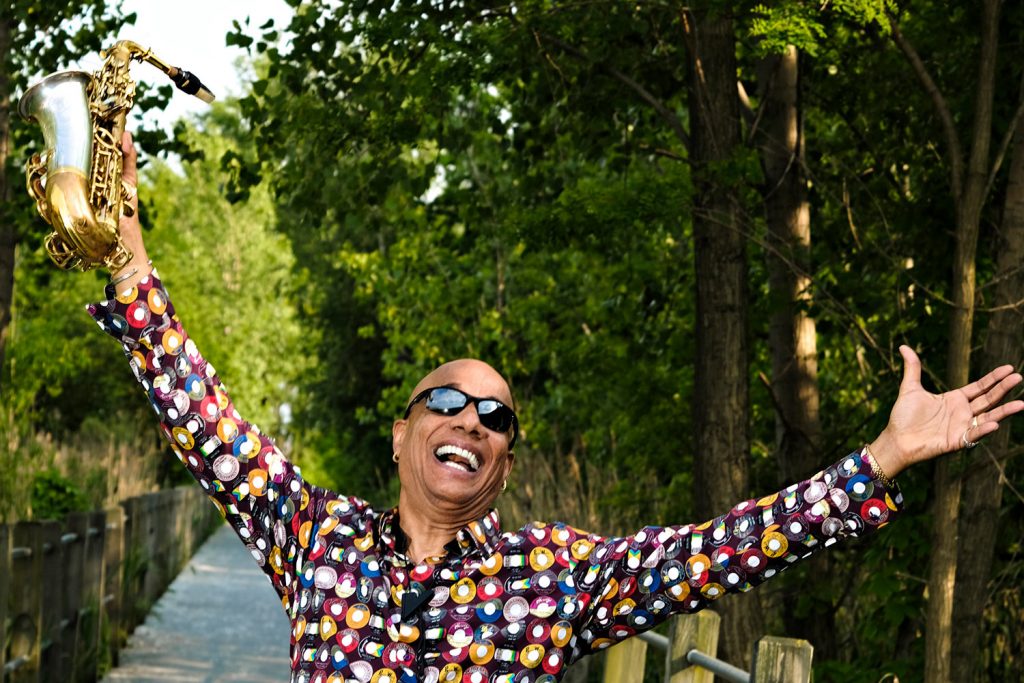 One thing I noticed – and appreciated as a radio programmer – is that the 19 tracks on The Rhythms Continue – are almost continuous suite-like in that none of them is over 6 mins. long. Was that a conscious effort on your part when you were planning and recording this session, to keep the tracks at a modest length?
From the inception of this recording project I wanted to convey a suite, something continuous and connected that paints a picture. I did not entertain very long improvisations for this CD, but rather shorter pieces or vignettes that serve as connecting points between longer compositions. I was more concerned with telling a story while choosing a more economical approach to improvisation. I will always remember what Frank Wess once told me: "Make your statement and get out of there. When you finish a solo chorus and your mind says go for another one, don't listen!!! Leave them wanting more"
The musicians in the band on The Rhythms Continue are members of Randy's African Rhythms bands, as well as the Chinese pipa master Min Xiao Fen, a great friend and frequent musical collaborator with Randy. And you use a rotating cast of pianists – Sharp Radway, Keith Brown, Mike King, and Kelly Green. What was your thinking in terms of representing Randy's spirit and influence at the piano with these musicians?
Choosing the pianist(s) for this project required some reflection. You can obviously go in many directions, which could include many master and established artists. In the end I decided to examine how Randy's influence and legacy would be in the hands of extremely talented young pianists and nourish their opportunity to display their craft. Sharp Radway, Kelly Green, Mike King, and Keith Brown each demonstrated wonderful charisma and creativity in their vision of Dr. Weston's legacy. In addition all pianists mentioned are exceptionally creative and humble. I feel quite blessed they were available and they exuded so much love and joy. Honoring Melba Liston as well was also a priority.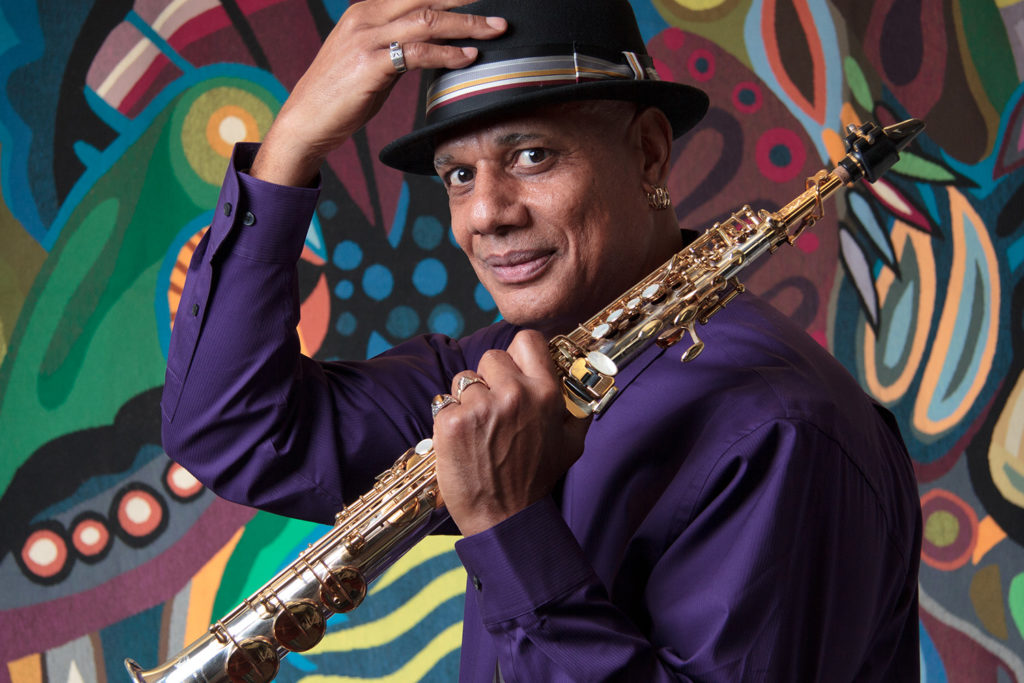 How ultimately would you like the public to view the legacy of Randy Weston, and your place in that legacy?
I can only hope that the public will remember Dr. Randy Weston as a pioneer in Jazz, infusing the sounds of Africa in his music. In addition he was a warrior for the elevation of the African aesthetic via its music, art, culture, and philosophy. His yearning to uplift the condition and status of the African-American during a strident era of adversity should always be acknowledged and appreciated. I feel immensely fortunate to have been an integral part of his journey and his wisdom has propelled me to continue the rhythms of life through music. It is also my intense pleasure to pass along this dynamic legacy to the next generation. Lastly I would like for future generations to know that Baba Randy was extremely kind and generous. He exuded altruism in all situations and the "Chief" had the utmost respect for his band members and all artists. He regularly paid his band way above union scale. He exemplified class and dignity. I will strive to continue on this path and I give thanks for all of his guidance.