As part of the jazz oral history project I embarked upon in 2010, along with Jennifer Scott and Kaitlyn Greenidge of the Brooklyn-based Weeksville Heritage Center, we interviewed numerous jazz and jazz-connected Brookynites, focusing on those who had been active in Central Brooklyn, ranging from Jitu Weusi and Mensah Wali of the now-legendary movement that gave birth to The East jazz & cultural center, to political activists Viola Plummer and Roger Wareham, whose coalition eventually begat one of Brooklyn's most consistent grassroots jazz spots Sista's Place, to such scene makers as photographer Jimmy Morton and hip hop pioneer Fab 5 Freddy. Included also were a number of great activist musicians, including bassist-educator Reggie Workman, who has a significant Central Brooklyn history. On October 8, 2010 we interviewed Reggie Workman at his office at The New School, where he has taught for many years.
Our primary focus was Reggie Workman's history at The New Muse, a grassroots teaching institution akin to what Jitu Weusi established with The East. Knowing his deep history in the music, and after hearing his responses to my questions, after we concluded I asked Reggie if he had ever been nominated for a NEA Jazz Masters award. In his typical humility he told me he didn't think so in a manner that suggested that (A) he wasn't sure if he even qualified for such an honor, and (B) that he would certainly welcome such a designation. Well at long last that happened, and Reggie Workman has happily been named to the 2020 class of NEA Jazz Masters, he will be recognized at the annual NEAJM honors concert next spring at SF Jazz. In recognition of that well-deserved designation, here's our interview with Reggie Workman.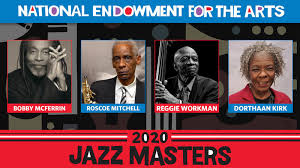 Willard Jenkins: You're from Philadelphia; when did you first come to New York?
Reggie Workman: Right out of high school, 1957-58.
Did you come to Brooklyn first?
No, you came to Brooklyn because there was a lot of music going on there, and if you wanted to hear so and so you had to come to Brooklyn. When I first came to New York my first living area was up around where the Harlem School of the Arts is now on St. Nicholas Place because I was working with [vocalist-pianist] Freddy Cole and Freddy Cole had Walter and Louis Williams with him and they were around St. Nicholas Place. They were the ones who kind of took me in and made sure I didn't go off on the wrong path; they were like my family, so they adopted me and I lived up that way at first.
Then after that as you grow when you first come to New York you go to the areas that suit your purpose. So from there I went to various hotels – the Flanders and all of those kinds of places that all of the musicians have to go to, where the buses used to pull in with Illinois Jacquet's band, Dizzy's band, etc. with kitchenettes. And Skinny Bergen would cook food for everybody and that was the way that it was. The Flanders Hotel had kitchenettes for $47 dollars a week at that time, so naturally that was a place where we all gravitated. From there we would go to Brooklyn or wherever we could find a room that we could afford. So that's the way it was back in those days.
Was there a certain point at which you moved to Brooklyn?
Yeah, I lived in Brooklyn for a while – at the front end of my being in New York, around Nostrand and Bedford but it was a small street that I forget the name of right now. So I stayed there for a while – we're talking about maybe around '59.
So that's close to the time when you were playing with John Coltrane?
No, I didn't get to Trane until 1960; of course I knew Trane from high school because we grew up in the same area, his mother's pad was right near and we used to cross paths a lot.
So how long did you live in Brooklyn?
When I came back the second time… there was a guy who had a dynamite place on Dean St. who used to work with me on my bass and he said 'I'm moving Reggie, so you've got to take this apartment, so I took that place until around 1972.
When you first got to New York you mentioned the fact that Brooklyn was a place you came for music. What was the scene like in Brooklyn then?
You had the Blue Coronet, the Baby Grand, and the Continental different clubs, which I won't try to name all of them; there was live music every night somewhere in Brooklyn, and of course on the weekends. There was one club where the poets and the comedy people went, there was one club where the organ trios went, there was the Blue Coronet where they had the jazz and all the popular groups, there was another club where neighborhood groups worked; so it was a real viable music scene where you could go from one place to the other and not even have to go to New York [Manhattan] to hear the music.
So this scene was pretty much in Bed-Stuy then?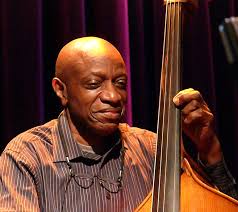 Mostly Bed-Stuy. Of course there on the periphery [of Bed-Stuy] you had all the places where the cabarets were, where the dancers and the parties and things happened, that was all music too. What I'd like to emphasize here is that almost everything that happened had some live music involved with it. If it was a wedding… live music; a party… live music; a cabaret… live music; a parade… live music; a celebration of your daughter or son graduating from high school… live music. Those were the days where it was very apparent that the music was a part of our life's fiber and of course that all the musicians rolled up their sleeves and made sure that they honed their craft in that arena made it work.
Some of the things you just said could lead one to believe that during a certain point – we're talking the late '50s and the 60s – its more apparent that there was a livelier live jazz music scene in Brooklyn than there even was in Manhattan.
I'm not suggesting that. You hear the brothers talking about the Republic of Brooklyn – a certain kind of architecture, a certain kind of rent level, and a certain kind of scene… There are a lot of people who were in Brooklyn during the time I came here [who would say] 'well I've never been to New York before…' There were people who were so satisfied with being in Brooklyn that they wouldn't even come to New York because they didn't have to, everything they needed was [in Brooklyn], you name it, it was there for them. New York was another life style, different kind of people, different neighborhoods and everything. All the boroughs have their own character.
It's interesting that you characterize Brooklyn on one hand and New York on the other hand, because to those of us who don't live here, and who have never lived here it's all just New York. But you're saying that people would refer to Manhattan as New York, and Brooklyn as Brooklyn.
That's very true. Even with the students around [the New School] here, they come here for awhile and we put them in the dormitories here in New York and they experience that and go through that for a time then they realize that there's another area over in Brooklyn where they can get cheaper rent, more space, the feeling is different, they can move close to Prospect Park vis a vis Central Park if you try to move close to, you go straight to the poor house. You can find music in Brooklyn, clubs where you can work as well as the clubs on the Lower East Side. Still [Brooklyn] is the same today, but not as viable as it was years ago.
What you characterize as "years ago", essentially the 1960s or so, you're talking about a black scene right?
That's me, naturally I'm talking about a black scene but I would like not to have a parameter like that.
Understood, but it strikes me that as far as African Americans were concerned at the time you could pretty much find in Brooklyn what you could find in Harlem.
That's quite true… almost. What was happening in New York was a different scene, there was no Metropole in Brooklyn, where you might go see John Bubbles; there was no Local 802 in Brooklyn… there was no Beefsteak Charlies in Brooklyn, where all the cats hung out looking for a gig, there was no building in Brooklyn where all the publishing houses were, there was no Turf Cheesecake in Brooklyn – eventually there was one on Flatbush Avenue that became known for its cheesecake… So each place had their differences. There was no Bottle & Cork where you might go hear John Coltrane in New York, but there was in Queens. Every borough had something different to offer and of course in what people call "Stagnant Island", in Staten Island you even had something different, there was stuff going on over there that you wouldn't find in other places.
Why do you think that amongst those who grew up in Brooklyn and lived there as adults as well, why do you think there's this fierce pride?
I like to call it welcome pride, and I know why you call it fierce because its really part of our survival syndrome. We have a group of people who migrated – you know about the situation with the Navy Yard and immigration and all that – you had people from different islands that migrated to Brooklyn because of the situation with the boats that happened at the Navy Yard and so forth. You had a situation where the board of the directors at the Muse were doing a study and Jitu Weusi and the East started the festival, I became pretty close to the brothers at the East. That was something that was the result of a community that was in touch with one another. Albert Shanker was trying to get [teachers] fired, and Al Vann was trying to get into office at that time and all that motion was happening in Brooklyn. And when Jitu started the East, the conservatory for young people's alternative education that became something that folks from different islands and different cultures could relate to and it grew and grew. We said we needed to do this at the New Muse. When I came from Queens and moved into Brooklyn I naturally was in tune with that sort of thing and eventually I took Chris White's place at the New Muse and Bill Barron was in charge. We looked at what the East was doing and it was like a template for me, it was very important. Now it has grown into the Central Brooklyn Jazz Consortium, but still the same direction, the same motivations, same inspirations.
When they hired me [at Muse] I immediately tuned into what Jitu and the East were doing and said we needed to do that at the Muse. That was the reason we started our festival. We called it the Crow's Hill Festival. Why the Crow's Hill Festival? Because most people when you say Crow's Hill think 'those niggers…'? No, we're not saying that about Crow's Hill. Its Crow's Hill because the black people who were working for the wealthier white people up on the hill – it was all farmland many years ago – those people became independent and became property owners as vis a vis the Harlem community and the Dutch.
So you had the Crow's Hill Music Festival that grew up out of the East annual festival. So every year we would have a festival and on the heels of the East festival we would go right into the Crow's Hill Festival and use some of their carpenters to help us build the stage and they'd teach us how to do the sound and whatever we couldn't do ourselves, so we had a community that was constantly going on and the board of directors was busy raising more money, running back and forth to Albany to get money for this institution and we had enough resource to put us into the political arena. We had somebody who supported us at the New York State Council on the Arts, and we were able to do more things because of this viable black community that's happening in Brooklyn.
Tell us about the Muse, when it began, what was its mission and the motivation behind how it came to be.
There was a place, which has been rebuilt called the Brooklyn Children's Museum. The Brooklyn Children's Museum moved into this auto showroom on Bedford and Eastern Parkway and that became their temporary home. Slowly the musicians began to become involved with the Brooklyn Children's Museum. Then the construction was completed and it left a big place they had taken over on Bedford. The powers that be moved in there and said 'OK, we can start an African American cultural center here [in the now-vacated auto showroom-former home of the Brooklyn Children's Museum]. That group of people moved into that former home of the Brooklyn Children's Museum, taking advantage of the menagerie. A young man that was running the planetarium stayed with us so therefore we had a planetarium as a part of the other program.
The artistic part of [the Muse] developed step-by-step, so they solicited for funds and I think that Bill Barron and Chris White, Rudy Collins and folks like that approached the board and said 'we would like to start a music program here' and began to put together the same type of thing. There were various factions in the area. Don't forget what I said about folks from the islands. The Haitians for example were some of the strongest factions in the area; they're in very close contact with one another, they have a particular cultural aspect – the music is unique – so that was incorporated into the growth of the school, different things that were needed for the children to continue [studying] their culture. If you don't work on it yourself you'll be talking about HIStory, not YOUR story.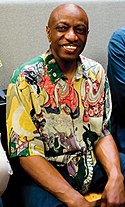 So the New Muse was really important for the artistic part as well as the other part that the kids would not have an opportunity to experience [for themselves], it's still there for them. It was called the New Muse Community Museum.
Why was it called the New Muse?
Probably because there was a Muse at one time, so in order to make it in tune with the mission they called it the New Muse Community Museum, and the word community was really important because it was a focal point for the politicians and the community to really get in touch with all the parents who were around in this neighborhood; it went all the way over into Crown Heights, with a great and strong African American population.
So I was out there with my bullhorn not only getting support for whatever politician but also getting them to come to our weekly concerts, because you didn't have the same kind of media that you might have in Manhattan. Seems like because of my family I've always been involved with the arts, trying to give something back, to try to make sure that we are in touch with the new people coming up. And that's one of the things we're doing with the African American Legacy Project.
In what capacity did you become part of the New Muse?
At first I was just teaching bass and substituting for Chris White when he couldn't make it, when he'd be out with Nina Simone or somebody. Then I began to start dealing with more assignments to work there as time went on. When Bill Barron got sick and died from a heart attack, they needed a director for the music department and they asked me to do it, so I got more involved.
When you say more involved, in addition to teaching what else were you doing there?
I was going out and meeting with factions who might bring some energy to the Muse. I was involved with the politicians getting people to support us, and a lot of hands-on, bootstrap type stuff; working to build this institution to what it could be.
I've talked with some young musicians who were involved with the Muse and they have pointed to you as one of the key people there.
I was one of those people, but not by myself. When I did get really involved like that I began to pull in everybody I could. And again I always go back to fact that Alex Etienne, a politically active Haitian trumpet player – he's still around, he's been sickly lately but whenever I'm working at Sista's Place Alex is going to be there. He was the one who went into the Haitian community and made sure that those youngsters got involved with that music program [at the New Muse].
We were trying to reach out to everybody, not just those who could afford it, and we put our prices down to a place where folks could reach it – where they couldn't afford not to come.
In addition to the music classes, what kind of other offerings did the New Muse have?
It had art classes, photography classes, astronomy classes from the young brother who ran the planetarium, we had zoology, dance classes, bi-weekly concerts, writing classes. There was quite a bit of education going on and that was after-school education.
How old were the students?
The students were from 7-70 so there was no bar line; we had some folks with canes struggling up there to take their [music] theory lessons, piano lessons or whatever the case may be, and they were really serious. We had 7 year olds who were dropped off by their parents and their parents knew it wasn't just a baby-sitting situation. It was real learning. We started at 3:30 after school and we went until around 9:30pm. I left the New Muse around 1984.
During the time you were at the New Muse were you performing around Brooklyn a lot?
Somewhat, but not a lot. During the era of the 60s things were happening, but that was why the East took off because things were tapering off [in Brooklyn in the 70s]. I won't say the New Muse preceded the East, but its physical building may have been more luminous, [it preceded] 10 Claver Place [the East's building]. When they moved into the Armory folks began to say 'hey, these folks are serious', and then the festival began to grow and there was action going on and people began to see the folks who were dealing with the East. The New Muse was still going on, the building was happening and they began to put money into it as a banner, but the banner became more diverse when Claver Place began to develop their thing, even though the New Muse was still happening. I don't want to say either/or because both [the New Muse and the East] were important at the time.
There seems to have been a sense of cooperation between the two places because even though the New Muse preceded the East you did suggest that the New Muse learned a few things from the East.
Definitely. I used to go to the East to see a lot of music. I was inspired and encouraged to do more after having that experience, and that experience came as a result of being invited to the East on those dates when they had those special concerts. When performance was incorporated into the New Muse I never forgot all that stuff, all the things they were doing to grow, the techniques they had to present their concerts. So I said I was going to try to do all I could somewhat the same thing at the New Muse as much as I can. When I was incorporated into the New Muse I began to see all of the valuable parts of that and where I needed to expend my energy, and I also began to see that some of it was good and some not, so I navigated myself through the waters and did what I could during the time I was there.
You mentioned that one of the things the New Muse learned from the East was the benefits of having a festival. How did that Crow's Hill Festival come about?
It started with just a bandstand outdoors and a block party, and my vision was much bigger, having seen what the East did with their festival, which also started as a block party. So I would talk to my superiors about expanding [Crow's Hill], so instead of being right outside Bedford Avenue on the corner of Lincoln Place, it grew all the way down to Franklin. We solicited the cooperation of the neighbors for the music and the police department for the permits, we put a big banner across the street. We had a center stage, a stage down the block, etc. The Crow's Hill Festival lasted about 10 years [until the demise of the New Muse]. The institution [New Muse] went out.
I went on the road with Max Roach, and when we left everything was intact. When I came back people had been paid to break into the building [the New Muse], because part of our mission was to collect names of citizens for the political people to vote and go to Albany to try to raise money to try to keep the institution alive. So I guess somebody who didn't want us there… the factions began to fight one another. They destroyed the building, destroyed a lot of the records, a lot of the music, trashed the planetarium – just broke into the building and destroyed everything, somewhere around '83-'84.
During the time that you were at the New Muse, what was your performing career like?
Good question, because when you have jobs like this [his current employment at The New School] and like that you cannot go out and perform as much as you would like to. I've got tenure here [The New School] now, therefore I'm able to go out and do some things, but the career of anybody who takes on a job in academia is compromised because you have to be there, you can't have students and not be there for them when the time comes. So you have to submit to sacrificing some of your performing career. But always my situation was like, I am a performer and musician first; education is just as important but that's not what I do, my life has been about performing and I have to continue to do that. So I've always tried to keep somewhat of a balance. There was a lot of pressure to keep the scales balanced.
Have you found teaching to be an enriching experience?
Yeah, I always say teaching reverses itself – you get as much out of teaching and out of the students who are coming up with new ideas as they do.
In addition to your days at the New Muse, what other memories do you have of your time in Brooklyn?
When I would have a job with Gigi Gryce at the Continental, I would be able to hang out at Fulton and Nostrand where the clubs were – between Bedford and Fulton on Nostrand I would be able to go from club to club to meet different people. I would be able to go from house to house for lessons or whatever I could do to get in tune with the music of the time, a little cheaper than I could live in New York City; just a general feeling [in Brooklyn] of community that was closer to home for me. Knowing what I learned then, New York is the place where your career is going to stem from because they don't get out into the boroughs until they find out what they're going to do and where the work is, how they're going to make their work happen, how they're going to do their networking. Then people stretch out after they get to that, in recognition of some people who just start out in Brooklyn and they just reach over into New York and say 'ok, I'll deal with that too…' That's a whole lot of people. You can't come to New York and not experience Brooklyn. I was shocked at people in New York who feel like they just don't need to come to Brooklyn.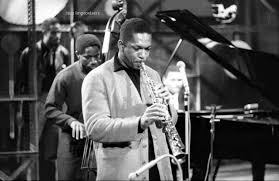 Reggie Workman on bass with John Coltrane.
What year did you start working with Coltrane? Did you have any experiences playing with him in Brooklyn?
At the beginning of 1960. No, I'm sure that he played in Brooklyn, but I never played with him there. I played with John Coltrane back in Philadelphia, before I left home. We used to have sessions at my home and one time I looked up and there was John Coltrane unpacking his horn. If he knew there was something happening, he would be there. He walked from South Philadelphia with his sneakers on and his horn over his shoulder, all the way up to Germantown when he heard that there was going to be a session at the house. That's the kind of inspiration people would have when they knew that there was some music going on.