Umbria Jazz Winter 2018
Perched on the flat summit of a large butte composed largely of rock formed by volcanic ash sits the lovely town of Orvieto, located in the southwestern side of the Italian Umbria region. Normally home to roughly 21,000 inhabitants, for the last 26 years, the week after Christmas Orvieto becomes Italy's ground zero for great jazz, home to Umbria Jazz's Winter edition.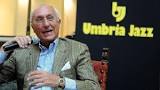 CARLO PAGNOTTA
In 1973 when Carlo Pagnotta, the enduring force behind Umbria Jazz, and Adriano Mazzoletti founded Umbria Jazz, the festival started in the Umbrian town of Todi, eventually settling in Perugia, the picturesque hilltop capital of the Umbria region. Pagnotta and company proved quite prescient in naming the festival for its home region as it led to a natural transition to the winter edition in Orvieto. As journalist and festival official Enzo Capua told us one evening over dinner, the success of Umbria Jazz has led to other Umbrian towns clamoring for their own Umbria Jazz editions.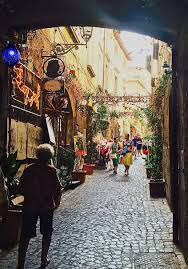 THE STREETS OF ORVIETO ARE ALIVE DURING UMBRIA JAZZ WINTER
Further, Capua authoritatively informed that Umbria Jazz – like many jazz festivals across the globe – has served as a significant economic development tool for Orvieto. It seems that prior to the festival growing it's winter event the city had actually experienced dormant hotels and a generally sleepy business atmosphere during typical post-Christmas weeks. That's certainly not the case these days as Umbria Jazz Winter transforms Orvieto into a vibrant, carnivalesque environment, its main streets and byways bustling with enticing retail action and a happy holidays mode in its many cafes and restaurants. That's especially the case in the lively plaza surrounding the city's most imposing architectural wonder, the beautiful Duomo, Orvieto Cathedral, which is reputedly the country's second only in size to St. Peters in Rome.
The music of this 2018/19 edition of Umbria Jazz Winter (the festival closes on New Year's Day) was yet another apt reflection of the International Language of Jazz. Jazz history tells us that this uniquely American art form has morphed into a true world music as jazz education has expanded globally. Practically every major country in the world now boasts its own community of impressive jazz musicians and Italy is certainly a contender.
As one who endeavors to assiduously avoid playing what I refer to as the lineup game – as in 'let's check the lineup before we commit to attend the [insert name here] Jazz Festival', while planning this Orvieto trip, I paid little attention to who was actually playing. Past experiences have developed a high level of trust in the programming instincts and acumen of such first class jazz festival curators as Umbria Jazz's Carlo Pagnotta, making the lineup game an unnecessary exercise. One goes to such festivals armed with a sense of trust in their respective curatorial instincts, assured that whatever plays those stages will be a rewarding mix of master and emerging level talent.
Arriving in Orvieto sans more than a cursory advance sense of the Umbria Jazz Winter #26 lineup, notice was quickly taken of the robust prevalence of Italian jazz artists on the bill for the next five days & nights. After the 9-hour flight from JFK to Rome, and a pleasant 90-minute drive to Orvieto, settling down in the Grand Hotel Italia to check the festival schedule it quickly occurred that this would be one European jazz festival experience that leaned heavily on its own country's impressive community of jazz musicians and bands for the bulk of its lineup. And what's the sense in traveling 10+ hours to a beautiful country just to see a succession of American artists? Of course there's always the food and bonhomie of such a welcoming country as Italy, with it's renowned cuisine traditions and inviting retail; on the other hand, take a simple vacation to enjoy those pleasures. When you travel that distance for a jazz festival, experiencing great music is goal #1.
That first evening began with traversing Orvieto's central byway for the first of each day's Street Parades featuring the raucous band Funk Off, reprising its daily role in past Umbria Jazz summer festivals in Perugia. Strolling through town, destination Teatro Mancinelli, clarified that on this Italian holiday week, one could scarcely do better than this lovely town, with its hilly vistas and rolling green valleys. That evening's doublebill featured the intensely interactive partnership of the animated trumpeter Paolo Fresu, accordion master Richard Galliano, and the Swedish pianist Jan Lundgren. The brooding presence of one of Italy's most renowned jazz masters, the trumpeter Enrico Rava, in a quartet performance with bassist Giovanni Tommaso, pianist Danilo Rea, and drummer Roberto Gatto followed them. The opening trio proved the most compelling of this bill, with particularly Fresu and Galliano communicating brilliantly, with a keen sense of humor.
Saturday afternoon commenced with a noontime performance at the museum space Museo Emilio Greco by one of the festival's standout performers, the Cinema Italia project led by the authoritative alto saxophonist Rosario Giuliani. The presence of another accordionist, Luciano Biondini greatly enhanced their program of music by the distinctive Italian film composer Nino Rota, best known in this country for scoring The Godfather and Godfather 2, and for scoring Fellini films. Drummer Michele Rabbia was quite the animated presence, what with his use of live electronics, and assorted sound enhancements, such as engaging a small cymbal to rake across the drumheads with requisite madcap. Rosario is above all an eminent melodist, which lent itself beautifully to this interpretation of Rota's scores.
Later that evening was the first of several of the 26th annual festival's signature offerings at Teatro Mancinelli, "Bud Powell In the 21st Century, a program that commissioned the pianist Ethan Iverson, late of the Bad Plus, to re-imagine the music of Bud for the Umbria Jazz Orchestra. Opening the program was slated to be the bebop survivor NEA Jazz Master Barry Harris, in trio with bassist Ben Street and the great drummer Lewis Nash. However a Harris' health challenge curbed his Orvieto experience and Iverson was thrust into double duty. For his impromptu set with Street, with whom the pianist has plenty of experience from their trio with drummer Albert "Tootie" Heath and his first time hook-up with Nash, Iverson chose the music of Thelonious Monk based upon his close kinship with Powell. Nash, coming from the same school of high-class drumming good taste as Heath, proved once again to be a most agreeable collaborator in this setting.


ETHAN IVERSON
Iverson's Bud Powell program, at the helm of the full big band instrumentation of the Umbria Jazz Orchestra, Nash and Street in the rhythm section, commenced with an Iverson chart of Bud's composition "Celia." Sandwiched between big band Bud charts, the scene next morphed into a most agreeable quintet setting, with Umbria Jazz Orchestra guests Ingrid Jensen on trumpet, and Dayna Stephens on tenor sax smartly reprising three pieces from Bud's classic quintet date "The Amazing Bud Powell Vol.1," which had featured Sonny Rollins and Fats Navarro on the frontline. The band closed with "Un Poco Loco," each horn section member cleverly trading a chorus each, then coming together for spirited collective improvisations. Iverson and the band encored with the pianist's own "Paradise Mobile," which he explained would be played in the spirit of Duke Ellington's counterpoint, skillfully using the chordal platform of "All The Things You Are".
This proved to be the first of three sightings of this program on succeeding nights, each revealing it's own charms. The next two encounters featured the opulent swing of one of Italy's enduring masters, pianist Dado Moroni for the opening set trio, more than ably sitting in for the lamented absence of Barry Harris with Nash and Street. Later that week a sumptuous dinner in a delightful cavern restaurant with Iverson, Street, Nash and Maroni's family introduced us to the pianist's lively red headed son Oscar (named for Peterson) in all his 4-year old glory, and Dado's charming wife Ada. Maroni's presence was yet more positive testimony coming from the robust community of Italy's jazz musicians.
New Year's Day we closed our Orvieto experience with a second helping of the delicious duo of trumpeter Fabrizio Bosso and pianist Julian Oliver Mazzariello. Bosso is an artist of prodigious chops and vivid imagination, a veritable supernova who cleverly manipulates various mutes and live electronics to further enliven his resourceful approach. The duo played "Misty" like a cashmere scarf on a blustery day. Bosso clearly has a trumpet virtuosity that exhibits an attractive audacity leavened with warm humility, clearly coming out of a successful post-Wynton bag.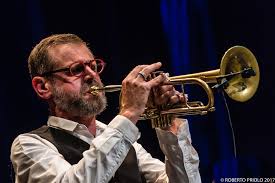 One of the charms of Umbria Jazz Winter was the opportunity to catch each of the above acts more than once. And in the jazz realm that certainly invites opportunities to experience the sound of surprise as each repeat performance did indeed turn out to be different. Fabrizio Bosso, who has clearly emerged as one of the world's great jazz trumpeters, in his second duo performance with the wonderfully skilled Mazzariello, elected to close the set with some New Orleans flavored audacity – strolling the hall while blowing a beautiful "In a Sentimental Mood" for an enraptured audience.
But the hardest working men in Orvieto were undoubtedly the rich baritone voice and storytelling élan of Allan Harris, and the diminutive soul man Wee Willie Walker, who hit with the volatile The Anthony Paule Soul Orchestra. Walker performed daily, including dinner sets at the gastronomic delight Ristorante Al San Francesco (where musicians, journalists and festival guests dined upstairs daily to their collective delight for lunch & dinner). Meanwhile Harris was all over the place, dipping liberally into the American songbook, including Nat Cole nods, varying his sets with selections from his riveting saga of Blue, a composite character of Black cowboy/Buffalo Soldier legend. Of particular note in Allan Harris' crew was the drummer Shirazette Tinin, particularly when she sat down to the cojone. I can't think of a better place to experience off-season jazz festival ambiance than Orvieto for Umbria Jazz Winter.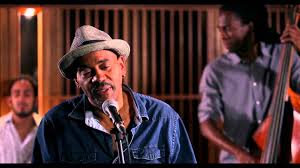 ALLAN HARRIS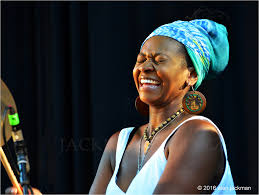 SHIRAZETTE TININ