Just returning from the annual NYC January performing arts conference zone, in my case that would be primarily Jazz Congress and secondarily the huge Association of Performing Arts Professionals conferences, inevitably leads to thoughts and meditations on the ongoing evolution of the jazz presenter. The current core of that sector is the jazz festival presenter, of which this writer is a proud member. Thinking back to earlier times when jazz presentation was largely confined to the club scene, brings to mind those independent operators who strove to present their own sense of the music on those smaller stages. One such indy stalwart is my old friend and colleague Jim Harrison.
Besides presenting jazz in the NYC club scene, Jim Harrison also once published one of the few African American oriented jazz periodicals, The Jazz Spotlite News. That particular vehicle provided me with byline opportunities when few others would, granting invaluable opportunities to hone my craft. You'll read more about Jim Harrison's publishing side, and the odyssey of the Jazz Spotlite News in the forthcoming book Ain't But a Few of Us. Here another contributor to the Ain't But a Few of Us series dialogues – which first appeared in the Independent Ear in 2010 (check our Archives section) – Amsterdam News jazz writer Ron Scott, a periodic Independent Ear contributor, writes about Jim Harrison.
THE QUIET JAZZ WARRIOR
By Ron Scott


Jim Harrison (middle) flanked by vocalist George V. Johnson Jr. and trumpeter Charles Tolliver
He is the unassuming gentleman who is greeted warmly by all the musicians, including such greats as Jimmy Heath, Barry Harris, Jimmy Owens, Rene McLean and Roy Haynes. Those on the jazz landscape periphery only know him as that cool guy always on the scene, who everybody seems to know. But what exactly does Jim Harrison do, you might ask?
Jim Harrison is a jazz promoter, extraordinaire. He should be instructing a course in jazz promotion: Its' history and significance. Even technology with its e-mail, speed dial, and iPhones has not depreciated the importance of Harrison's contributions or discouraged musicians who seek him out for his crucial promotion savvy. "My clients also use e-mail blasts and we have a mailing list," said Harrison.
Back in the day before computers and smart phones Harrison's job was to get the word out. "We got to people on the streets with flyers, and posters," said Harrison "There were spots in Harlem where I left flyers like the Lenox Terrace, Showmans' Cafe, restaurants, community centers, Penn Station and Grand Central Station."
Currently, Harrison has a choice client list that includes jazz vocalist Antoinette Montague, pianist Lisle Atkinson, and Jazzmobile. "Over the years I've had an extensive client list but at 86 years old, I have cut back the fast-paced life for something a little more manageable," laughed Harrison.
At the height of the Black Power movement in Harlem, the pianist, composer, and educator Dr. Billy Taylor co-founded Jazzmobile in 1965, to bring live jazz to the city's five boroughs. The person he hired to promote this fledgling project was Harrison. Today Harrison is still a consultant for Jazzmobile's summer concerts. "Robin Bell-Stevens, the director of Jazzmobile, has been very supportive. She's the best of the organizations' directors and I worked with all of them," says Harrison.
A native of Harlem, Harrison started a fan club for Jackie McLean in 1961. McLean had been stripped of his cabaret card and couldn't perform in New York clubs. Harrison's fan club held "listening parties" with McLean.
He decided to promote McLean in non-traditional jazz settings where a cabaret card was not needed, so he promoted a McLean concert at Judson Hall (originally across the street from Carnegie Hall). After being terminated from his job in Queens (1962), Harrison realized promotion was his ideal job and moved back to Manhattan to become a full-time promoter.
He later promoted McLean's concert at Town Hall in 1963 and continued working with him until 1965. McLean hooked Harrison up with Slug's, the legendary club formerly in the East Village, where he was the promoter from 1965-1972. He also promoted concerts for Lee Morgan in Staten Island and the Bronx before the trumpeter was fatally shot at Slugs in 1972.
Harrison did promotions for the late trombonist Benny Powell in 1963. "Benny was a big help to me," said Harrison. "I wanted to get a full time job but Benny said, we need you out here." For Powell's Ben G Enterprises Harrison also did concert productions at Club Ruby in Queens. "Jim has done a lot for musicians," said Powell. He's the greatest underground publicist I've ever met. He would go out at night and put up posters. If you stood still long enough, he would put a poster on your back. He was very effective."
Maxine Gordon and Hattie Gossett's Ms. Management hired Harrison, and he was the promoter of record for noted jazz clubs Boomer's and Sweet Basil's (1976-1981). He became a publisher (1979-1982) with his jazz publication Jazz Spotlight News that included listings, reviews and features.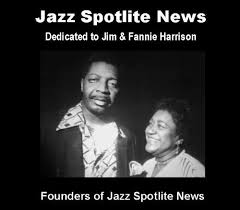 "Black writers weren't getting published in DownBeat Magazine," the jazz magazine of record at the time, said Harrison. "After reading a concert review by the New York Times and other dailies it was the great review by John Sanders, jazz writer for the Amsterdam News, that made it clear we needed black writers to have a voice in jazz, our music, so I started Jazz Spotlight News." The paper started with 12 pages and before it closed boasted 144 pages and 60 black freelance writers. The closest resemblance to Spotlight News is today's Hot House and AllAboutJazz.
Harrison ran an ad in the paper thanking his wife Fannie for her support; paraphrased it read, "Thank you Fannie Harrison for allowing me to blow the rent money, food money and everything to allow me to become a jazz promoter." Harrison was married to Fannie for 44 years before she died in 2006. She worked at the door for his many jazz events and helped type up the flyers. He didn't blow all the money because he managed to keep her happy and raise two children. "She was an incredible woman," he said.
Harrison stopped publishing the paper when he joined Barry Harris and Larry Ridley at the Jazz Cultural Theater (1982-1987). "That was a good experience but it was hard work," said Harrison.
He also worked with Ridley at Rutgers University in New Brunswick, N.J. promoting concerts, and continues to work on the bassist's projects at the Schomburg Center. "Jim has been like a big brother to me," said Ridley. "I can't think of anyone that has been more dedicated to jazz who's not a musician."
These days Jim Harrison lives with his daughter and grandchildren in Brooklyn but make no mistake, he is still a low-key gentleman, who is greeted by all the great jazz musicians and those in the know. He is our elder living jazz legend.
The great promoter has worked with jazz royalty such as Kenny Durham, Elmo Hope, Eddie Jefferson, Milt Jackson, and Walter Davis, Jr. among others. "It's been a very interesting life and delightful journey," says Harrison.