Amsterdam News jazz journalist Ron Scott had the enviable assignment of covering the 45th anniversary edition of Umbria Jazz last summer. Here are Ron's impressions of one of the world's great festivals.
UMBRIA JAZZ WITH QUINCY' & REVEWS
BY Ron Scott
Most recently, Umbria Jazz 18 celebrated its 45th anniversary as one of the most popular jazz festivals in the world. Aside from its wealth of participating musicians the picturesque Perugia is the capital city of both the region of Umbria in central Italy, crossed by the river Tiber, and the province of Perugia (that dates back to 310 B.C.).
It covers a high hilltop 1,617 ft. ((493 m) and part of the valleys around the area. The top of the hill with its cobblestone streets (watch your step when walking or dancing) is where the action takes on the piazza in the midst of a historical museum and churches with its string of cafes serving wonderful food, a host of delicious gelato shops, local crafts people; and street musicians from dancers, to trios, puppeteers and jazz singers.
The music venues were located in this joyful madness including the de Cesarino, where the nightly jam sessions played on until after 4am each night (causing me to miss that free breakfast). However, the main outdoor arena Santa Giuliana is located at the bottom of the hill.
This is where the 10-day festival opened celebrating the 85 Birthday of the impresario Quincy Jones. His special guests and friends, who have worked with him in the past included; the distinct voices of Dee Dee Bridgewater, Patti Austin, Noa with Gil Dor (one of Jones' favorite performers of Brazilian music), Take 6, the Brazilian singer/composer Ivan Lins. From Cuba, the pianist Alfredo Rodriguez and percussionist Pedrito Martinez. Italy's most prominent trumpeter and composer Paolo Fresu and was also a guest. The Umbria Jazz Orchestra conducted by John Clayton and Jones with bass guitarist Nathan East and the always vibrant drummer Harvey Mason played from the original arrangements of Jones.
The orchestra opened with Jones' theme song from the popular television series "Sanford and Son" followed by "Ironside." Jones' music bought a new hipness to television something that hadn't existed since the theme to the "Peter Gunn series (1950s).
The acappella sextet Take 6 performed "I Can't Stop Loving You," a reflection of Jones' friendship with Ray Charles. Ivan Lins swung the Bossa Nova and Gil Dor more than represented that Brazilian flavor. "Brazilian music is my favorite it has a combination of Cuban, Brazilian and African roots," said Jones. He sat on stage for the celebration answering questions on his various musical stages and introducing his guests.
Jones noted Erroll Garner gave him the composition "Misty" at the airport in Paris in 1958. When he gave it to Sarah Vaughan to perform it was the song's debut outing. He introduced his Goddaughter Patti Austin, who sang "Misty" but not before her reputed "Razzmatazz" from Jones' album The Dude which put the audience in joyful bliss. Her rendition of "Misty" made it evident why she has never been placed in one of those confining genre categories. She swings jazz from up-tempo to ballads with the same essence as a pop or R&B tune.
Jones' big band connection with Ella Fitzgerald and the Count Basie Orchestra was reflected in Dee Dee Bridgewater's rendition of "Honey Suckle Rose," singing and scatting high as the moon in the sky.
Just when it seemed the best of the Cuban pianists had already been seen Jones introduces Alfredo Rodriguez, a young man he befriended and assisted in getting him to the United States some years ago. He played the popular hit "Manteca" as he ran through classical licks and Cuban-Latin jazz flavors along with his countryman Pedrito Martinez, a fine young conguero, who is forging his own path acknowledging the ground work of the great Candido.
Jones spoke briefly about his active involvement with Martin Luther King, Jr., Nelson Mandela and his fifteen minutes with Pope Paul III. Bridgewater, Austin and Take 6 went into R&B mode with a nod to Marin Gaye's "What's Going On," and "Moody's Mood for Love" with Austin and Take 6's Mark Kibble singing lead followed with the party song from the Jackson-Jones collaboration "Wanna Be Startin' Somethin'." Music was also dedicated to his many film scores and love of Italian films inspired by one of Jones' mentor Joseph Marconi.
A special moment came that evening when Jones was presented with the first "Umbria Jazz Award." Jones thanked the festival officials and discussed his long love affair with Italy. All the special guests and orchestra came together on "Let the Good Times Roll," conducted by Jones. "Performing with these great musicians in celebration of Quincy was surreal," said Mark kibble of Take 6. Some felt the show was a little long considering it started at 9pm and ended at 1am.
This was a celebration for Quincy Delight Jones born March 14, 1933. Within in his six-decade career his roles encompass; a composer, arranger, conductor, instrumentalist, record company executive, magazine founder, multi-media entrepreneur, humanitarian, investor, and record, film, and TV producer. He has a record 79 Grammy Award nominations, and 27 Grammys, including a Grammy Legend Award in 1991.
Ideally, a celebration or tribute to the genius of Jones would have to be a recorded radio or television (PBS) series that would run-over a month duration, at best.
At the after party Jones joined friends like Take 6 and Patti Austin. At this point it was 3am and he ws still hanging tough. I asked him what does this night mean to you. His response, "It makes my soul smile."
Over the days that followed one of my favorite performers was the R&B group the New Orleans Mystics. One morning at breakfast one of the group's co-founders Michael "Soul Man" Baptiste humbly mentioned to me they were a group doing music from the 1960s, the Temptations and Motown sound. The description was more than an understatement.
The Mystics hit the stage in that Temptations, Four Tops, Smokey Robinson and the Miracles gear, the red suits with sequins, or yellow sequined sports jackets with tan pants and the boots. Hey, having seen all those groups at the Apollo Theater in Harlem, I had to stand right at the stage and pay attention to make sure they weren't perpetrating.
They had me singing the words to hits like "Ain't Too Proud to Beg," "I Know I'm Losing You," and "Same Old Song." The audience danced frantically and sang the English lyrics, considering most didn't speak English but they were familiar with these blasts from the past.
The high-energy New Orleans Mystics have the routines perfect but they aren't carbon copies of the past. "We have a diversity in talent and we exploit it," said Baptiste. "We have over 60 songs we haven't even performed yet and a wardrobe as long as our repertoire." These are the songs of Motown deep-rooted in some New Orleans funk that ignites folks of all ages to dance. They cover Jackie Wilson's "Work Out" now that's going back but folks loved it. When Freddie Johnson took the lead for "Hey There Lonely Girl," it was pandemonium. His high falsetto stroke a chord. The other group members include; William "Billy" Sims and Lee Barnes.
To keep that New Orleans funk thumpin' they are backed by the Real Soul Band that features the conga player and host Bobbie Parker, drummer Brenman Williams, keyboardist Rick McQuillis, bassist John Ragas, and guitarist Shammika Ernest. Whether &B acts should be billed at a jazz festival is a discussion for other time but R&B, jazz, blues, and soul is all black music that energizes people of the world and the New Orleans Mystics is pat of that explosive connection!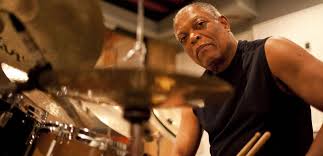 Billy Hart the steadfast drummer blazed the Teatro Morlacchi with his quartet that featured the pianist Ethan Iverson, bassist Ben Street and saxophonist Joshua Redman. They started off with two compositions by Iverson adding their own personal definition of jazz from there. The tune "Dedicated to all Grandmother's" had a mid-tempo swing with everyone in an intuitive mode. Hart's roaring drums filtered in and out with a definitive swing that inspired intense solos from Redman's deep colored riffs to Street's bellowing bass.
During an interview following the show Hart stated, "I always wanted to be an improvising drummer". Well, he doesn't seem to have a problem with that at all.
More to come from th Umbria jazz Festival.
-72318-