In my research phase of writing Randy Weston's as-told-to autobiography, African Rhythms, and in his playing, it was quite clear that he held a deep reverence for the grandmaster Duke Ellington. However it wasn't until we were into our exhaustive interview process that I learned of the depth of his love for Ellington, and his subsequent relationship with Duke's only sister Ruth. Here's an excerpt from Chapter 14, titled Post-Morocco And The Ellington Collection that details those unique relationships.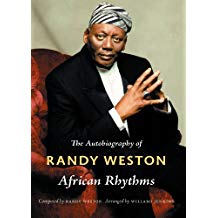 Chapter 14: POST-MOROCCO AND THE ELLINGTON CONNECTION
My connection to Duke Ellington was equal parts musical and spiritual, long before I met the man himself. Duke was everything, going way, way back. Duke was always such a classy gentleman and his music was so powerful. Duke and Basie were alike in that those two giants were totally a part of the black community they never forgot their roots even though both achieved worldwide fame. I loved Duke's music – Ben Webster, Harry Carney, Sonny Greer, Jimmy Blanton and all those masters he employed had a huge impact on me. When I first heard the Gnawa in Morocco and heard them play that guimbre I heard echoes of Jimmy Blanton's bass and where that sound came from ancestrally. If I had to pick one giant of our music over all others I'd pick Duke Ellington because he was so complete and like Coleman Hawkins he stayed forever young; he recorded with artists ranging from Louis Armstrong to John Coltrane. He recorded with Max Roach and Charlie Mingus, so people like he and Hawk covered the whole spectrum of our music, they stayed young and always advanced.
In the 60s we used to give rent parties at my apartment on 13th Street to benefit the Afro American Musicians Society. One particular night we featured my good friend pianist Ray Bryant. Big Black and I cooked food all day long: ribs, stew, and all that stuff; we sold liquor and food at the party to raise money. On this occasion Reverend John Gensel, who started the jazz vespers at St. Peters and was an all-around jazz clergyman, brought Ruth Ellington, Duke's sister, to the party. It was a really soulful party, people were all over the apartment, we jammed maybe 100-150 people in this apartment and everybody was having a ball. That's when I met Ruth Ellington. I always laugh about it but she swore Big Black had spiked the food because she felt mighty high, even though she didn't mess with any drugs at all.
Eventually Ruth and I got to be very close. Duke had given Ruth and his son Mercer beautiful homes on Riverside Drive and 106th St., but Ruth also had an apartment on 59th St. I went there once and played some piano for her and she got excited and said I was the next Duke; she used to tell me that all the time. Even after I moved to Morocco whenever I came back to New York I would visit Ruth; at one point she actually wanted to marry me, but I was afraid of marriage, I didn't want to get married, no way, no how. She only wanted me to play solo piano and she was very critical of my recordings because I wouldn't play much piano, I'd just feature the other musicians in my band. We even gave a big birthday party for my mother and father at Duke's house.
Ruth always called Duke "Edward", and one day while I was there she said "Edward's got to hear you," and she was intent on arranging that. Duke did a concert of his "Night Creature" with the New York Philharmonic, with his trio, and Ruth arranged for me to play the reception, myself and Peck Morrison on bass. After the concert they had the reception in a bar in Philharmonic Hall and we were playing at one end of the bar when up walked His Majesty, the Duke. He checked us out and gave me a great look, an approving look, a look as if to say 'everything is OK.'
Later on Duke called Ruth one night while I was in the house and she said "you must hear Randy Weston." So she played "Blue Moses" on the phone for Duke. At that time she was running Duke's publishing company, Tempo Music. When I finally met Duke, we talked and he told me he wanted to start another publishing company with just my compositions and his compositions. I was blown away! So I put 20 of my compositions in his publishing company, Tempo Music. Duke had started a small recording company called Piano Records and he wanted to record Bobby Short, Earl Hines, Abdullah Ibrahim and myself. That wound up being the record date I did which was later sold to Arista Records, titled "Berkshire Blues."
Sometime later I encouraged Ruth to set up a big concert at the Cathedral of St. John the Divine to raise money for the seven West African countries of the Sahel Region because they were experiencing a terrible drought. The great dancer-choreographer Geoffrey Holder was the producer of the concert. We had the Symphony of the New World, we put together a big band with Melba Liston conducting, we had the Joffrey Ballet and we raised about $7,000, which was basically just symbolic, and presented it to the President of Mali. I must admit I had an ulterior motive in my relationship with Ruth and that was to encourage her to establish a house of African American culture and music. She had a friend who had the ideal house for this purpose up on the Hudson. We were kinda playing games with one another; she wanted to get married first, I wanted to get the house first.
Duke treated Ruth like a queen, and she was only surrounded by certain kinds of people, for me very bourgeois kind of people. I'm still basically a street dude and for awhile it was OK being around these people, but I got bored with that stuff, all that pretense. Once I talked her into having a party for Josephine Baker because recently the King of Morocco had given Josephine a large sum of money for a research project she was spearheading. At the same time I was trying to establish that dream cultural center in Morocco and I wanted to reach the king, which I thought I might be able to do through Josephine, thinking that perhaps this party might be a step towards that.
So we had this party at Ruth's house the night after Josephine's last appearance in New York, in the late 1970s. I hired Danny Mixon to play the piano so that I could co-host the party with Ruth and mingle freely among the guests, but my real motive was to connect with Josephine Baker. Unfortunately even though I met her I could never get to talk to her that night because throughout the evening she was surrounded by these ex-chorus girl friends of hers. It was almost like they were protecting Josephine.
Ruth had a big heart and we really became like family; my daughters Cheryl and Pamela, my father, we'd be at her house all the time. But she lived such a sheltered life and it seemed there were few people she could trust. She was a wonderful, wonderful person; very kind, very generous. We might have possibly married but she never wanted to go anywhere by herself, you always had to go with her, she was really sheltered. Whenever she would go out she had to be decked out, had to have her jewelry, her rings, had to wear her furs; she was an Ellington lady after all. She'd always feel better having a strong man by her side; eventually she married McHenry Boatwright.
Through Ruth I got to know a lot of the guys in the Ellington band. Reverend Gensel started the original jazz vespers services back when his church was on Broadway at 93rd St. I actually played the first jazz vespers and played Billy Strayhorn's piano, which Billy had given to Gensel for his church. It was as a result of that connection that I wound up playing at Strayhorn's funeral.
Ruth actually felt that I could be the next Ellington; she wanted me to take over the orchestra after the master passed in '74. But the orchestra was Mercer's, and Ruth handled Duke's compositions. There was always a kind of friction between her and Mercer because Duke had given Ruth everything. He was like a father to Ruth. You'd go to her house and in her bedroom there'd be maybe 25 different kinds of crosses, which Duke would send her from the road; silver crosses, gold crosses, wooden crosses, all kinds. She took care of business for Duke's publishing company, Tempo. Our relationship was romantic, but for me it was more about the culture than about Ruth as a woman. During that time we also gave a benefit for my club in Tangier where we had 25 pianists play at the Ellington devotee Brooks Kerr's mother's house, an East Side townhouse. Ruth and I were very close and the core was Duke himself.